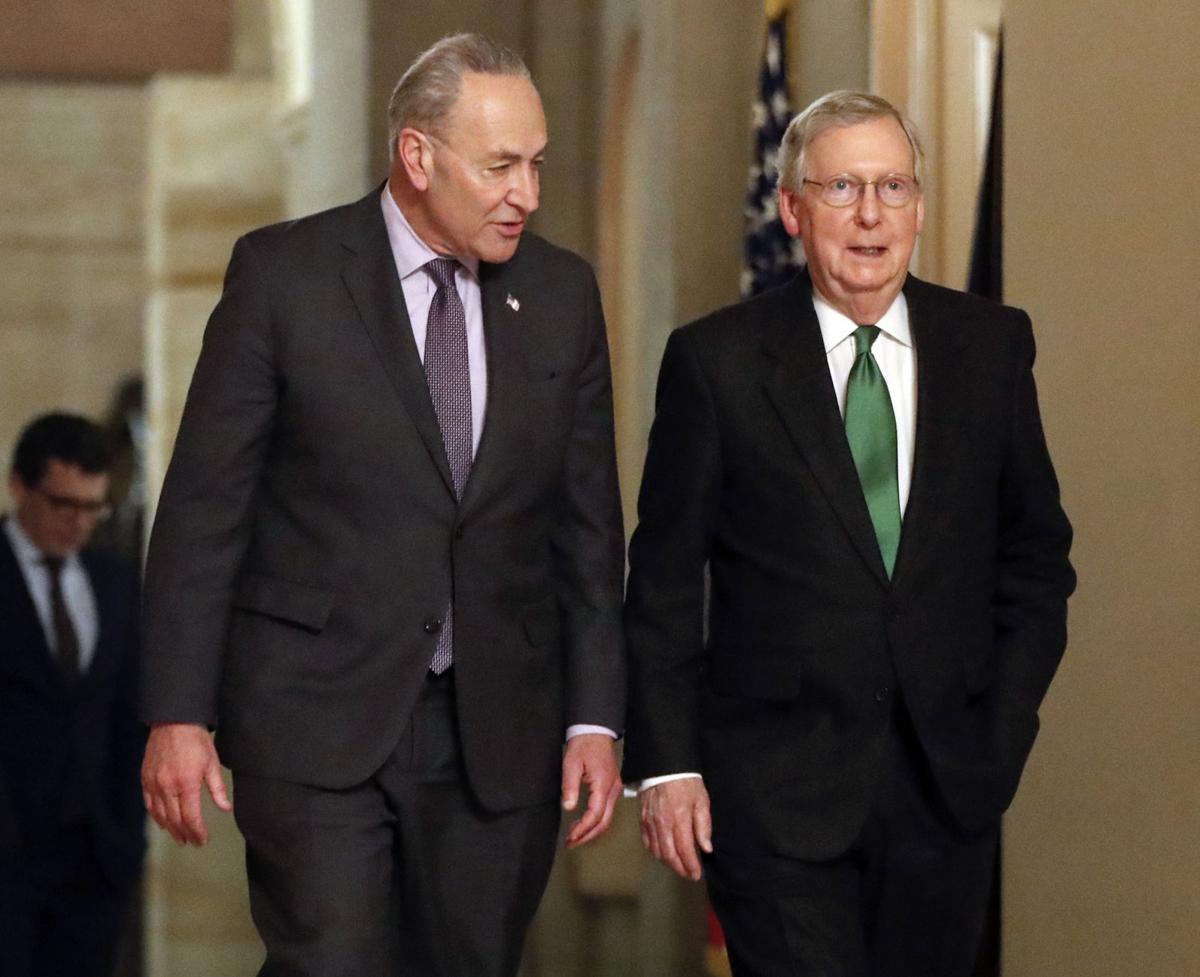 Super PACs aligned with Senate Republican Leader Mitch McConnell, R-Ky., and Senate Minority Leader Chuck Schumer, D-N.Y., have spent a combined $43 million so far in the Missouri Senate race, a vast majority going to advertisements attacking the candidate of the opposite party.
Neither man will set foot in the state.
They are leaders in an unpopular Congress, and each is a target himself in Missouri's nationally watched Senate race between incumbent Democrat Claire McCaskill and her Republican challenger, Missouri Attorney General Josh Hawley.
The McConnell-Schumer showdown is the new reality after Citizens United, the 2010 Supreme Court decision that opened vast spigots of cash from corporate, union and wealthy individual donors into federal campaigns.
In effect, it has turned legislative leaders such as Schumer and McConnell into political kingmakers and attack-ad barons.
McConnell's Senate Leadership Fund and Schumer's Senate Majority PAC each has spent more than $20 million in the state.
Schumer's separate "dark money" Majority Forward nonprofit has spent an additional $3 million.
The biggest of these congressional leadership PACs is that of retiring House Speaker Paul Ryan, R-Wis. His Congressional Leadership Fund had spent $136 million attacking Democrats in House races.
Ryan's Super PAC alone will spend more money in this election than all independent groups spent in 2008, the election before the Supreme Court handed down its 2010 Citizens United decision.
McCaskill is a critic of the Citizens United decision and has made it a central part of her campaign. Hawley supports it and says McCaskill is a hypocrite for benefiting from dark-money spending from Schumer's group.
Hawley has repeatedly criticized Schumer for interfering in the race via his Super PAC and calls Schumer a "dark money ally" of McCaskill's.
Hawley's red campaign bus also features pictures of McCaskill and Schumer with a caption that says, "Fire Claire, Stop Schumer."
McConnell and Schumer have run some of the most blistering, negative ads on Missouri's airways.
McCaskill has "gone Washington" and "left Missouri behind," asserted the latest attack ad run by McConnell's Super PAC.
McCaskill has been in the Senate 12 years, McConnell 34.
Schumer's latest Super PAC attack ad on Hawley accuses him of being "really not for you" and of benefiting from Republican "dark money" spending on his behalf.
But at the same time he is leveling those accusations against Hawley, Schumer's dark-money Majority Forward had spent roughly $40 million in Senate races around the country by the end of September, according to the Center for Responsive Politics.
Part of the problem with these attack ads from big names such as Schumer and McConnell is that the fine print and similarly sounding names at the bottom of the ads makes it difficult for viewers to know who is running them, said David Robertson, head of the political science department at the University of Missouri-St. Louis.
The fact that both Schumer and McConnell are spending millions to try to influence an election in a state where they are not welcomed as surrogates for the candidates they support "tells me how unpopular Congress is everywhere in the country, in every nook and cranny," Robertson said.
"McConnell and Schumer are especially unpopular with the other party's base," he added.
Tiffany Muller, president and executive director of End Citizens United, a group that opposes dark money and unlimited campaign spending, said the Supreme Court decision "caused a (political) finance system that already was riddled with holes and issues to be fundamentally broken."
The decision, she added, declared "two terrible ideas: Money is speech, and corporations are people" to allow "unlimited and undisclosed spending."
But, Muller said, her group has been encouraged over "how much the issue of special-interest money in politics has taken hold this cycle, and the contrast that has been playing out in these races has been great to see on that message."
Muller's End Citizens United, which discloses its donors, has run independent-spending campaigns in U.S. House races across the country.
Robertson said that one of the most corrosive aspects of the Citizens United decision had been to push ever-increasing amounts of money from ideological enemies into the bitter partisan divide that prevents legislative compromise in Congress.