ST. LOUIS COUNTY — Area voters and poll workers got through the third major Missouri election of the coronavirus era Tuesday, building on their experiences from the first two.
See results for statewide races and races in St. Louis City, St. Louis, St. Charles, Jefferson, Franklin, Lincoln and Warren counties.
Local election officials reported no major glitches at the polls, following a surge in absentee and mail-in voting in the days leading up to the election.
"Every election is good practice for the next election," said Eric Fey, St. Louis County's Democratic director of elections.
At the March 10 Missouri presidential primary, the main pandemic-related change in the county was the availability of hand sanitizer at polling places.
On June 2, the delayed date of the local-level election normally held in April, election workers in the county were required to wear masks, polling stations were being wiped down regularly and voters were told to stay 6 feet apart while waiting.
On Tuesday, county polling places for the first time also had to comply with the general indoor mask rule imposed last month by County Executive Sam Page. That rule, however, resulted in at least one upset voter.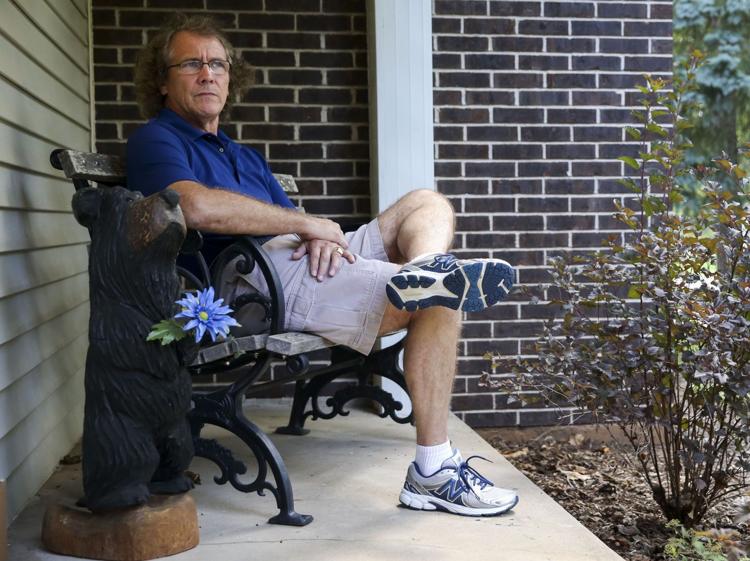 Fehr, a software company owner, said he arrived shortly before polls opened at 6 a.m. and waited in line with proper social distancing. Once the doors opened, he went inside and presented his ID and signed in. But poll workers soon told him he couldn't vote without a mask and offered him one.
"I'm viscerally opposed to this whole mask-wearing thing," he said. "Everyone's acquiescence to wearing a mask ... has just gone completely categorically insane."
Fehr, meanwhile, said he had heard that St. Louis city would be allowing people to vote even without a mask, and he hoped the county "would turn a blind eye" to him and let him do it anyway.
But they didn't. Fehr said polling officials gave him options. They said he could drive to county election headquarters in St. Ann to vote outside without a mask. He didn't think he should have to drive that far.
They offered to let him vote from his car and then election authorities would take his ballot inside to the box for him, but he declined that because he couldn't be assured it would get there.
"They didn't give me what I considered an acceptable option," he said.
"I'm not a science denier. I know this has been deadly," he said of COVID-19. "But I think, quite frankly, it is a bit overblown."
Fehr said he's never missed voting in an election, and the main thing that brought him to the polls Tuesday was his opposition to the expansion of Medicaid.
Fey, the Election Board official, said he was unaware of any similar cases Tuesday in the county.
In St. Louis city — which also has an indoor mask mandate — election officials allowed voters arriving without face coverings to cast a ballot curbside as well. But unlike in the county, they let people who insisted on voting inside without a mask to do so.
Gary Stoff, the city's Republican director of elections, said he was aware of at least one instance in which a voter took advantage of that policy — on Tuesday morning at Nottingham School in the St. Louis Hills neighborhood.
He said the voter, after declining to use a mask offered to her at the polls or to vote from her vehicle, ended up voting in an otherwise unoccupied area of the polling place.
Stoff did cite one bit of trouble unrelated to masks.
At Hawthorn Leadership School for Girls, at 1901 North Kingshighway, someone forgot to unlock the school for voting. That delayed things about an hour until the building was unlocked, he said.
During the wait, poll workers let people vote curbside, Stoff said.
Election officials said coronavirus concerns also led to a somewhat larger number of cancellations and no-shows among poll workers in the St. Louis and Kansas City areas, though substitutes were dispatched to fill the gaps.
In the county, Fey said, there were about 60 no-shows. He said affected polling places just made do with six poll workers instead of eight.
In outer suburban counties that don't have government-imposed mask mandates, some election judges and voters wore masks and some didn't.
"We encouraged masks," said Mike Kreuger, elections supervisor in Lincoln County. He estimated that "we were 50-50 on that."
Election officials in St. Charles and Jefferson counties said they fielded some complaints from voters who didn't like encountering some mask-less election judges.
The Associated Press contributed to this report.
Concerned about COVID-19?
Sign up now to get the most recent coronavirus headlines and other important local and national news sent to your email inbox daily.