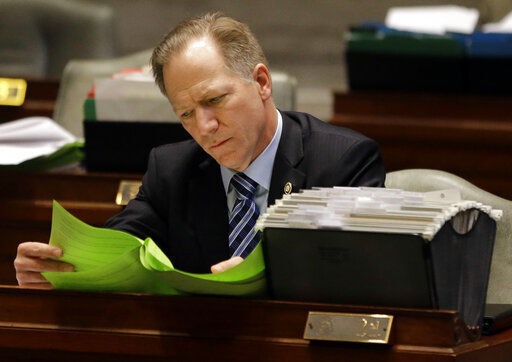 JEFFERSON CITY — A proposal in the Missouri Senate would allow parents to enroll students in state-funded virtual education without input from their local school districts.
Currently, school districts and parents are supposed to cooperate to determine whether virtual school is in a student's best interest.
But Sen. Bob Onder, R-Lake Saint Louis, said virtual school law needs to be updated because "some districts have obstinately refused to follow the law and have categorically decided that it is never in a child's best educational interest to attend full-time virtual school."
Attorney Josh Schindler, who testified in support of the proposal at an Education Committee hearing Tuesday, said he has represented 40 families with 50 children who were denied enrollment in virtual education by school districts.
In one case, a family wanted a high school student to attend school virtually so she could care for her younger siblings. The school eventually accepted the request, but required her to take the online courses in the school building.
"There should be absolutely no seat time required for online education," Schindler said.
Currently, if a district allows a student to enroll in virtual education, the district pays for the online classes and monitors students' progress. If it denies approval, parents can appeal, first to the local school board, then to the Department of Elementary and Secondary Education.
Under Onder's proposal, parents would decide whether to send their child to online classes and the virtual school would report directly to them about students' progress.
Virtual schools would be accountable for student outcomes and could remove students who weren't successful. Public schools that failed to provide information about virtual school options, as current law requires, could be fined $100 per day.
Details of exactly how much funding virtual schools would receive from the state were unclear.
A fiscal analysis of the proposal notes that language in the bill is confusing, and Onder disagreed with some about how much money per enrolled student would go to virtual schools.
Bill opponents argued the legislation would give too much money to for-profit companies that provide virtual education.
Springfield Public Schools Superintendent John Jungmann said it was "ludicrous" to argue virtual schools cost as much as in-person schools. The district runs its own virtual school program, called Launch, which he said has been used by 340 other districts.
The program costs $4,500 for elementary students and less for high school and middle school students, Jungmann said. That's well under the $6,375 that virtual schools are allowed to charge under current law and the approximately $10,000 per pupil the district spends on in-person students, he said.
Independence School District Superintendent Dale Herl said that while parents have the right to direct their child's education, taxpayers shouldn't pay an "exorbitant amount" for virtual schools.
"This is about the wish of some to privatize education and make a profit off the education of Missouri students," Herl said.
Other comments focused on the importance of school districts helping to determine the student's best interest.
Christy Harrison, director of educational innovation at Kansas City Public Schools, said the district has helped parents troubleshoot problems with virtual school. Families tend to choose the district's own virtual school program because of the additional services the district provides, she said.
"What I am opposed to is removing the local school district's ability to support and navigate the process with a family," Harrison said.
Witnesses and senators at the hearing said there are many reasons virtual education might be best for a student, including health issues, autism, history of bullying, pregnancy or career goals.
Virtual school companies have been lobbying to expand in Missouri. In October, a company called K12 said it inadvertently released personal information about students in a spreadsheet it provided to lawmakers. The spreadsheet listed 1,600 students interested in virtual education.