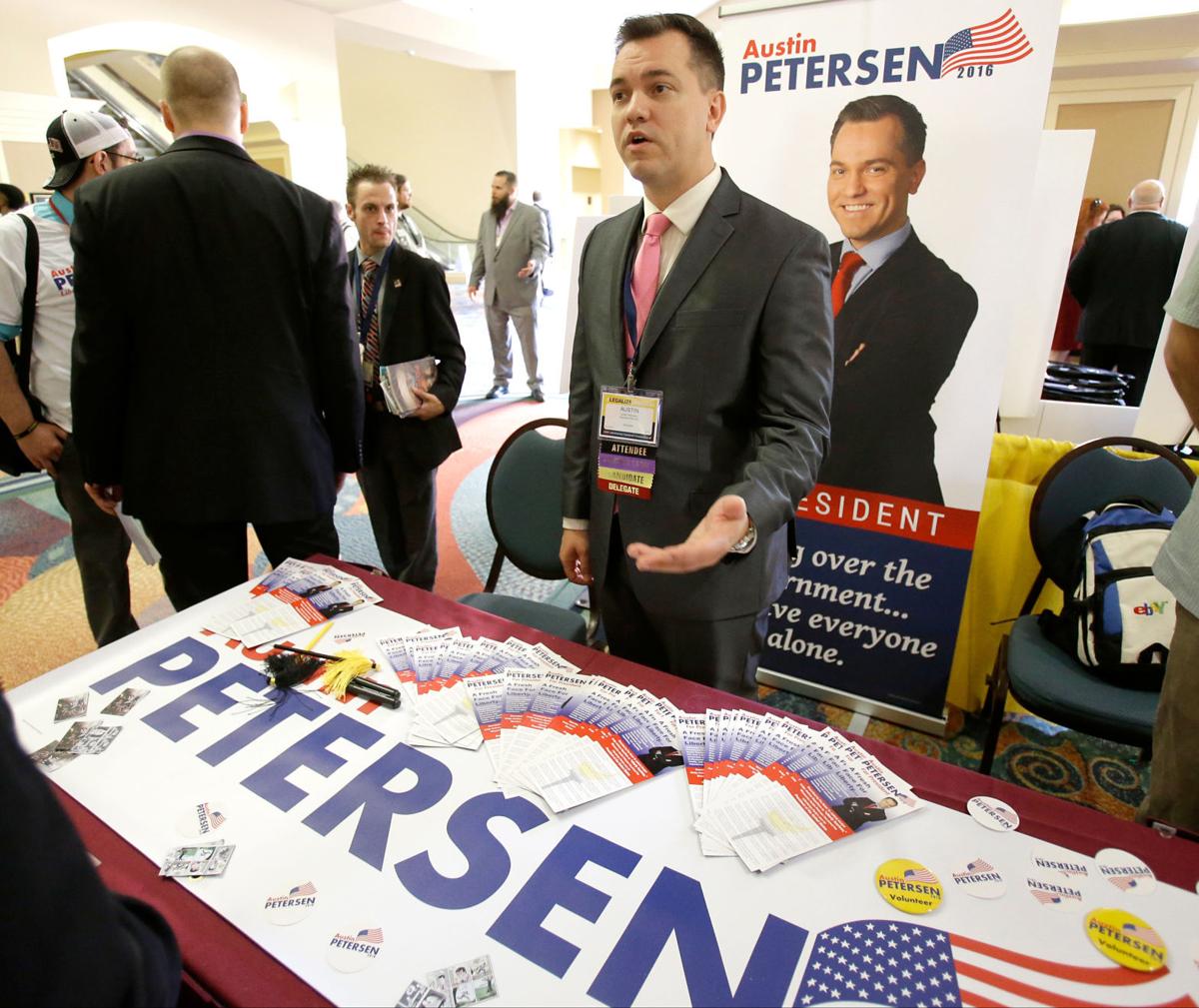 WASHINGTON • Missouri Republican Senate candidate Austin Petersen said Thursday he has accepted bitcoin contributions from about a dozen donors to his campaign, and federal records show his is just one of a handful of campaigns that have accepted donations in the virtual currency.
Petersen's largest such donation, $500, came from Jon Mohler from Lebanon, Ohio, whom Petersen described as a "libertarian supporter of mine." Petersen also said he had to turn down bitcoins from another donor because, at the crypto currency's current value, it reached $20,000, far exceeding the $2,700 limit any individual can give in an election cycle.
Petersen said his campaign hopes to receive a new bitcoin donation from that individual that does not exceed the Federal Election Commission limit.
Bitcoin is a digital currency not tied to a country or bank whose value has soared in recent days as it's been traded on futures markets. Its supporters describe it as an "innovative payment network and a new kind of money," and an open-sourced, "peer-to-peer" global payment system.
Its detractors say it is backed by nothing and vulnerable to heavy speculation and risk. 
Its global nature presents fresh challenges to American election law that bans foreign contributions to politicians, limits contributions and requires donor transparency. But a 2010 Supreme Court decision also opened spigots of large and secret sources of campaign cash to non-candidate political committees.
The FEC has determined that campaigns can accept bitcoins under federal law that defines "contribution" as "any gift, subscription, loan, advance, or deposit of money or anything of value," and that bitcoins are, indeed, "money or anything of value."
The FEC requires that a committee keeps the donations in a virtual "bitcoin wallet" until it liquidates them. Petersen said his campaign immediately converted Mohler's donation to Federal Reserve notes to hedge against the cryptocurrency falling in value.
The FEC said Thursday that two other federal candidates — Rep. Jared Polis, D-Colo., and Democratic California U.S. House candidate Brian Forde — have previously accepted bitcoins this year. Forde is a former technology adviser to ex-President Barack Obama.
Petersen, who unsuccessfully sought the Libertarian Party presidential nomination in 2016, said he is doing so for the same reason in Missouri's Senate race.
"I am a big fan of the digital currency community because of what it represents, which is ultimately decentralization," he said.
Petersen said that "I make no bones about the fact that I am not a fan of central banking. I come from the Austrian school of economics, which argues that a central bank is not necessary for the finance of a government.
"This is a way for us to have a means of transfer between citizens that doesn't involve having to go through a Federal Reserve System," he added. "So that means a lot to us, symbolically, but it also means a lot for the currency itself, because if we can show we can fundraise with this, then that means that Bitcoin shows stability, and actually bolsters the argument for cryptocurrency."
Petersen and fellow Republican newcomers Courtland Sykes and Tony Monetti are in a Republican Senate primary that also includes Missouri Attorney General Josh Hawley, widely considered the front-runner.
The winner will face Sen. Claire McCaskill, D-Mo., who has told donors she believes she will need to raise $30 million on her own and that north of $200 million will be spent in the 2018 Missouri Senate race.
Petersen said Thursday he has raised about $300,000 so far, and that he has "had to work for every dime." Some dimes, he said, have come through a "lucky" coincidence that a burgeoning monthly Bitcoin meetup takes place in the same building as his Kansas City headquarters. He's been attending and seeking support there. 
Petersen describes himself as a "liberty Republican" who supports gay marriage but opposes government forcing bakers to bake cakes for gay couples.
Reached by Twitter message, the donor Mohler described himself as a "principle over party" Libertarian who has previously voted for only one Republican — Paul. He said he supports Petersen because "I believe he will fight for liberty if elected."
Mohler said he thinks bitcoin is the vanguard of the future of currency, and that political campaigns accepting them will help accelerate that transition.
"The Federal Reserve prints dollars that are backed by nothing except government force," he said.
"These dollars decrease in value over time because the supply is artificial, as are the interest rates," Mohler added. "Cryptocurrencies like Bitcoin have fixed number of units; therefore their relative value increases over time. I think that ultimately coins other than Bitcoin will dominate the market, but I firmly believe that cryptocurrencies are the future."