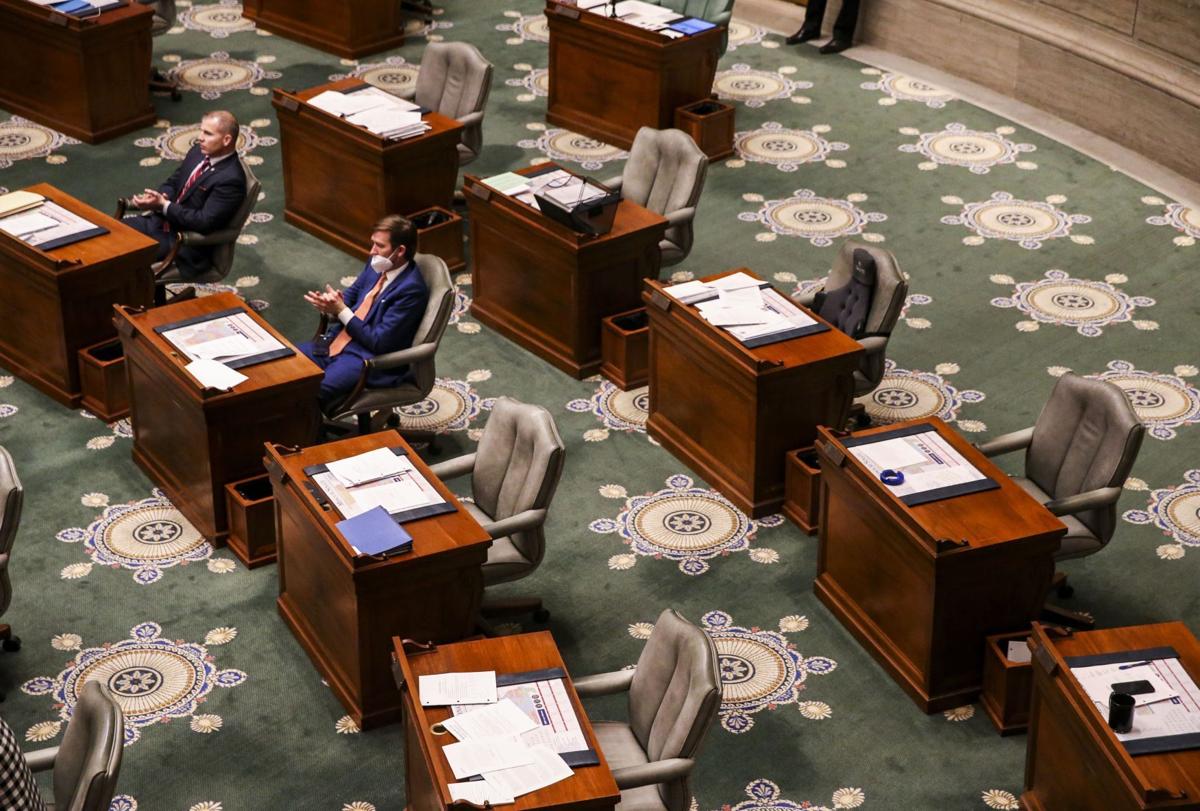 JEFFERSON CITY — A proposal to forgive unemployment overpayments was tabled by the Missouri Senate late Monday as some lawmakers sought to remove language that could sharply cut future jobless benefits.
Earlier this session, the House passed a proposal to waive repayment of the federal part of payments, but not the smaller state portion. At the request of Missouri's Department of Labor, the House also voted down an "emergency clause" on the proposal, meaning it would not go into effect until August.
But several senators said the revised plan for handling the unemployment overpayments has broad support among the Senate, House and Department of Labor. Parson, who had initially supported forcing people to return incorrect payments they received, has also softened his position.
Consensus on the proposal was disrupted, however, by the addition of a section that would use a sliding scale to, in many cases, shorten the number of weeks people are eligible to receive unemployment benefits.
The current time frame of 20 weeks would apply when the unemployment rate is higher than 9%, but it could drop to as little as 12 weeks if the unemployment rate is at or below 5.5%.
"You took really what I would consider an easy bill and you injected a really contentious topic into there," said Sen. John Rizzo, D-Kansas City, the Senate minority leader.
Rizzo proposed an amendment to remove the sliding scale and bring the proposal back to its initial focus on unemployment overpayments. It was still being debated when the bill was set aside around 7 p.m.
Sen. Lincoln Hough, R-Springfield, agreed he would rather not "sidetrack something that can be impactful and actually do some good for a lot of people in the state."
Rizzo and Sen. Lauren Arthur, D-Kansas City, said now is not the time to tinker with the state's unemployment system, as the state faces unusual situations such as changing tax deadlines and uncertain recovery from the COVID-19 pandemic.
Arthur also argued the proposal doesn't take into account differing unemployment rates in specific regions throughout the state.
In "areas that are struggling to find work, it doesn't matter," she said. "If the unemployment rate is 5%, then we're going to see our numbers of weeks [of unemployment payments] reduced."
But others argued Missouri employers are already struggling to find workers because high unemployment payments have disincentivized some people from seeking work.
Though the state's unemployment payments are normally capped at $320 a week, the payments have recently been boosted by federal stimulus dollars.
"I don't know of a small business owner that is not looking for more help right now," said Sen. Bill Eigel, R-Weldon Spring.
The Missouri Legislature has previously passed a similar measure, but it was declared unconstitutional after lawmakers did not follow proper procedure to override a veto from then-Gov. Jay Nixon.
An estimated 46,000 Missourians received unemployment benefits in error and have been told by the state to return hundreds or thousands of dollars.
The administration shifted its position as members of the House reached a bipartisan consensus on forgiving the federal portion. The House left out the state portion after receiving assurance the Department of Labor was willing to work out interest-free repayment plans.
Despite objections from some members, the House also deferred to the Department of Labor in leaving off the emergency clause to give the department more time to work out new procedures.
But some House members changed their tune after they felt the Department of Labor didn't fully follow through on halting aggressive methods of collecting the state overpayments.
During a hearing April 13, Department of Labor Director Anna Hui admitted the department has mistakenly filed some liens and had not changed the tone of collection letters addressing the state portion. She also committed to pausing all collections until the Legislature gave further directions.
Legislators have since come up with a plan to add millions to the state's unemployment insurance fund to avoid making businesses pay for the state's mistake.