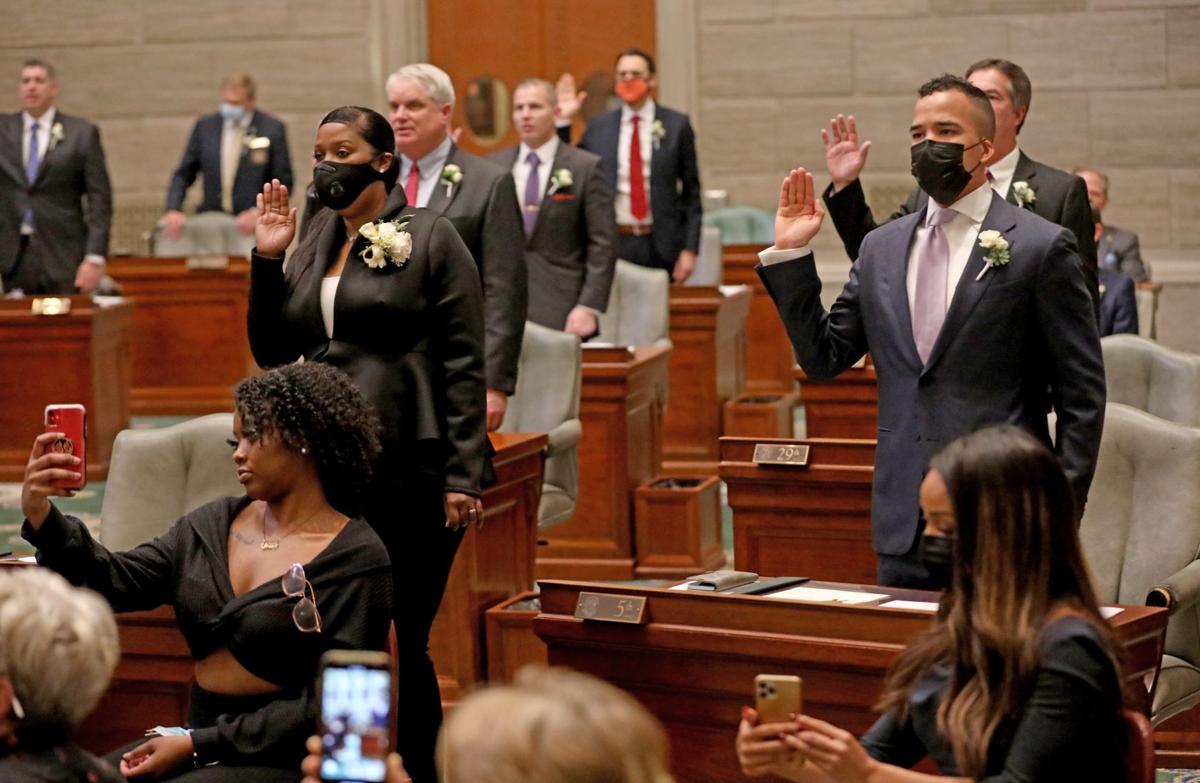 JEFFERSON CITY — A bid to reduce the amount of paper used by the tradition-bound Missouri Senate was chopped down by lawmakers Thursday.
Working on their first full day of the 2021 legislative session, Senate President Dave Schatz proposed a change in Senate rules that he said could save a lot of trees.
But, Schatz, R-Sullivan, ultimately relented after some senators argued a move to electronic records could imperil the traditional "slow and deliberate" character of the Senate.
His revamped version retains the current requirement that senators receive paper copies of amendments and updated legislation but says that the Senate can provide members with electronic devices that allow them to monitor legislation.
The devices cannot be laptop computers, and using them would be optional. Phones and tablets would be allowed.
Unlike the House, which has an electronic voting system and uses an internet-based system to track legislation, the Senate has stuck with voice votes and reams of paper to do its business.
Senators reached a compromise after some argued that switching to an electronic system could save paper, improve efficiency, and allow easier searching of proposals and amendments.
Schatz lamented "the amount of paper and trees that have been killed" in order to provide senators with paper copies. Sens. Bill White, R-Joplin, and Andrew Koenig, R-Manchester, also stressed the convenience of an electronic system, such as being able to search for key terms.
Others countered that making the system of distributing new amendments more efficient could cause the Senate to become too similar to the faster-paced House and allow members to push through surprise amendments before all of their colleagues had a chance to return to the floor for a vote.
Senate Minority Leader John Rizzo, D-Independence, said the slow process of the Senate is intentional, even though it includes delays while members wait for new amendments to be printed and requires more conversation to understand legislation.
"We take votes that affect the entire state of Missouri in ways that we really hope to imagine but sometimes can't imagine," Rizzo said.
"This body especially should be slow and deliberate," he added later.
Koenig pushed back against that argument. "Having an hourlong conversation about baseball because we're waiting on something to be printed does not make us more deliberate," he said.
But other Republicans, including Sen. Tony Luetkemeyer, R-Parkville, shared Rizzo's concerns that changes should be limited at least until more senators could test out the electronic system and new members could experience the traditional procedures.
The pared-down version of the resolution the Senate settled on allows the Committee on Administration to approve electronic devices the Senate would provide to lawmakers, but still requires paper copies for a piece of legislation to be considered officially delivered and eligible for a vote.
The resolution also reduces the number of committees, while keeping a similar ratio of Democrats and Republicans on those committees, Schatz clarified.
"I'm making it better for your members," he told Rizzo, because having fewer committees allows members of the minority party "to not have to be in so many places at the same time."