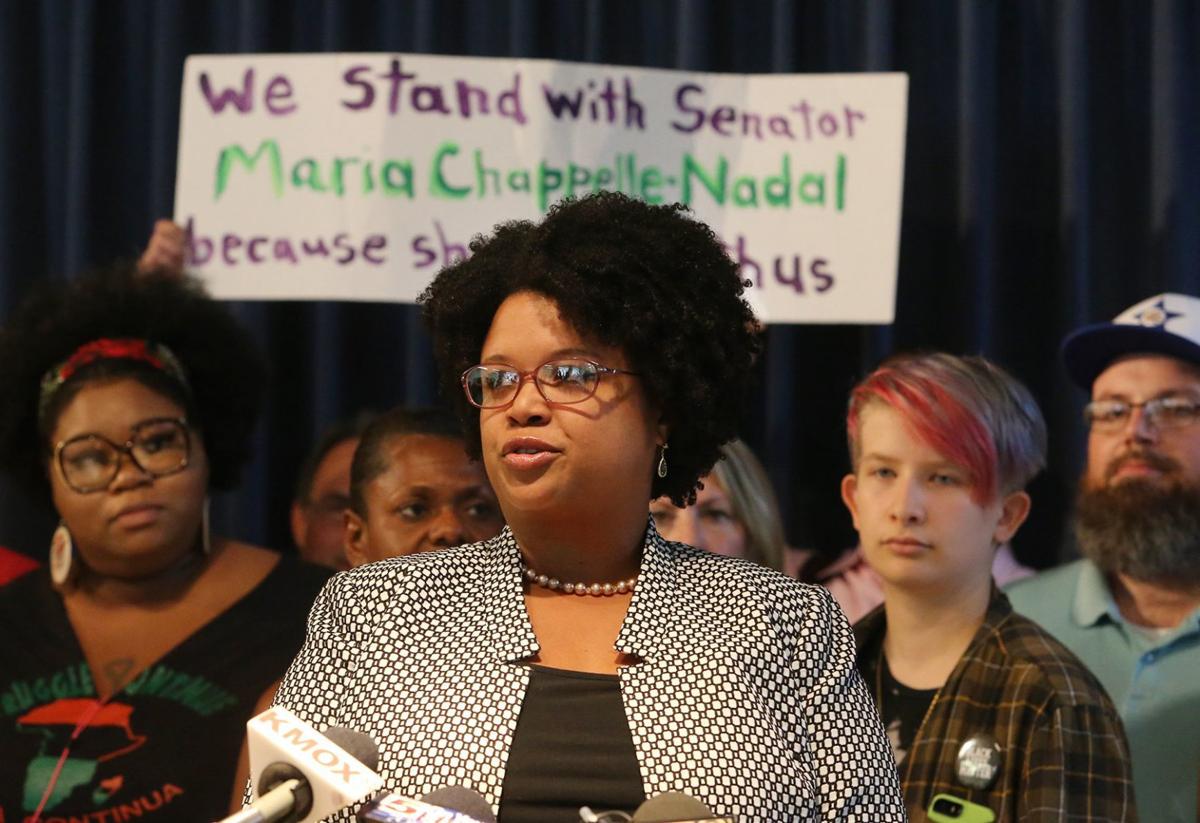 JEFFERSON CITY • A Missouri state senator who was censured by her colleagues for posting "I hope Trump is Assassinated" on her Facebook page last year is running for another term in the Legislature.
Sen. Maria Chappelle-Nadal, a University City Democrat, will seek a seat in the Missouri House, where she served three terms before moving to the Senate in 2010.
"I am not done with my work," Chappelle-Nadal said.
Chappelle-Nadal, who is in her final term in the Senate due to term limits, apologized last year for the Facebook post and removed it, but she rejected calls for her to resign. At the time, she said she posted the message out of frustration with the president's response to a white supremacist rally in Charlottesville, Va.
In her bid for the 86th House District, which is currently represented by Rep. Joe Adams, D-University City, Chappelle-Nadal faces fellow Democrats Farrakhan Shegog, E.G. Shields Jr. and Gloria Nickerson. The district includes all or parts of University City, Hanley Hills, Pagedale, Wellston and Vinita Park.
If she wins, Chappelle-Nadal would be limited to one two-year term in the seat under Missouri's term limits law.
Adams is seeking Chappelle-Nadal's 14th Senate District seat against former state Rep. Sharon Pace and Brian Williams.
The potential for Adams and Chappelle-Nadal to essentially switch jobs comes after the two have squabbled in previous years.
In 2014, for example, Chappelle-Nadal dumped almost $20,000 into a negative campaign against Adams, who was then running for a University City-based House seat. He ultimately won the seat.
Although the borders of the smaller House district no longer encompass the West Lake Landfill Superfund site, Chappelle-Nadal said she would continue advocating for the clean-up of radioactive waste in the region if she won. Chappelle-Nadal also said she wanted to improve working conditions for women in state government.
"I want to deal with sexual harassment in the state Capitol," she said. "I want to make sure our policies reflect compassion for the victims because it's just unacceptable."
She also said education and job creation would be priorities.
"It's important they have an advocate as well," Chappelle-Nadal said.
Chappelle-Nadal, who made an unsuccessful bid for the U.S. House in 2016, said she didn't believe her effectiveness hadwaned since the Senate stripped her of her committee assignments.
"I have more time to research. It's wonderful. Senators are still coming to my office to negotiate language on bills," she said.
She also said that as a senior senator in her final year she had the opportunity to block legislation she opposed using the power of the filibuster.