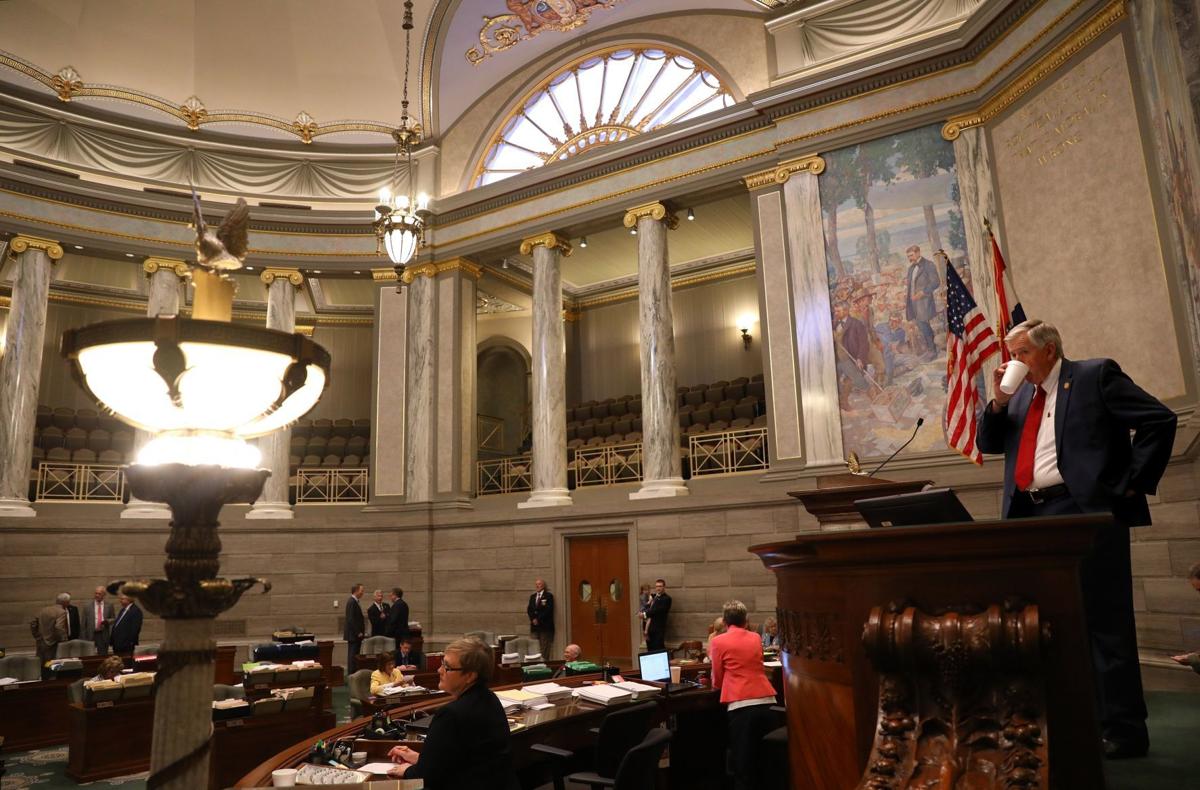 JEFFERSON CITY — The Republican leader of the Missouri Senate said Wednesday he would move forward with the hiring of a "nonpartisan demographer" even as members of his own party want to stop the eventual state official from drawing new legislative districts. 
Under Amendment 1, the 2018 ballot measure known as Clean Missouri, the state Senate majority and minority leaders are in charge of selecting the demographer, who will be tasked with emphasizing "partisan fairness" in new state House and Senate districts, which will be used starting in 2022.
"We'll keep acting like Clean Missouri's the law until it's not," Majority Floor Leader Caleb Rowden, R-Columbia, told the Post-Dispatch.
He said he met with Minority Floor Leader Gina Walsh, D-Bellefontaine Neighbors, on Wednesday, before the Senate launched its annual legislative session.
"As far as I can tell, right now Senator Rowden and I are on the same page with this process and we'll be moving forward," Walsh said.
Rowden said he didn't know whether interviews would take place in private, or in a hearing room open to the public.
For state posts that require full Senate confirmation, a Senate committee holds public hearings before the full Senate votes. For staff positions such as Senate administrator, interviews are conducted behind closed doors.
"Since it's personnel matters, I doubt that it'll be a public hearing," Walsh said. "I've been on committees in this building where we've hired folks before for pretty important positions, and I've never been on a hiring committee that was open to the public or the press."
Walsh said the six applicants —  Damon Braidlow, Donald B. Cripe, Sara Hartman, Bryan Kinworthy, R. Zane Price and Jason J. Ross — needed to undergo state background checks before the interview process starts.
According to the amendment, if Walsh and Rowden do not agree on a demographer, they will each be able to strike two names from the applicant list, returning the remaining applications to the auditor, where the office would conduct a "random lottery" to determine the demographer.
Many Republicans have said the new position is a thinly veiled attempt at reducing their influence in Jefferson City, where the party commands two-thirds majorities in both the House and the Senate.
Proponents, however, argue new maps for the 2022 elections will more accurately reflect the partisan breakdown of Missouri, where statewide elections are often decided by a margin of fewer than 10 percentage points.
Sen. Bill Eigel, R-Weldon Spring, has introduced a resolution that would allow voters to reexamine redistricting this fall.
In Clean Missouri, the redistricting provision was one of five proposed ethics changes; voters approved the package with 62% of the vote.
"The redistricting was hidden among a number of other proposals in Clean Missouri," Eigel said.
Eigel's plan and others would place redistricting powers in the hands of a bipartisan commission, the process that was in place for the current state legislative maps.
"The system we had prior to Clean Missouri, you had a process that had the input from folks from across the political spectrum," Eigel said. "We went from a good system to a very unfair system."
(Under the new plan, the bipartisan commission will still exist, and can make changes to the demographer's map if 70% of its members go along with an alteration.)
Eigel said he and allies don't have the power to stop the hiring of the nonpartisan demographer. If voters approve repealing the "nonpartisan demographer" in November, that would stop the "Clean Missouri" process from moving forward, he said. 
"Our focus really has been 'where do we want to go from here?'" Eigel said. "What question do we want to put in front of voters? As far as the existing process, there's no mechanism that's available to us to interfere with that."