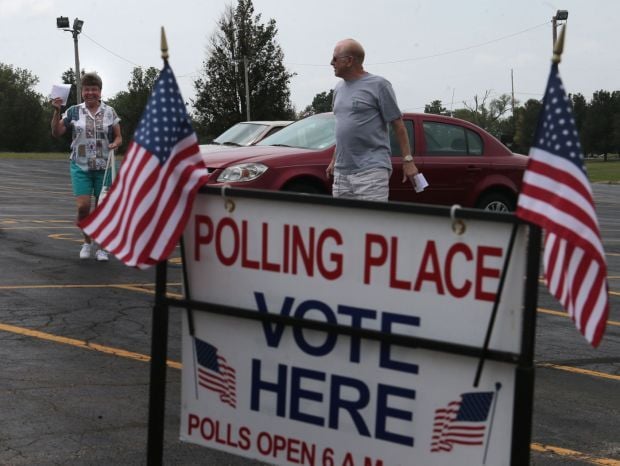 ST. LOUIS • Missouri voters strongly embraced on Tuesday strengthened rights on guns and electronic privacy, and narrowly gave a nod to the state's farmers. But veterans struck out.
While the state's failed sales tax increase for transportation was the big story of Tuesday's election, voters also considered four other referenda to amend the state constitution on a range of issues.
With most of the state's precincts reporting late Tuesday, it was clear that Amendment 9, to bolster electronic privacy rights of Missourians, had won by an overwhelming vote of about 3 to 1 in favor. And Amendment 5, reiterating the U.S. Constitution's right to bear arms, won by almost 2 to 1.
Amendment 1, the "right to farm" referendum that opponents claimed was a shill to corporate farming, squeaked by. Given the margin of victory was 2,528 votes out of nearly 995,000 cast, a recount is likely.
The referendum that some said was the least controversial on the ballot — to create a lottery ticket with the proceeds used to bolster veterans services — ended up failing by a large margin.
The list of constitutional amendments this year caused some debate not just because of their content but because of the trend they represented, of attempting to amend the state constitution on issues that would once have been addressed in legislation, if at all.
Notably, the two biggest winners — the questions on electronic privacy and guns — largely reiterate rights already contained in the U.S. Constitution and federal law.
St. Louis County voted against the farm, gun and veteran lottery measures, but supported the electronic privacy issue.
• The "right to farm" referendum (Amendment 1), will add a constitutional guarantee that the right of Missouri citizens to engage in agricultural production and ranching practices "shall not be infringed."
While some claimed the amendment doesn't actually create any right that isn't already available, interests for and against it together raised some $1.5 million to lobby voters.
It was prompted by rural legislators who said farm culture needed protection from attempted infringement by environmentalists and animal-rights activists — an argument spurred in part by the 2010 Missouri fight over dog-breeding regulations.
"Could they come into the state and say, 'Because of global warming, we need to limit the number of cows because they give off methane gas?' " state Rep. Bill Reiboldt, R-Neosho, told the Post-Dispatch last week, defending the initiative.
Opponents argued that Missourians already have a "right to farm" and that the amendment was unnecessary. They said it could be used by large corporate farming operations to avoid reasonable regulations on issues such as animal treatment, waste disposal and chemical use.
The amendment "will change our constitution so foreign corporations get a free pass to abuse our land, drinking water and animals, and we lose our right to stop them," one opposition group, Missouri Farmer's Union, claimed in a television commercial.
• The "right to bear arms" referendum (Amendment 5) will reiterate the U.S. Constitution's similar guarantee, but with more specificity, making that right "inalienable." Supporters argued it was needed because of attempts to restrict gun rights on the national level.
Opponents argued that it would be an unnecessary duplication of the federal Constitution's Second Amendment and that it could impede enforcement of reasonable firearms restrictions.
After the vote, the group "Moms Demand Gun Sense in America" issued a statement warning: "Today Missouri voters approved a gun lobby-backed proposal that could gravely undermine public safety."
• The "electronic communications privacy" referendum (Amendment 9) will change the state constitution to specify that electronic communications are protected from unreasonable search and seizure in the same way that non-electronic material is protected.
Proponents said it was a necessary update to a protection created before the computer era, to ensure that police and courts don't violate privacy of email and other electronic data.
Opponents said it would unnecessarily duplicate current protections, especially in light of a U.S. Supreme Court ruling this year that confirmed those rights.
• The "veterans lottery ticket" referendum (Amendment 8) would have established a special lottery ticket, using the income for veterans services.
Supporters said it would bolster those services without increasing taxes. Others questioned how much money it would raise and whether that's a proper way to fund veterans' services.
Constitutional Amendment 1: Guarantee right to farm

Passed — 50.1 percent to 49.9 percent

In a narrow victory that could lead to a recount, voters approved an amendment to guarantee that the right of Missouri citizens to engage in agricultural production and ranching practices "shall not be infringed." The measure was strongly supported in rural counties, many of which approved it by a three-to-one margin. Majorities in all of the state's larger counties opposed the amendment, with the City of St. Louis leading the way with a 73.5 percent "no" vote, according to unofficial returns. Hover over a county on the map for details.



Constitutional Amendment 5: Establish right to bear arms

Passed — 61 percent to 39 percent

The rural/urban divide was even more stark when it came to an amendment that would make the right to bear arms unalienable. The City of St. Louis, St. Louis County, Boone County and Kansas City (which is included with Jackson County on the map) were the only places where most voters opposed the amendment.



Constitutional Amendment 7: Transportation sales tax

Failed— 59 percent to 41 percent

A proposed sales tax to raise billions for transportation projects across the state, however, was soundly defeated. Only 19 of 115 counties supported the initiative. Voters in all of the states's more populous counties shot down the measure, some overwhelmingly so. In St. Louis County, 67 percent of 190,000 people who showed up to the polls opposed the tax.