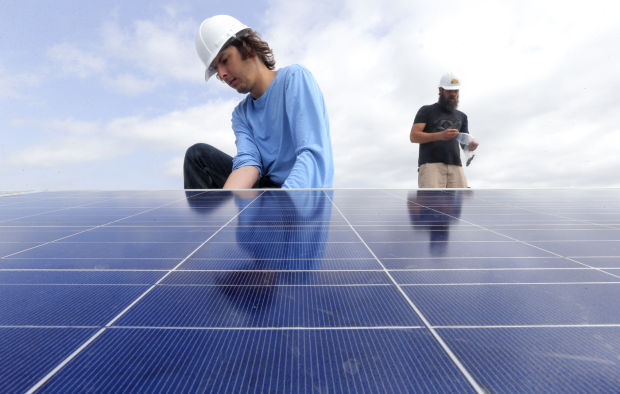 JEFFERSON CITY — Homes and businesses with solar panels could see their energy costs increase under a proposal in the Missouri House.
The House Utilities Committee on Wednesday held a hearing on legislation that would allow electricity providers to raise costs for customers that use solar panels.
Rep. Bill Kidd, R-Buckner, who chairs the panel, said the legislation was controversial, in need of work, and shouldn't be rushed. The committee will continue the hearing next Wednesday to allow for testimony from members of the public who were unable to attend, he said.
Members of environmental groups had objected to the hearing being held this week, arguing dangerous winter weather and only about 24 hours of notice made public participation difficult.
Currently, people with solar panels can reduce their bills by generating their own energy. They can also sell excess power back to the electric company to offset the cost of energy they draw from the grid when the panels aren't producing.
The bill would still allow that, but it would also allow utility companies to charge extra fees to customers with solar panels.
Current solar panel users access the electric grid without paying their full share of its fixed costs, said Brent Stewart, a representative of the Association of Missouri Electric Cooperatives who was introduced as the "father figure" of the proposal.
That's because the minimum bill all customers receive, which in theory should cover those costs, is kept lower for "social reasons," Stewart said.
If granted more flexibility to change costs, electric co-ops could choose different ways to structure things more fairly, he said. The bill would also add some consumer protections to shield Missourians from "bad actors" that don't install panels properly or make false claims about energy savings.
Kidd said he took exception to several parts of the bill, especially the unrestricted power for electricity providers to set rates.
"You've got everything in there that gives you the flexibility, purely one-sided, to say, 'Hey, we're gonna raise whatever we want to raise.' And as the chair I have a problem with that," Kidd told Stewart.
Kidd, who has installed solar panels on his own home, said he was open to a different rate structure for customers with solar panels but wanted more limitations for providers. He also suggested adding a "grandfather clause" for people who invested in solar panels based on expected savings.
In some states that have allowed utility companies to charge customers with solar panels differently, the fees have been set high enough to entirely remove the economic benefits of the panels, James Owen, executive director of Renew Missouri, told the Post-Dispatch on Tuesday.
Kidd said at the beginning of the meeting that legislation heard in the committee isn't rushed to approval, but rather is the beginning of the discussion with continued input welcome.
"This bill that we're going to hear today, along with some we're going to hear next week, are very controversial issues," Kidd said. "And they need to be worked on. They need to be fixed. We need to make some changes and everybody's gonna come to the table and negotiate."
Both Stewart and a representative of the solar panel industry expressed willingness to compromise.
Paul McKnight, owner of St. Louis-based EFS Energy and president of the Missouri Solar Energy Industries Association, said he was open to having a different rate class for customers with solar panels. But he said more study is needed on the value of solar.
Kidd said he is still looking for a credible study on the value of solar.
He agreed with Stewart that customers with solar panels are being subsidized, but said changing the system opens a wider conversation about higher rates being used to keep minimum bills low, in effect subsidizing them as well.
"If you're going to take that stance, then you have to be ready that we quit subsidizing through other electric charges and make everybody pay the real base rate which would probably double (base) rates, at least," Kidd said. "That's kind of that can of worms that we may not want to get into at the moment."