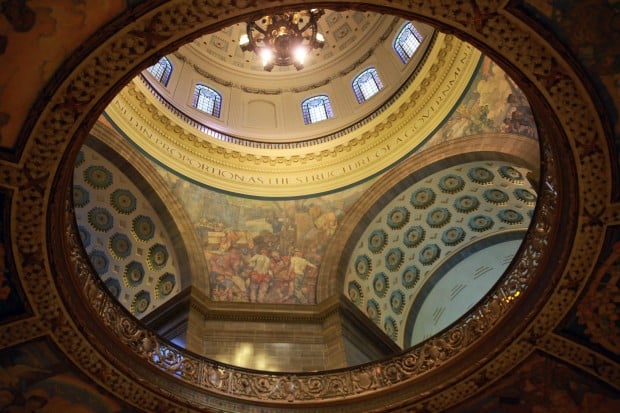 JEFFERSON CITY • Missouri lawmakers have reached the halfway point of the session.
How are they doing so far? That depends on whom you ask.
The House Republican leaders gave themselves very high marks during a news conference at the Capitol today, boasting that they have two priority bills on the way to the governor and a budget proposal heading to the House floor.
"We're proud to say at Spring Break that we've accomplished 70 percent of the agenda that we laid out," said House Speaker Steven Tilley, R-Perryville.
Perhaps not too surprisingly, House Democrats had a different take on the session.
"This is probably the craziest 38 days that I've ever had at the start of session. We've had a myriad of bad things that have been proposed, passed (and) debated," said House Minority Leader Mike Talboy, D-Kansas City.
After passing several bills on the floor of each chamber, lawmakers left the Capitol today for Spring Break. They'll return March 19.
GOP leaders noted the Legislature's passage of the workers' compensation bill (SB 572) and the employment discrimination legislation (HB 1219) among key successes so far. Both bills found overwhelming success (though, largely by party lines) in both chambers.
Senate President Pro Tempore Rob Mayer, R-Dexter, and Majority Leader Tom Dempsey, R-St. Charles, said in a separate news conference that they think the two bills will encourage businesses to create more jobs in the state.
The workers' comp bill would require that all claims over chronic diseases caused by work duties go through the workers' compensation program, rather than civil court action. The discrimination bill modifies the laws so that the discrimination itself (i.e. bias of race, religion, gender, age, etc) has to be the "motivating factor" for the case rather than a "contributing factor."
Talboy disagreed with Republican leaders' claims that they have been working to create jobs this session. He also said education should be of a higher priority.
"For the third session in a row, job creation seems to be going nowhere in the Republican House," he said.
The House leadership has yet to advance its education bill.
"They keep trying to put really bad ideas in a bill," Talboy said.
But Tilley said Republicans are trying to build a consensus within the party before moving forward.
"There's probably not a consensus on anything in the bill," he said.
Education was high on the party's list of priorities, but Tilley said he won't consider the session a bust if the bill doesn't make it this year.
"I'm not going to pin any one thing on (determining) whether (the session) is a success or not," he said.
Still, he said he's hopeful that issues within the party will be resolved in time.
"We're at half time and we have a long time left in the game," he said.