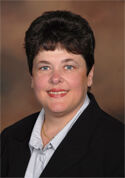 JEFFERSON CITY • Roberta Broeker will take the helm of the state's financially strapped Transportation Department when Dave Nichols leaves his post as director next month.
Broeker, the department's chief financial officer, was named interim director Wednesday. She has been in her current position for 10 years.
"Roberta has the skills and experience to guide the department while we search for a permanent replacement," said Highways and Transportation Commission Chairman Stephen Miller. "With Roberta's help, we are positioned for a seamless transition for employees, customers, and stakeholders."
The commission hired Grant Cooper & Associates to help find someone to lead the department, and expect to name a permanent director this fall.
The announcement comes two months after Nichols, director since April 2013, announced he will retire May 1. At the time, Nichols said he and his family simply decided it was the right time and no other issues drove his decision. 
His retirement announcement came just a day after the Commission approved "Missouri's 325 System," the department's plan for 2017 when the state will see its construction and maintenance budget drop to $325 million. As it drops, the state will lose significant spending power because it won't be able to match available federal dollars.
In 2014, the state had about $700 million for construction and maintenance. It needs $485 million to maintain its network of roads in the current condition.
Under this plan, the state will use that $325 million to keep 8,000 miles of "primary" roadways that connect cities — such as Interstates 70 and 64 in St. Louis — smooth and safe. The remaining 26,000 miles, dubbed "supplementary," will see limited routine maintenance: Snow will be plowed, potholes will be filled and traffic signals will be kept running, but little else will be done.
The drop in revenue largely is due to the state's 17-cents-per-gallon gas tax, which hasn't been raised for nearly 20 years. Last year, the Legislature tried to fix the funding problem by passing a measure that would have increased the state sales tax rate by three-quarters of a penny per dollar, which would then fund road, bridge and transit projects across the state. But Missourians rejected Constitutional Amendment 7 in the August 2014 election.
In January, Gov. Jay Nixon suggested in his State of the State address toll roads on I-70 or increasing the gas tax to make up for the department's declining funds. Movement on such measures in the Legislature have been slow, however.