Here's our previous story:
The Missouri Department of Transportation isn't counting on legislators to hike the state's gas tax this year, and plans to dip heavily into its cash reserves to secure federal matching funds in coming years.
"It's a sound financial plan, although it comes with a risk," said Patrick McKenna, the agency's director.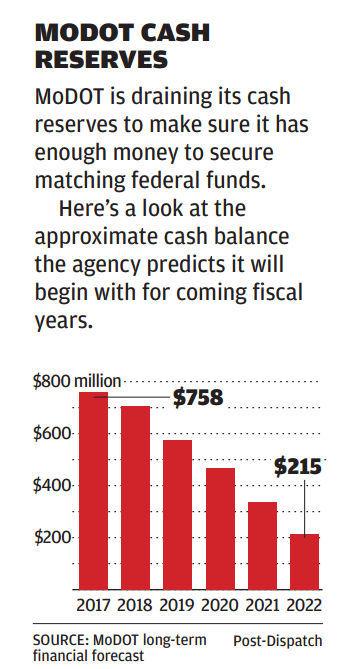 Alternatives to raising the gas tax proposed include restarting a cost-sharing program that would allow MoDOT to split the cost of transportation system projects with local communities, and a plan to fix state roads and bridges with money saved from other state programs.
MoDOT has grappled with funding problems in recent years, a situation the previous chairman of the commission that governs MoDOT described as forcing the agency to "lurch from financial crisis to financial crisis."
Missouri can match $1 of state funds with $4 of federal funds — and the risk of losing those federal dollars is too great to stomach, says McKenna.
MoDOT began the current fiscal year with about $831 million in reserves. In six years, that number is expected to dip to around $214 million if the agency continues to take money from the fund, according to its projections.
"That's too low, quite frankly," McKenna said.
That sum seems like a lot of money, but a large and unexpected repair or rebuild project — such as if a barge hits a bridge over the Mississippi River — quickly can drain millions of dollars, he said.
"The world is uncertain and nothing ever works out exactly the way you think," Boyd said of the reason for keeping cash on hand.
Money in the bank can be needed to counter revenue fluctuations or the unexpected, such as a lawsuit judgment or an audit by the federal government in which funds are taken back.
But using cash reserves is common among state governments to counter financial difficulties.
"When times are lean, and particularly when the economy is bad, that's exactly one of the things reserves are there for," Boyd said.
He suggested that the size of reserves should be related to the amount of financial instability, which MoDOT says there has been plenty of in recent years.
The state had been holding onto cash as uncertainty lingered about the passage of a federal transportation bill, leading to worry that federal reimbursement funds could be suspended. So MoDOT wanted to make sure it had enough money on hand to avoid delaying payments to its contractors.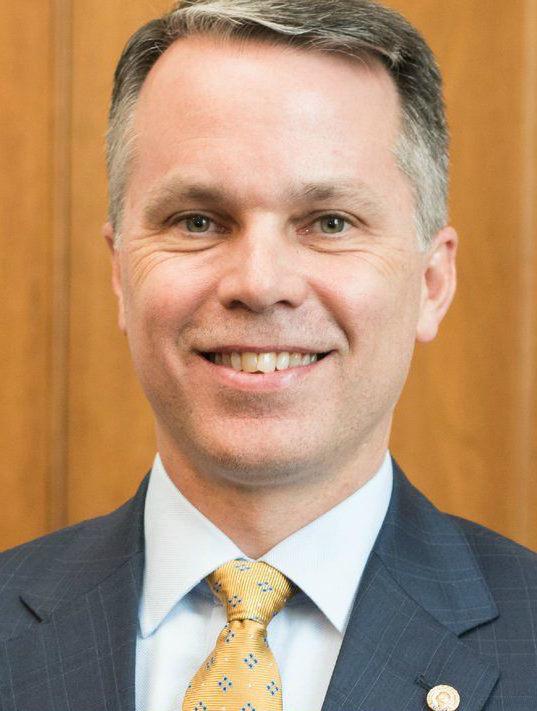 "That was untenable to us," McKenna said. "You have private companies putting forward private capital and they expect to be paid."
That fear was coupled with concern that contractors would leave to work in other states with bigger construction budgets.
"We'd have less competition for new contracts and get less favorable pricing on a per-project basis," McKenna said.
But such worries are now somewhat lessening.
MoDOT, and other state transportation agencies, got some breathing room in December with the long-awaited passage of a five-year, $305 billion federal transportation bill. McKenna said that allows MoDOT to "tread water" for five years and more safely lower its working capital.
The condition of bridges across the state has been worrisome, with roughly 600 in critical condition. That number is expected to stay the same five years from now — including bridges that will be repaired or replaced, and other bridges that will be added to the list — without new funding, McKenna said.
State Sen. Doug Libla, R-Poplar Bluff, has campaigned hard for hiking the state's gas tax as a panacea for some of MoDOT's funding woes. The state's 17-cent-per-gallon fuel tax hasn't been raised in 20 years and is among the nation's lowest.
On Wednesday, Libla won preliminary approval in the Senate to hold a statewide referendum in November on whether to raise the tax by 5.9 cents to 22.9 cents per gallon, above the 20.88-cent national average. It was a steep jump from his earlier proposal to hike the tax by 1.5 cents on gas and 3.5 cents for diesel users, although it's likely to face opposition in the House.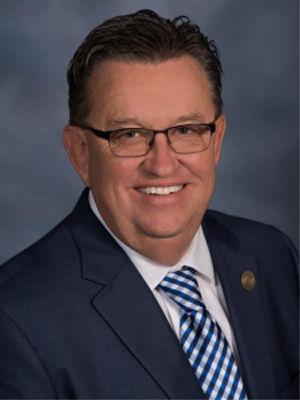 One reason, he said, is that legislators don't like raising taxes in an election year.
McKenna came to St. Louis on Wednesday and echoed that sentiment to the East-West Gateway Council of Governments board of directors.
He said maintenance, not new projects, remains MoDOT's focus, and that the fight must continue to solve MoDOT's funding problems — even in election years.
"We need to move the ball," McKenna said. "We can't take a year off."