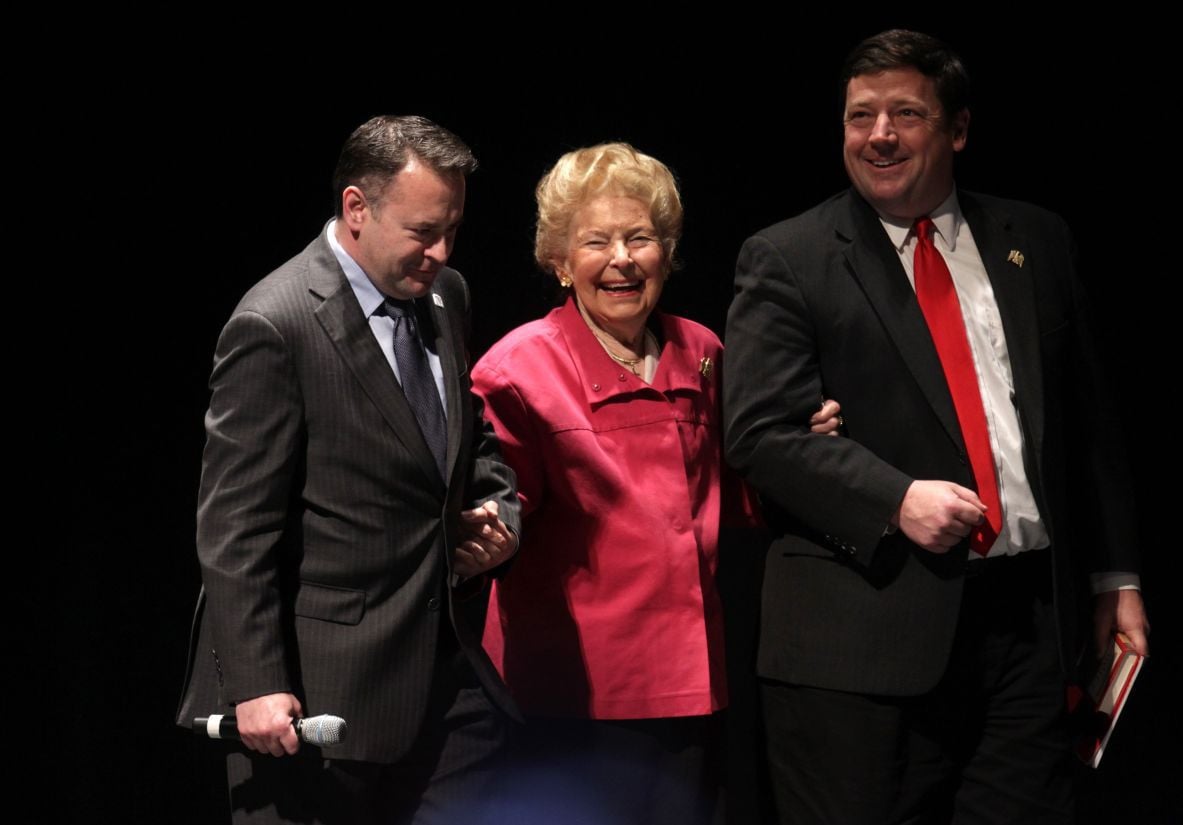 ST. LOUIS • The late conservative activist Phyllis Schlafly formed her storied national grass-roots organization, the St. Louis-area-based Eagle Forum, more than 40 years ago.
It took one 40-minute phone call last April for it to start coming apart.
"Why are you hijacking Eagle Forum, Ed?" shouted one woman in the contentious conference call among dozens of Eagle Forum officials from all over America. "Why are you hijacking Eagle Forum?"
The question was directed at pugilistic Missouri politico Ed Martin — who may or may not be Eagle Forum's president, depending on how one of several pending lawsuits shakes out.
After Schlafly herself put him in charge of the organization two years ago, Martin is now at the center of a rift that has bitterly divided her longtime followers across the country and has pitted her adult children against each other.
It will all be on display in the St. Louis area this week, when two groups of people who each claim to be the real heirs to Schlafly's movement hold concurrent events a few miles apart.
The conflict began in the months before Schlafly's death last September, as Eagle Forum board members accused Martin of manipulating the 92-year-old activist for his own agenda — including his support for then-presidential candidate Donald Trump. Martin, allied with several of Schlafly's sons, accused the board members of trying to push Schlafly out of her own organization.
The rift has only widened in the almost five months since Schlafly's passing.
"If you want to go to the meetings of these losers, please do not come to our meeting," Martin wrote in an email to Schlafly's followers announcing the St. Louis-area event he's leading this week. "We are not interested in people who want to play all sides." He signed the email, "Phyllis Schlafly's Successor."
The "losers" he references include Schlafly's daughter, Anne Schlafly Cori of Ladue, an Eagle Forum board member who says the strife in her mother's organization — and even between her and her siblings — stems from Martin's brief time at the helm.
"I'm very sorry to say my mother was isolated from her best friends in the last six months of her life," Cori said in an interview last week. "There were a number of people who were banned from seeing her."
She added: "I had no conflict with my brothers before the advent of Ed Martin."
One of Cori's brothers, New Jersey attorney and conservative activist Andrew Schlafly, who is allied with Martin, has a very different take.
"A few people have been scheming to take over Eagle Forum, and that's been going on for a long time," he said last week, referring to his sister and five other board members. He alleges the members — unpaid volunteers, some of whom had worked for Phyllis Schlafly since the 1970s — wanted control over the group's finances. "They would have tried to take it over whether Ed Martin was there or not," he said.
But others insist the furor currently surrounding Eagle Forum, including three pending lawsuits, started with Martin's tenure.
"Eagle Forum has always been a remarkably drama-free organization," said Colleen Holcomb, a Virginia-based attorney and Eagle Forum's legislative director. Martin, she said, "has a habit of leaving organizations in shambles."
As for Martin's claim to the title of "Phyllis Schlafly's Successor," his critics point to a court order suspending him as Eagle Forum's president, pending the outcome of litigation. "Every time he tries to present himself as president of Eagle Forum," said Cori, "he is violating a judge's order."
In an emailed statement last week, Martin insists he is the rightful heir to Schlafly's legacy. "Phyllis called me her successor," Martin wrote. "I accepted it proudly."
In his statement, he also harshly criticized the board members, whom he calls "The Gang of 6," for what he alleges was a hostile takeover. "Every day, they are diminishing the reputation and value of Phyllis," he alleged.
FEARS OF MANIPULATION
Martin last week also pushed back on the premise that Schlafly had run a "drama-free" organization before he arrived. "Phyllis believed that drama in the pursuit of truth and goodness was necessary," wrote Martin. "She engaged in it all the time."
Drama has been a prominent factor in Martin's own career, which has included failed campaigns for Congress and Missouri attorney general. As chief of staff for Missouri Gov. Matt Blunt in 2007, Martin resigned amid controversy over the firing of a staffer that cost the state a $500,000 settlement. As chairman of the Missouri Republican Party in 2013 and 2014, Martin's enthusiasm for the Tea Party alienated establishment Republicans and may have cost donors; he inherited a budget surplus and left the party with a deficit.
Schlafly, an attorney and author, emerged in the early 1970s as America's chief voice against feminism and led the successful national fight to kill the Equal Rights Amendment. Her Eagle Forum, which began as an anti-ERA newsletter in 1972, now claims 80,000 members nationally.
In January 2015, Schlafly, then 90 and looking for a successor to lead Eagle Forum and an adjacent charitable organization, brought in Martin as president of both, at a total $150,000 salary. Martin quickly became Schlafly's right-hand man, accompanying her to public events and speaking for her in emails. Some officials in the organization privately worried he was exerting too much influence over the elderly icon.
That concern sharpened in March 2016, when Trump, then a GOP presidential primary candidate, conducted his St. Louis rally at the Peabody Opera House. Schlafly, by then 91 and in visibly frail health, was helped onto the stage by Martin and another man, and they stood next to her as she introduced Trump. In a video, Martin can be heard directing Schlafly when to conclude the introduction.
Several Eagle Forum board members were on record as supporting rival Republican presidential primary candidate Ted Cruz.
"We have no respect for that man [Trump]," former longtime Texas Eagle Forum President Cathie Adams told the Dallas Morning News shortly after Trump's St. Louis event. "[Schlafly's endorsement] is going to be widely dismissed. At 91, it is just totally unfair to impose upon someone who has such a beautiful legacy."
Without naming Martin, Adams added that "I think this was very much a manipulation. When you're 91 and you're not out with the grass-roots all the time, it is very much taking advantage of someone."
Eagle Forum board members, including Adams and Cori, planned a meeting for April 11 with the intention of removing Martin as Eagle Forum's president. They insist it wasn't about Trump, but what they allege was Martin's mismanagement.
But three days before that planned meeting, Martin superseded it with his own telephone conference with dozens of Eagle Forum officials from all over the country. In an audio recording of the conference, many of them react in shock as Martin announces what amounted to a purge of his critics.
'UNPRECEDENTED CHAOS'
Martin alleged in the call that the board members had "been disloyal," singling out Adams for her "ageist slur" against Schlafly in the Dallas Morning News interview. He alleged the members were planning "a rogue meeting" to "take over" the organization.
In response, he said, he and members of the adjacent Eagle Forum charitable organization had held "an emergency meeting" that morning to fire several offending board members and others, including Schlafly's daughter. "Anne Cori … [is] no longer on the board," declared Martin. "Anne doesn't serve in any capacity."
Martin also announced that the group's Washington-based executive director, Glyn Wright, would no longer be in that post. When others on the call pressed him on where she was going, he said: "I have no idea. I just know she's no longer working for us." Later in the call, Wright breaks in and tearfully tells the group: "I was called five minutes before this meeting and I was fired for no cause."
Martin, in the call, presented his actions as a defense of Schlafly, though she wasn't heard from in the contentious 40-minute conversation. "There are people that Phyllis has known and loved for years," Martin told the gathering. "She has not done this lightly."
The board members, refusing to acknowledge Martin's attempt to fire them, went ahead with their planned April 11 meeting and fired Martin. He, in turn, refused to acknowledge their actions.
The board sued to enforce the firing. "During Martin's brief tenure, … Eagle Forum has experienced unprecedented chaos and division," alleges the suit, filed in Madison County Circuit Court April 22. On Aug. 24, the board filed a separate suit, in U.S. District Court in Southern Illinois, alleging that Martin had set up new group with a similar name — "Phyllis Schlafly's American Eagles" — in an attempt to confuse Eagle Forum donors.
Schlafly died Sept. 5, after a battle with cancer. The same day, Martin formally created yet another entity, the "Phyllis Schlafly Eagles PAC," a federal super PAC. He claims the group was already planned before Schlafly's death and that the timing of its formal creation was a coincidence.
On Oct. 19, two of Schlafly's sons allied with Martin sued the Eagle Forum board members in U.S. District Court in St. Louis, claiming they have no right to Schlafly's likeness and intellectual property. All three suits are pending.
Dueling conferences
Some of the board members say that, with Schlafly increasingly isolated near the end, the confrontational emails and letters signed by her didn't sound like her — but they did sound very much like Martin.
On the day before the Eagle Forum board was planning to meet to fire Martin last April, for example, the members got a letter over Schlafly's signature decrying their "attack on me and my work" and ordering them to "resign immediately." Acting Eagle Forum President Eunie Smith of Alabama, who is now filling the post that Martin still claims is his, says she called Schlafly about the letter and that Schlafly said she knew nothing about it.
Others in the organization, including Missouri Eagle Forum President Noreen McCann of Chesterfield, maintain it is the board members who are at fault, for refusing to accept Schlafly's elevation of Martin and her support of Trump.
"They just couldn't accept it when she laid down an accession plan" putting Martin in charge, said McCann. "Many of them were die-hard Cruz supporters. There's no doubt in my mind that a major part of this was the 'never Trump' element."
On Thursday, Eagle Forum volunteers, led by Cori and the other board members, will come from all over the country to the Frontenac Hilton for an education conference, followed by a weekend "round table" meeting.
Also starting Thursday, Martin's organization, "Phyllis Schlafly's American Eagles," will meet in St. Louis for three days. "Not everyone is welcome — just those who are serious about doing the work Phyllis directed us to do," Martin specifies in the same email announcement in which he calls Cori and the other board members "losers."