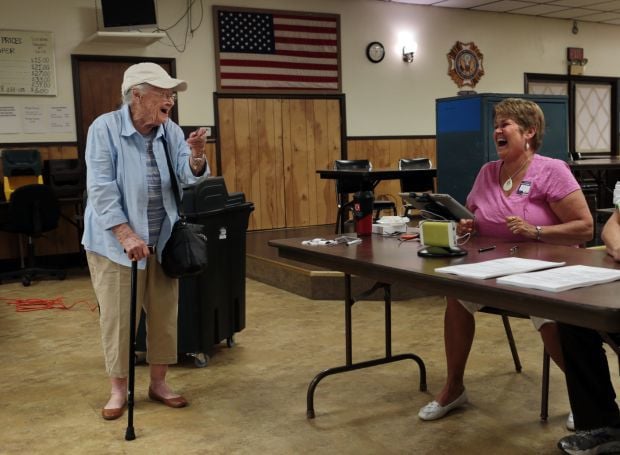 JEFFERSON CITY • A voter photo ID bill that has become one of the most contentious issues of the 2016 Missouri legislative session finally made its way to the Senate floor on Tuesday.
The bill passed out of the House early in the session, but the Senate Republican majority had held off on bringing the bill up before the body. 
Democrats used stall tactics to hold the floor from roughly 4 to 7:15 p.m., halting further action on the bill. They say requiring photo ID at the polls would make it harder for an estimated 220,000 Missouri registered voters without IDs to cast ballots.
"This is about voter suppression, not voter fraud," said state Sen. Jamilah Nasheed, D-St. Louis, at about 5 p.m. She read county-by-county voting results from as far back as 2006, making the point that in-person voter impersonation fraud is rare.
State Sen. Joe Keaveny, D-St. Louis, at about 5:30 p.m., told the Post-Dispatch that he didn't anticipate another marathon filibuster, like the one weeks earlier over a bill that would grant greater legal protections to wedding vendors and others opposed to same-sex marriage.
"We're still communicating, still trying to get some kind of compromise," he said. "I don't think either side wants to go to a 39-hour filibuster."
At about 7:15 p.m., state Sen. Will Kraus, R-Lee's Summit and the Senate bill sponsor, asked that the bill be laid over and placed on the Senate informal calendar, effectively pausing debate. His reason? He said he had to present another bill to a House committee.
After that, the Senate adjourned for the night.
Senate President Pro Tem Ron Richard, R-Joplin, was asked afterward if people should expect the bill to come up again.
"You can expect that, yeah," he said. "I don't know when, but yes it will."
It was unclear whether some sort of compromise was in the works. As it stands, the bill exempts people with disabilities, people born before 1946 and people with religious objections to their photo being taken. The bill also says that the state will pay for IDs and any source documents needed to obtain them.
A proposal floated Tuesday afternoon by Kraus would simply have those without an ID sign an affidavit at the polls saying they are who they say they are. If their signature matches the one on file, their vote would count.
State Sen. Rob Schaaf, R-St. Joseph, was the main backer of the new language, saying it should ease concerns that the bill would disenfranchise anyone.
"Under the Senate substitute, the bill would give the 220,000 eligible voters who lack a preferred form of photo ID a way to keep voting until they are able to obtain such a photo ID," Schaaf said. 
Schaaf has also floated an amendment that would expand early voting in Missouri. Nasheed had proposed her own amendment that would authorize the state to automatically register to vote anyone receiving government assistance. 
Nasheed, who held the floor for most of the debate, said after adjournment that she would have to think hard about supporting any proposed compromise.
"I don't know if the good would outweigh the bad," she said. "I just don't know."
Democrats cite numerous studies saying that voter ID laws in other states have tilted control of government to Republicans and have confused voters on election day.
A recent study out of the University of California, San Diego suggests that the strictest voter ID laws can reduce participation of strong liberals by up to 10.7 percentage points compared with states without the laws. (Participation among strong conservatives also drops, but only by 2.8 percentage points, the researchers found.)
Opponents also say in-person voter impersonation fraud — lying about who you are at the polls — isn't a problem worth solving. To supply the IDs, source documents and advertise the new law, it would cost the state more than $16 million over three years.
Justin Levitt, a researcher at Loyola Law School, Los Angeles, counted only 31 credible cases of in-person voter identification fraud out of more than 1 billion ballots cast between 2000 and 2014.
In Missouri, the bills are a mainstay in the Republican-controlled legislature, but the only time a bill was signed into law was in 2006 by then-Gov. Matt Blunt, a Republican. The Missouri Supreme Court deemed the law unconstitutional before that year's midterm elections.
Republican backers this year have said that because of safeguards, this bill wouldn't face the same legal trouble.
"I want to make sure there is enough provisions and safeguards in there to where we can make sure that everyone that is eligible to cast a ballot can," said state Rep. Justin Alferman, R-Hermann and the bill's House sponsor. "There is not a single voter ID bill in the entire United States that has been as thought-out as this bill has."
Still, the bill will only go into effect if voters approve a change to the state constitution requiring photo ID at the polls. That resolution has passed the House and only needs Senate approval to make the ballot.