ST. LOUIS • Police made more than 80 arrests downtown Sunday night after violence erupted following hours of peaceful protesting.
It marked the third night of violence following the Friday acquittal of former St. Louis Police officer Jason Stockley, charged with murdering a black drug suspect.
Around 1 a.m. Monday, Mayor Lyda Krewson and Interim Police Chief Lawrence O'Toole held a brief press conference.
"For the third day in a row, the days have been calm and the nights have been destructive," Krewson said. "This is unacceptable. Destruction cannot be tolerated."
O'Toole said "criminals" set out to break and destroy property and, as a result, landed in jail.
"I'm proud to tell you the city of St. Louis is safe and the police owned tonight," O'Toole said.
Shortly after the arrests, at Tucker Boulevard and Washington Avenue, police officers were heard by reporters chanting "Whose streets? Our streets," commandeering a common refrain used by protesters.
O'Toole said some officers were assaulted with chemicals and rocks, listing the injuries of the officers as minor and moderate.
"We're in control. This is our city and we're going to protect it," O'Toole said.
Police recovered at least five weapons during the arrests, the chief said.
The mayor and chief did not take questions from the media.
"I'm now leaving to assess the damaged area," O'Toole said.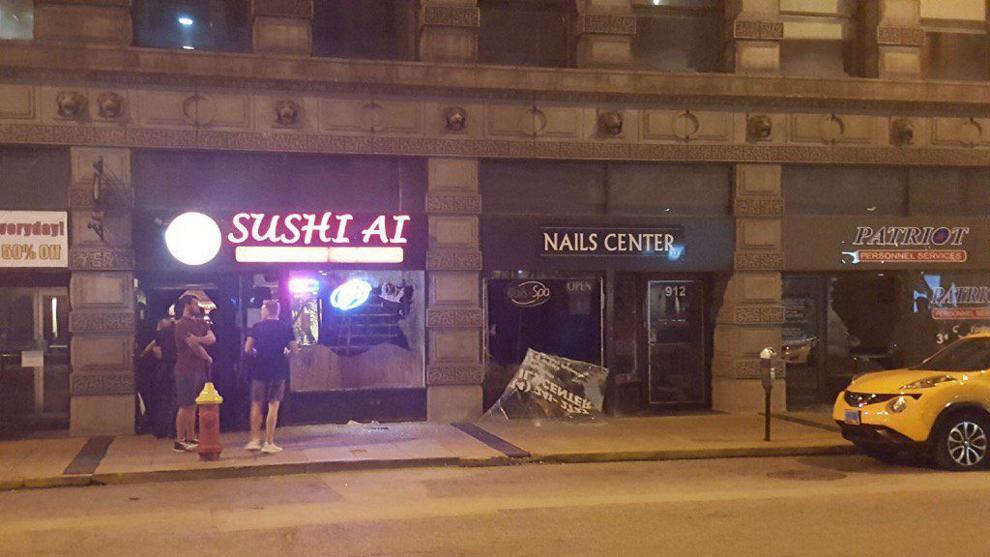 Earlier, before nightfall, about 1,000 people gathered outside the St. Louis Police Department in the Downtown West neighborhood and marched into Midtown before circling back to police headquarters at 19th and Olive streets.
The protests started peacefully but by 8 p.m., a small group had marched downtown, breaking several windows in the Marriott hotel on Washington Avenue and at other nearby businesses, including at Olive and 10th streets. A sushi restaurant, a nail salon and an optician's shop were among those hit. Concrete planters were knocked over and trash cans tossed into the street.
Police made at least a half dozen arrests after that, but the majority came about 11:30 p.m., after police said people ignored several warnings over about an hour's time to leave.
Officers, many of them armed in riot gear, forced dozens of protesters into the intersection of Washington Avenue and Tucker Boulevard. "Move back!" the police yelled in unison, as they corralled the lingering protesters and media. 
Among those caught in the sweep was Post-Dispatch reporter Mike Faulk, who had been covering the protest and its aftermath all evening. Also taken into custody was Jon Ziegler, who goes by the Twitter name Rebelutionary Z and has been live streaming the protests.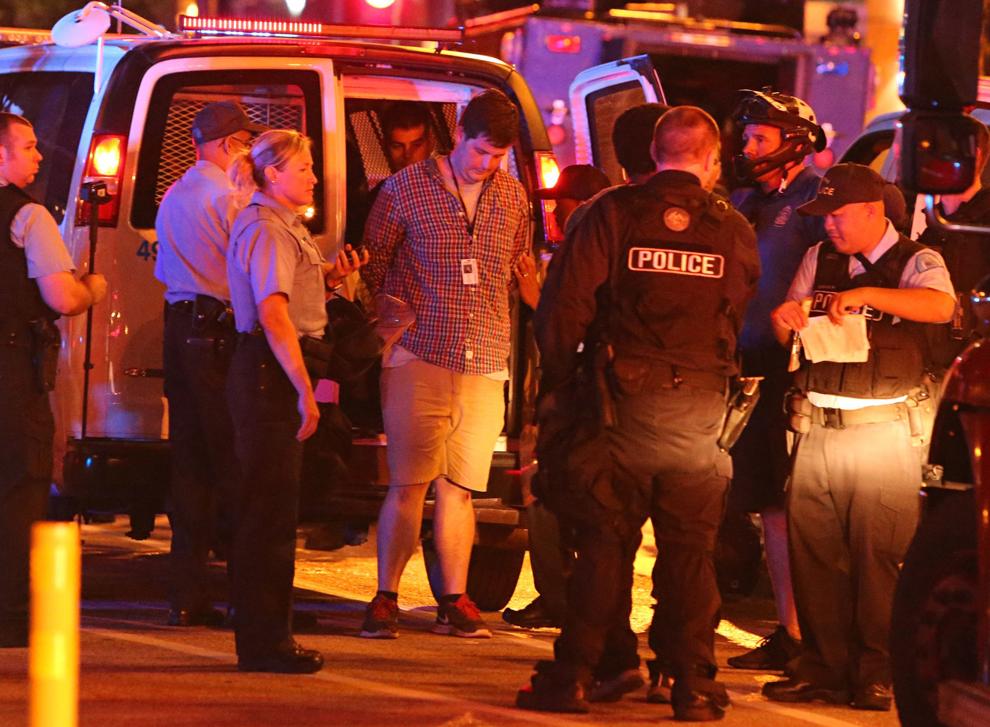 A bicycle officer suffered a leg injury during the earlier police response. There were no details on how he was hurt, but he was loaded into an ambulance and taken to a hospital. Police said they were non-life-threatening injuries.
Police said several St. Louis County officers had some unknown chemical thrown on them, as police have reported during previous days of protest.
For a time, a line of police in riot gear stood across Tucker at Washington, facing small groups of protesters to the north. Things stayed calm there and police eventually reopened the roads, though there was later another face-off a block or two south at Tucker and Locust Street. Police pushed groups of protesters who wouldn't disperse to the corner of Washington and Tucker, where they made arrests.
There was a car crash about 10 p.m. at Olive and Seventh streets, though it was not immediately clear whether it was connected to the mayhem downtown. Police said a speeding car hit an innocent motorist; officers found guns, drugs and a mask inside the first car, they said.
The vandalism began about 90 minutes after a leader of the protesters said the group had met its objective of bringing a large, diverse group of people out to peacefully assemble.
"We met our goal. We are dispersing," said Pastor Doug Hollis about 6:30 p.m. "This was a great, peaceful protest. That's what we want."
But many protesters remained in the area as night fell. There was a tense period after a car — an unmarked police vehicle — backed quickly through part of the crowd. No one appeared to be hit or injured, but protesters were angry about it. Police said some bottles were thrown at officers after that incident.
Police said officers had stopped a car near police headquarters and arrested the driver for assault and the passenger for making a terrorist threat. A third person began throwing rocks at officers, police said. He was arrested and put in the unmarked police car, a Chevrolet Impala. They released a video that shows part of the encounter.
"The crowd started moving in a threatening manner toward the Impala and because of road closures, the car could not go forward," police said in a statement. "The officer driving the blue Impala backed down the street to safety."
'Die-in' outside police headquarters
Protesters of all ages and races formed lines in front of the barricaded police headquarters at 1915 Olive Street beginning about 3 p.m. Demonstrators banged drums, held up "Black Lives Matter" signs and chanted "stop killing us" and "no justice, no peace."
By 4:30 p.m., protesters staged a "die-in," lying on the street in front of the police station as if dead and then marched west on Olive Street into Midtown and through St. Louis University's campus as students watched from their dormitory balconies. 
Hollis, one of the protest leaders, apologized to the stores vandalized in the Delmar Loop Saturday night and the Central West End on Friday, blaming the damage on "stragglers."
"We're not apologizing for protesting, but we are apologizing for the people that were not part of the peaceful protest," Hollis said.
Stockley, who is white, was found not guilty of first-degree murder Friday after an August bench trial in the 2011 shooting of drug suspect Anthony Lamar Smith, who was black. Prosecutors alleged Stockley executed Smith following a car chase and then planted a gun in his car. Stockley maintained that Smith reached for the gun and that he shot Smith in self defense.
Anthony Lamar Smith's mother, Annie Smith, was also among the protesters Sunday.
State Rep. Bruce Franks Jr., who was a frequent protester in Ferguson in 2014 before he was elected to office last year, said the protest's message was simple: "Y'all gon' stop killing us: That's the only message."
Ashley Jost, Bryce Gray, Robert Patrick, Mike Faulk, Jesse Bogan, Erin Heffernan and Doug Moore of the Post-Dispatch contributed to this report.