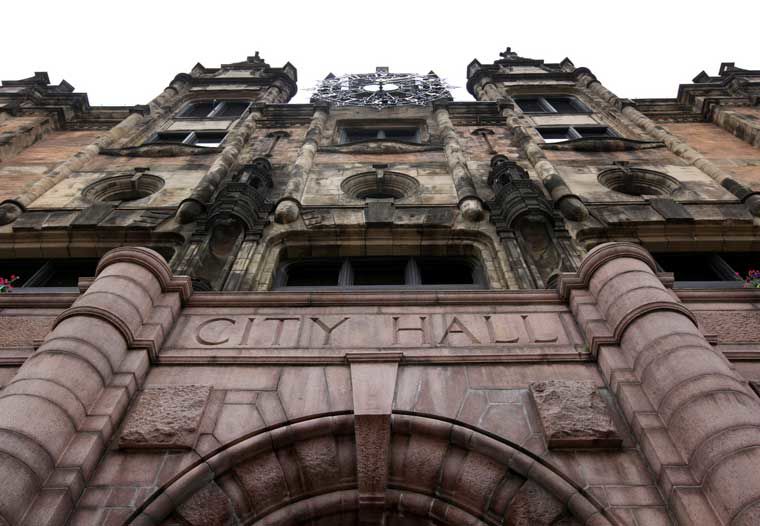 ST. LOUIS • Most incumbent Democrats in the city's municipal primary defeated their challengers on Tuesday, while one longtime alderman was defeated as voters opted for a fresher face.
Aldermanic President Lewis Reed easily won re-election against opponent Jimmie Matthews, the only citywide race on the ballot.
Reed, who is widely expected to challenge Mayor Francis Slay in the 2017 mayoral primary, gathered with supporters at Mangia Italiano on South Grand Boulevard along with Ward 15 Alderman Megan Green, who soundly defeated her opponent, Beth Braznell. Green was first elected in October to replace Jennifer Florida, who resigned the seat to become the city's recorder of deeds before losing the office in November. Reed endorsed Green, while Slay supported Braznell.
Ward 20 Alderman Craig Schmid was defeated by Cara Spencer, 36, who also was supported by Reed. Schmid, who has been on the board since 1995, was supported by Slay.
Spencer campaigned on bringing a younger, fresher face to the board. The ward spans parts of Dutchtown, Marine Villa and Gravois Park in south St. Louis.
In north St. Louis, Ward 2 Alderman Dionne Flowers defeated one of her three challengers, Jasmine Turnage, by just five votes. Flowers has been on the board since 1999.
The general election is on April 7, but the heavily Democratic city normally places most of the importance on the Democratic primary.
Ward 8 Alderman Steve Conway, the son of a former mayor, who received significant support from Slay, staved off a challenge from Kevin McKinney. The ward, which includes the Shaw neighborhood, was rocked by protests after an off-duty police officer fatally shot a teenager.
Ward 24 Alderman Scott Ogilvie, who represents the Dogtown neighborhood, easily defeated opponent Tom Bauer after running even in absentee voting. Ogilvie ran as an independent candidate in 2011 and defeated Bauer in the general election. Ogilvie changed his affiliation to Democrat in the run-up to the election.
Jack Coatar, who ran for the city's only open aldermanic seat (Ward 7), defeated opponents Chelsea Merta and Samuel Cummings. Coatar, 29, had support from both Slay and Reed and will replace longtime alderman Phyllis Young, who retired in December.
"I will work every day to live up to the trust this community has placed in me," Coatar said.
The outcome of the elections shouldn't significantly change the board's debate on various issues, such as the city's implementation of a civilian oversight board to review complaints against police.
Slay endorsed candidates in several wards. He has used majorities at the board to secure his agenda.