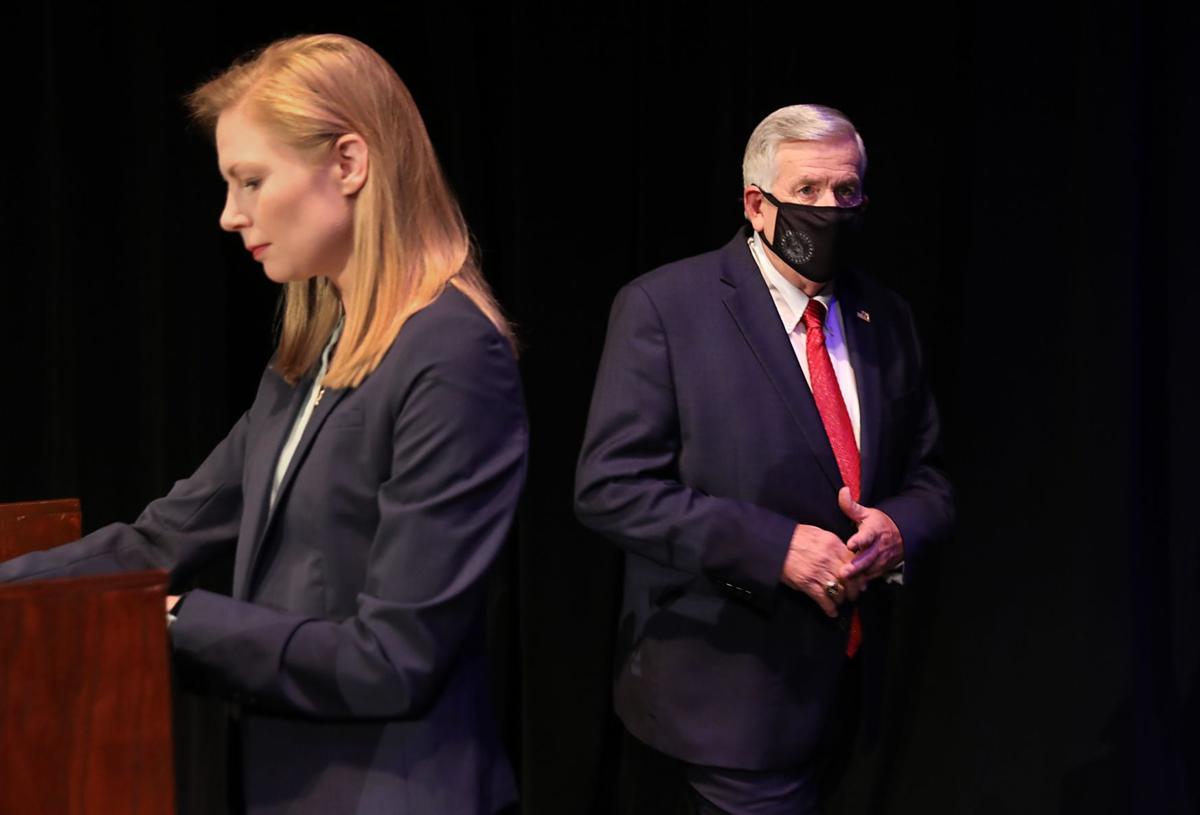 JEFFERSON CITY — With only 11 gubernatorial races this year, and perhaps only two of those now considered competitive, outside money has flowed to Missouri, where Democratic State Auditor Nicole Galloway is seeking to oust Republican Gov. Mike Parson.
A Stronger Missouri, the political action committee with significant funding from the Democratic Governors Association, is spending nearly $10 million on television ads through Election Day, according to information provided by both parties.
Uniting Missouri, the PAC boosting Parson, is poised to spend nearly $14 million on television ads through the election, the group said. The Republican Governors Association is that group's largest backer.
Uniting Missouri burned through nearly $2.4 million in July and August while A Stronger Missouri was silent, according to charts provided by Democrats.
Democrats — through A Stronger Missouri and the Galloway campaign — are focusing spending on the closing weeks of the campaign, when they believe more voters are paying attention.
Candidate hauls, meanwhile, are stunted because of campaign contribution limits voters enacted in 2016.
Candidates receive lower advertising rates and thus more buying power than PACs. That is a benefit to Galloway, whose campaign raised more money than Parson's in the last fundraising quarter.
Galloway for Missouri raised $3.05 million in this year's third fundraising quarter, between July 1 and Sept. 30.
Parson for Missouri, meanwhile, scooped up $1.7 million during that same period.
According to Missouri Ethics Commission records, the RGA has directed $11 million to Uniting Missouri this year.
In 2016, the group spent at least $13 million on Eric Greitens' winning bid for governor, according to the ethics commission. Greitens resigned in 2018 amid political scandals.
The Democratic Governors Association has spent $4.35 million on Missouri this year, less than the RGA's investment but more than the $2.8 million it sent to Democrat Chris Koster's failed gubernatorial bid four years ago.
David Turner, spokesman for the Democratic Governors Association, said the RGA was attempting to rescue Parson, whom he said failed to run a "halfway decent" campaign, putting his hold on the governor's mansion in jeopardy.
"He's now counting on the RGA to bail him out because he is unable to run a halfway decent campaign," he said. "The DGA is proud to support Auditor Galloway, as she is clearly the right choice to lead Missouri."
The RGA has been able to ramp up its spending in response because Republican incumbents in states like Vermont and New Hampshire appear to be cruising to reelection.
The only gubernatorial race currently classified as a "toss up" by elections ratings groups is Montana's, where the incumbent, Democrat Steve Bullock, is running for a U.S. Senate seat. Election forecasters have given Parson the edge in Missouri, though Democrats believe Galloway will make a breakthrough in the next two weeks.
"The RGA is deeply committed to supporting our incumbent governors, and we'll do whatever is necessary to ensure Governor Parson is elected for a full term in November," said Amelia Alcivar, spokeswoman for the RGA.
Get Election 2020 & Politics updates in your inbox!
Keep up on the latest in national and local politics as Election 2020 comes into focus.