JEFFERSON CITY — Land near Busch Stadium in downtown St. Louis was once home to pens where enslaved people were held in shackles before they were auctioned off or sold.
Now two St. Louis-area state representatives are asking the St. Louis Cardinals to acknowledge the location's "horror and history" by erecting a marker at the corner of Broadway and Clark, the site of one of several pens that were located downtown.
Reps. Rasheen Aldridge, D-St. Louis, and Trish Gunby, D-Ballwin, made the request in a letter to Bill DeWitt, president of the Cardinals. They announced it in a news release Monday.
Aldridge and Gunby, in the release, said the Cardinals "are beloved in our region and as an organization support many local causes that endear them to us, their fans." 
"It is in this spirit that we ask you and the St. Louis Cardinals organization to erect a marker that recognizes the horror and history of where Busch Stadium now stands," they said.
Acknowledging the history could begin healing of divisions caused by race and injustice, "bring our history to light for many and spark conversations that need to occur," Aldridge and Gunby wrote. Aldridge's district includes Busch Stadium.
The release says the pens belonged to prominent slave trader Bernard Lynch. They were seized by Union troops during the Civil War in 1861 but not fully demolished until 1963.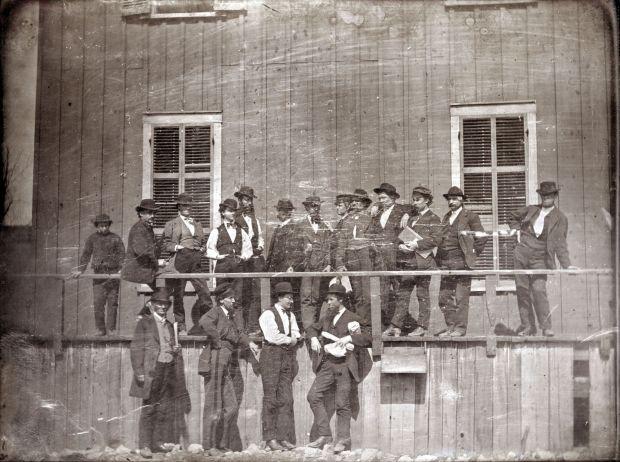 According to a page on the St. Louis City website, Lynch's Slave Pens were "cramped and constructed like prison cells. Each person was shackled, the rooms were bolted and locked, and bars were placed on the windows."
The Broadway and Clark location of the pens, near the current stadium site, was one of several in the downtown area, the website says.
A spokesperson for the St. Louis Cardinals said Tuesday that DeWitt has been in touch with Aldridge and Gunby and "is planning to share with them about their concepts and thoughts."
Updated Tuesday to include a response from the Cardinals.