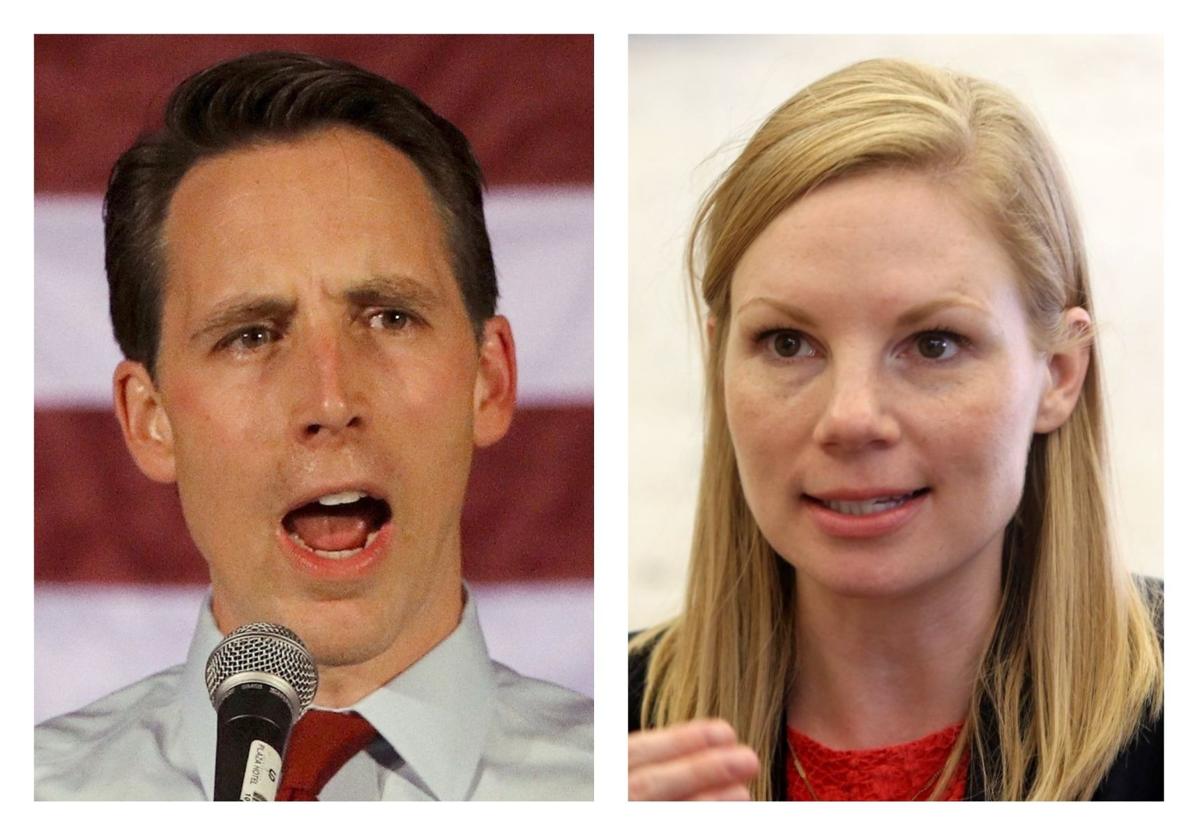 JEFFERSON CITY — A new audit of U.S. Sen. Josh Hawley's short tenure as Missouri's attorney general found more paperwork and management problems that may have cost taxpayers unnecessary amounts of money.
In a report issued Friday, Auditor Nicole Galloway said Hawley's office overspent on travel and did not give prior approval to paying employees for relocation expenses.
Hawley, a Republican who served as attorney general from January 2017 to January 2019, dismissed the report, saying despite some higher costs, overall spending in the office went down.
"The audit report's recommendations could have saved taxpayers at most about one-half of one percent of the office's annual budget — a fraction of the sum Attorney General Hawley was able to save through responsible stewardship of the office's resources," wrote Washington D.C.-based attorney Brian Barnes on Hawley's behalf.
The latest audit comes more than 18 months after Hawley left for his current post and marks the second negative report about his management from Galloway, a Democrat who is running for governor.
In February, an audit outlined how taxpayer-paid staff working in his office met with his political consultants, perhaps more than a dozen times, in the months before he launched his Senate campaign in 2017.
Galloway's office found evidence of 11 in-person and phone meetings between Hawley's staff and his political consultants from January to July 2017. Over that same period, Hawley's campaign paid a combined $141,000 to the political advisers OnMessage Inc., First Tuesday and HLC Strategic LLC.
The earlier audit also said employees did not follow office policy when they used personal email accounts, calendars and phones "to conduct official business, communicate, and schedule meetings."
And, it said Hawley used a state vehicle and a driver for some trips without documenting the purpose of the trip. A driver told the auditor that on Dec. 16, 2017, he drove Hawley and his wife, Erin, to Kansas City for a Chiefs football game.
In response, his attorney said there was no evidence Hawley "ever engaged in any misconduct or violated Missouri laws or ethics rules."
The new audit also found a lack of oversight for travel-related costs.
"For example, beginning and ending odometer readings recorded for a round trip from Jefferson City to Lebanon indicate the vehicle was driven 526 miles, while the actual round trip mileage between these cities is approximately 180 miles," the audit noted.
The office also may have overpaid to send employees to a conference in Portland, Oregon, by failing to register early enough to get a reduced room rate. Instead of paying $209 per night, employees paid $359 to $450 per night.
"The Attorney General's Office did not ensure lodging costs associated with attending an out-of-state conference were reasonable as required by state travel policy and did not always follow state travel policies and regulations requiring employees select the most cost-effective method of travel," the report noted.
Hawley, who has championed computer privacy issues as attorney general and as a senator, also allowed workers in his fiscal office to share computer logon credentials, the audit said.
Barnes, the private attorney who answered for Hawley, said Galloway's latest report found no wrongdoing.
"The audit uncovered no evidence of mismanagement or fraud or illegal activity, and the report's bottom line is that the office was responsibly managed during Attorney General Hawley's tenure," Barnes wrote.