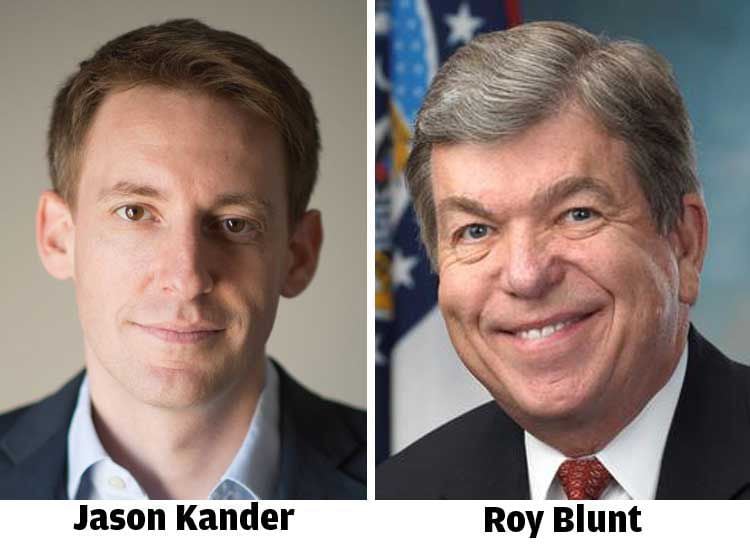 JEFFERSON CITY • A new television ad criticizing incumbent U.S. Sen. Roy Blunt for his relationships with Washington D.C. lobbyists and special interests is set to air Friday, according to Missouri Secretary of State Jason Kander's campaign staff. 
Called "Question," the ad is backed by the Democratic Senatorial Campaign Committee, which has already given financial aid to Kander's U.S. Senate campaign. But the commercial marks the first time the national party has put money into advertising on Kander's behalf. 
"We think it's important that voters in Missouri know what Blunt has been doing and what his record is, and we want to make sure that message can reach as many voters as possible," said Lauren Passalacqua, national press secretary for the DSCC.
The commercial slams Blunt for voting to raise his own salary and living in an $1.6 million house. It also questions if several of Blunt's immediate family working as lobbyists is a conflict of interest.
The narrator of the ad asks, "is Washington working for your family? After twenty years there, it's working great for Roy Blunt's family." 
In a statement, Kander communications director Chris Hayden said the ad shows a "stark contrast" between Blunt and Kander, who pushed ethics reform while in state office.
The ad is Kander's second to be aired on television so far in the general election. A commercial released earlier this week focused on his service as an intelligence officer in Afghanistan.
The Kander-DSCC ad comes on the heels of two negative TV ads launched by Blunt since the Aug. 2 primary election.
One, called "Right Direction," makes the case that the country isn't headed that way, and that Kander will continue that trend. The ad is betting that Democratic presidential nominee Hillary Clinton will be a drag on Kander in Missouri. It juxtaposes images of Kander and Clinton, comparing their records on support of Obamacare and other issues.
"Do you believe we're headed in the right direction?" the ad's narrator asks. "Hillary Clinton and Jason Kander do. They've pledged to continue the same failed policies holding America back."
The other ad, called "Not Just Incompetent," calls out Kander for disputes over ballot language on his watch as Missouri Secretary of State, which is the state's chief election official.