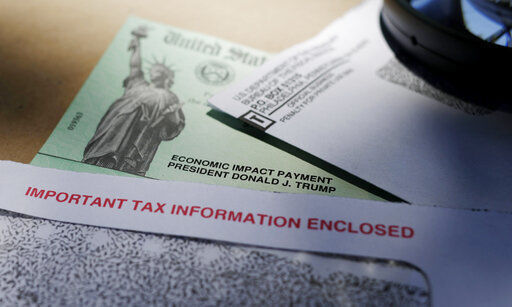 JEFFERSON CITY — The latest federal emergency relief package will bring more money to Missouri and give counties and the state additional time to spend what they had left from the first round of stimulus approved in the spring.
State governments are not getting direct funding in the nearly $900 billion stimulus bill signed by President Donald Trump at year's end.
But the new round of pandemic relief money will flow through state agencies for specific purposes such as transportation, rental and mortgage assistance and education.
For example, $8.75 billion will be used to help states distribute and administer coronavirus vaccinations. States also will distribute $54.3 billion for elementary and secondary schools.
At the Missouri Department of Transportation, Director Patrick McKenna said the state is in line for more than $200 million in aid, but a specific amount is still under review.
That money, plus a boost in sales tax revenue from a heated market for cars and trucks, could allow MoDOT to sustain its current road building program in the coming years.
"We're really pleased with that," McKenna said Tuesday.
According to Gov. Mike Parson's budget office, Missouri has millions unspent from the original $3.55 billion received from the Coronavirus Aid, Relief, and Economic Security Act approved in March.
That federal relief money was supposed to be spent by Dec. 31, but under the new package, the state has another year to distribute the remaining cash.
"Currently there is $671 million unspent and we will continue to spend it on COVID-related expenses such as testing, (personal protective equipment), provider-related COVID costs, etc.," said budget chief Dan Haug.
State records show checks continue to flow out of that account.
Nursing homes, school districts and small businesses also continue to receive assistance.
Mary Compton, spokeswoman for Treasurer Scott Fitzpatrick, said Parson will allow counties to spend any money they have left from the first round through June 30, as long as they provide the state an up-to-date accounting of their spending data by Jan. 31.
The city of St. Louis, meantime, has either spent or allocated all of the $35.4 million in federal relief money it received from the state in April.
"For all intents and purposes, that money is all spoken for," said Jacob Long, spokesman for Mayor Lyda Krewson.
However, some of the $7 million allocated for rent and mortgage assistance for thousands of residents will continue to go out in the new year, Long said.
"We are hopeful the city will eventually end up with some of the money," Long said.
State and local governments also could receive assistance if another stimulus package is negotiated once President-elect Joe Biden takes over on Jan. 20.
While Republicans balked at more aid for governments, calling it an unnecessary "slush fund" for Democratic states, a Democratic-crafted bill could open the federal money spigot.
Debate over the new spending package, as well as any future allocations, are expected to be the focus of budget talks between Parson and the GOP-controlled Legislature, which begins its annual session on Wednesday.
Parson is set to deliver his budget proposal for the fiscal year beginning July 1 on Jan. 27.