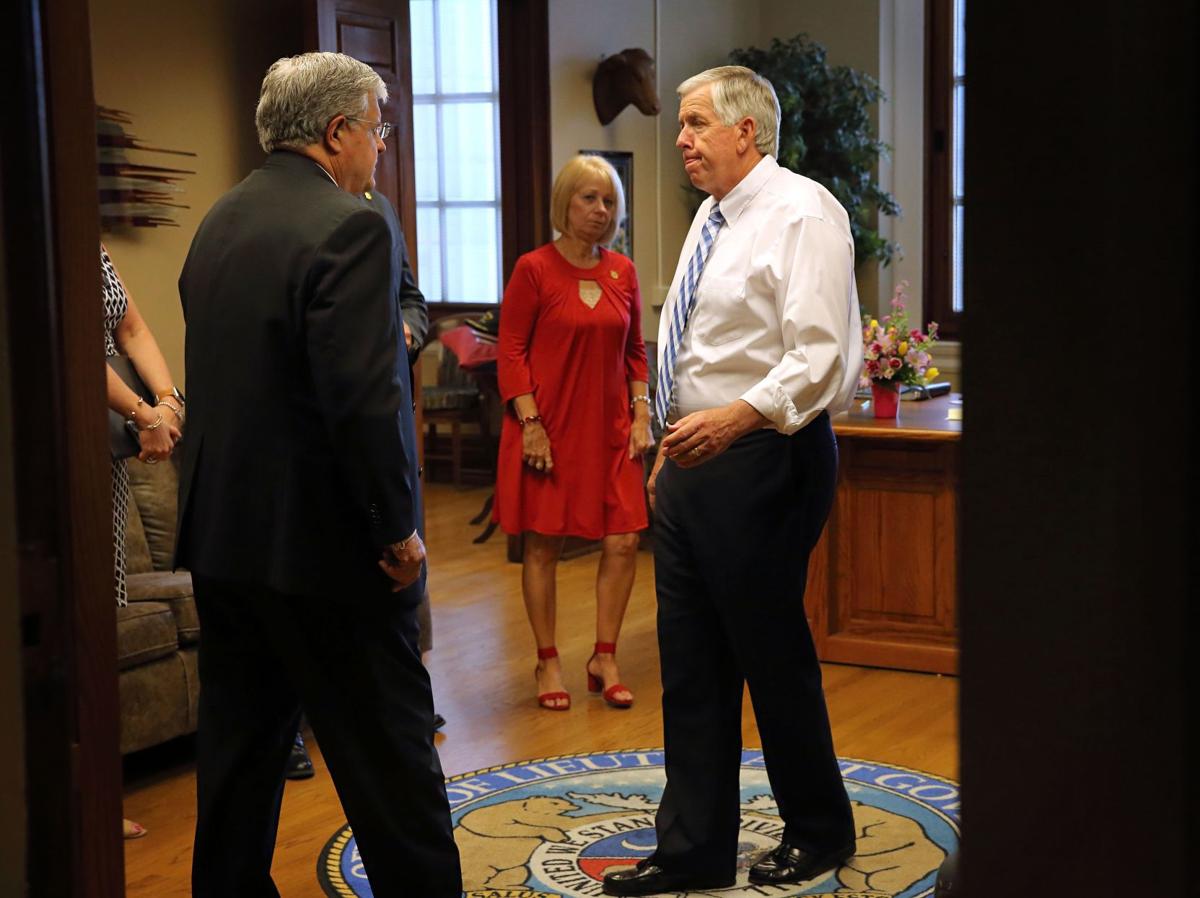 JEFFERSON CITY • Lt. Gov. Mike Parson will be sworn in as Missouri's 57th governor Friday in a low-key event in the governor's office.
In a nod to the circumstances of his ascension to the state's highest office, the 62-year-old Republican will hold a private prayer service at 4 p.m. followed by his formal swearing-in ceremony in the Capitol by Missouri Supreme Court Judge Mary Russell.
Advisers said the lack of fireworks surrounding Parson's taking over was designed to portray the longtime lawmaker and former Polk County sheriff as bringing stability to a state that has been rocked by criminal allegations against Greitens and a move by the Legislature to consider impeaching him.
Since learning that he'd be taking over for his GOP counterpart, Parson has spent his days in his second-floor office in meetings and on phone calls. He has made no public appearances nor held press conferences.
On Thursday, the former state lawmaker was scheduled to receive a briefing from the Missouri Department of Public Safety's State Emergency Management Agency and finalize the details of the swearing-in ceremony.
Since Tuesday, Parson has spoken to U.S. Sens. Roy Blunt and Claire McCaskill, and all eight members of Missouri's congressional delegation. He has also spoken to Secretary of State Jay Ashcroft, state Auditor Nicole Galloway and Attorney General Josh Hawley. In addition, he has spoken to St. Louis Mayor Lyda Krewson and Kansas City Mayor Sly James.
Hoping to ease the transition from a small statewide office with just a handful of employees to a job that oversees more than 50,000 employees spread across multiple departments, House and Senate leaders have lent Parson some of their staff to assist with the work.
In hindsight, though, Greitens' spectacular flame-out over the past five months, ending with his edge-of-tears announcement Tuesday that he is…
Senate President Pro Tem Ron Richard, R-Joplin, said the staff help would be temporary.
"That's all it amounts to, just a week or two. Nothing serious," Richard said.
In one sense, Parson was already being treated like the governor. Stationed outside his office were two members of the Missouri Highway Patrol security detail, who have watched over Greitens for the past 17 months.
Along with getting a detail to ferry him around the state, Parson will see his pay rise to $133,820, up from his lieutenant governor's salary of $86,484.
The cost of the governor's security detail in 2017 was $2.4 million, according to figures compiled by the highway patrol. Security costs during former Gov. Jay Nixon's administration were $2 million in 2015 and $2.1 million in 2016, the patrol said.
Greitens, meanwhile, was splitting time working in his Capitol office and working to move out of the nearby Governor's Mansion heading into the final day of his tumultuous 17-month tenure, spokesman Parker Briden told the Post-Dispatch.
Briden said staff members were reviewing legislation sent to the governor to determine if he wants to sign bills into law before leaving for his home in Innsbrook, or leave that task for Parson.
"There were some legislative initiatives that he supported. He'd like to be able to sign those into law," Briden said.
The governor and his legal team also are facing a deadline to turn over records relating to a House investigation into his possible impeachment that was underway when he announced his resignation.
It has been an honor & privilege to serve as First Lady of my adopted state. I'm grateful to have had the chance to work w/so many who came together to protect & care for our kids, & for time in this wonderful home for our boys. Thank you. May God bless the people of Missouri. pic.twitter.com/irevJaVppd

— Sheena Greitens (@SheenaGreitens) June 1, 2018
On Friday morning, Greitens' wife, Sheena, sent out a farewell message on Twitter thanking the people of Missouri and saying it had been an "honor and privilege" to serve as First Lady.
The House leadership expects Greitens for Missouri, his campaign fund, and A New Missouri, a dark-money nonprofit dedicated to advancing his agenda, to turn over records of communications between the two entities and other information by 5 p.m. Friday — the exact time Greitens is scheduled to leave office, a spokesman said.
In an email Thursday, one of his attorneys, former House Speaker Catherine Hanaway, said: "We won't violate the order."
The governor also announced a few low-level appointments to boards and commissions Thursday.
"He wants to make sure we sprint through the finish line," Briden said.
Briden also will be leaving his post on Friday. He will be among an expected exodus of Greitens aides who will depart alongside their former boss, leaving Parson to build a new team to help him operate the office.
The exit of Greitens and elevation of Parson also have triggered another statewide official to take action.
In an announcement Thursday, Galloway announced her office will conduct audits of the governor and lieutenant governor. The auditor typically performs closeout audits of statewide offices to assist in transitions and ensure that incoming officials are aware of areas for improvement.
Galloway, a Democrat, said she notified the two offices of the audits and reminded them that documents must be preserved. Auditors will review office operations and financial activity through the last day of the statewide elected officials' service.
Closeout audits were last conducted in 2017 when the current officials took office. The governor's office under the previous administration received a rating of "fair" in the audit released in August 2017. The previous administration of the lieutenant governor's office received an overall performance rating of "good" in the audit released April 2017.Kurt Erickson • 573-556-6181 @KurtEricksonPD on Twitter kerickson@post-dispatch.com
Get Government & Politics updates in your inbox!
Stay up-to-date on the latest in local and national government and political topics with our newsletter.