CLAYTON — The leaders of St. Louis and St. Charles counties are supporting a move to explore regional governance of St. Louis Lambert International Airport, entering the controversy surrounding the airport's potential privatization.
The St. Louis County Port Authority, under new management since a change in county administrations, is expected to vote as early as next month to begin the process of hiring an outside contractor to conduct the study.
The airport privatization process, launched over two years ago in the last days of former St. Louis Mayor Francis Slay's administration, has been bankrolled by libertarian megadonor Rex Sinquefield. Slay now works as a consultant for a company that could bid to operate the city-owned airport.
Much of the city working group's discussions on airport privatization are held behind closed doors, and private consultants — some with political connections — are being paid hundreds of thousands of dollars a month. Sinquefield stands to be reimbursed if a privatization deal goes through, and at least one of the consultants is in line for a "success fee" bonus if a privatization deal is done.
Supporters of the deal say the city stands to reap an upfront payment of hundreds of millions of dollars from a long-term lease of the airport, cash that can be used to address infrastructure and other priorities in the region's urban core. And they point out that while U.S. mainland airports are publicly-run, private operators are common in Europe.
St. Louis Mayor Lyda Krewson has said a lease offer should be considered to see if it's a good deal.
On Friday, Krewson aide Linda Martinez, who sits on the airport working group and voted in favor of issuing the RFQ for private operators, said it was the first she had heard of the possibility of a separate study undertaken by a county agency. The mayor's office plans to find out more, she said.
An aide to Board of Aldermen President Lewis Reed, whose representative on the city working group also supported issuing the RFQ, did not immediately have a comment.
Coleman said the only study underway now from the city consultants is related to privatization and that leasing the airport seems to many people "like a foregone conclusion." He said the Port Authority-funded study could look at regional governance of the airport and what the impact to the area's economy would be should privatization occur.
"It seems to me like it ought to be looked at by more than one entity," Coleman said.
John Maupin, chairman of the Port Authority, called the airport the region's "biggest economic engine." He said a separate study should examine whether privatization has worked elsewhere and the possibility of regional governance of the airport. Those don't seem like questions the city and Sinquefield-backed consultants "want to ask," he said. Even so, Maupin added that a study could come back and say privatization is a good option.
"There's a lot of questions and I don't think anyone's looked at it from a purely outsider's perspective," he said.
St. Louis County Executive Sam Page's spokesman said in a statement Friday that the airport "is a regional asset. Whether its governance should be regional as well is a good question that should be considered."
Meanwhile, in an opinion piece published in the St. Louis Business Journal this week, St. Charles County Executive Steve Ehlmann said the decision on privatization of the region's most valuable asset would be made by a city that now contains just 12% of the metro area's population. Yet most of the airport's users, which fund its operations, come from outside the city.
In an interview, Ehlmann said he has spoken with Page about an outside study.
"I think it would at least be a study that everyone would be able to participate in," Ehlmann said. "I'm not sure how much input the city of St. Louis is willing to hear from the rest of the region."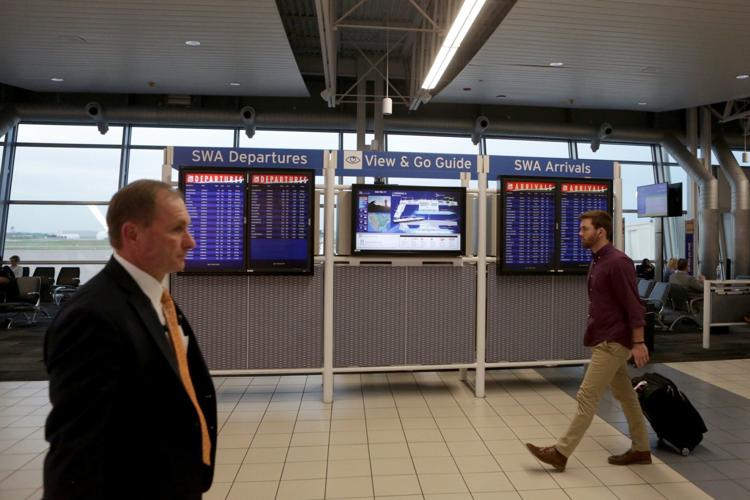 Ehlmann, when he was a Missouri state legislator, introduced a 1997 bill that would have given control of Lambert to a regional authority with three members from St. Louis, five from St. Louis County and one each from St. Charles and Jefferson counties. The Missouri Senate at first approved the measure but then reversed itself the same day.
Ehlmann said he's not opposed to privatization "if that's the best way to do it." But he said the decision will affect the entire region.
"When you talk about regionalism, that ought to be what we talk about," he said.
St. Louis County Council Presiding Officer Ernie Trakas, who attended the Thursday Port Authority meeting where the subject of the airport came up, said he's not opposed to an outside study.
"There needs to be an objective study done by someone other than the city of St. Louis," Trakas said. "I've not seen one thing in print that leads me to conclude the city has even considered the concept that the airport is a regional asset."
An outside study and advice from an independent consultant is something St. Louis Alderman Cara Spencer called for this summer, when she sponsored a bill to apply for a federal grant that would pay for what she said would be an "unbiased look" at the issue. Her bill, filed in July, has not yet received a vote in committee.
She applauded the consideration of a separate study unconnected to the existing consultants.
"I'm encouraged to hear other regional leaders are stepping up to voice their concerns about this," Spencer said.