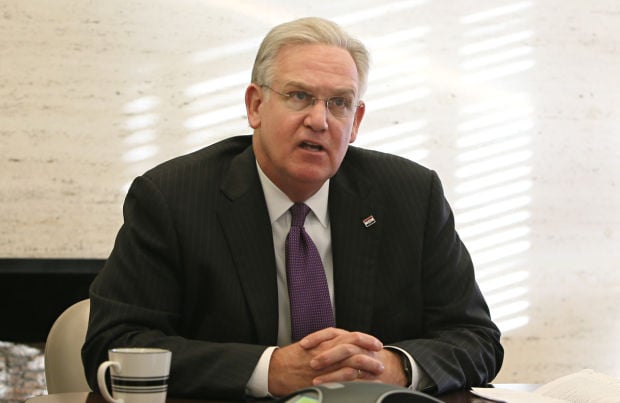 ST. LOUIS • Missouri Gov. Jay Nixon on Wednesday slammed the Legislature for what he called a "smorgasbord" of last-minute special-interest legislation that he says will cost state and local governments some $776 million. St. Louis alone could lose more than $20 million, he said.
He warned he will make deep state budget cuts to balance out those lost dollars, which include tax breaks on a range of goods and services. Among them: country club memberships, personal seat licenses, dry cleaners and fast food restaurants.
"They abandoned all fiscal restraint ... and went on a special-interest spending spree," the Democratic governor said of the Republican-controlled legislature. He called it "a free-for-all" and a "grab-bag of giveaways" that disproved the GOP's self-image of fiscal frugality.
"On the last day of session, they began spending money they didn't have," Nixon said.
House Speaker Tim Jones, R-Eureka, disputed that characterization, alleging Nixon's administration was claiming taxes that may not be owed, and that House Republicans "came together to stand in defense of the taxpayers and to provide a shield against the glaring overreaches made by the executive branch."
"The governor fails to understand that these dollars do not belong to him," Jones said in a written statement. "[T]hey were earned by Missouri businesses of all sizes that are the lifeblood of our economy and the providers of jobs."
Lawmakers passed the tax cuts in the final hours of a legislative session already marked by rancor between Nixon and the Republican leaders over an income tax measure passed earlier. Nixon vetoed that measure, saying it would benefit the wealthy while giving only a pittance to average taxpayers and blowing a hole in the state budget. The Legislature quickly overrode the veto.
The new round of tax cuts — many approved on May 16, the last day of the Legislature's regular session — cut or reduce the taxes companies will pay on the utilities for food processing, on laundry services, on data storage centers, even on graphing calculators.
Nixon said the "grab-bag of giveaways" will cost the state budget $425 million, with the loss of an additional $351 million from local governmental budgets. Among local income reductions due to the legislative tax cuts, the administration calculates, is $20.8 million from the budget of St. Louis, and $57.8 million from the budget of St. Louis County.
Nixon hinted he may end up vetoing some of the tax-cut bills. But he said he would need to identify budget cuts to offset that lost revenue anyway, in case his vetoes were overridden when legislators meet for their September veto session. He warned that the state's credit rating and the stability of its economy would suffer from "the massive hole" the cuts will leave in the state budget.
Jones disputed that prediction. "The governor fails to understand the positive impact substantive tax relief will have on our economy when businesses can re-invest earnings into infrastructure development and more jobs," Jones said in a statement.
Supporters of the other tax-cut bills said the changes represent an effort to rein in overzealous tax collection by the Missouri Department of Revenue. They also said Nixon was overstating the cost of the tax breaks.
For example, Nixon estimated that a sales tax exemption for electric utilities' distribution lines would cost local governments $30 million a year. But Ray McCarty, president of Associated Industries of Missouri, said the tax break would apply only to state sales taxes, not local levies.
"That's just one thing that jumped off the page" of the governor's spreadsheet, McCarty said. "We don't know where they came up with their numbers."
Among the tax cuts that Nixon has criticized is one that grew out of a legal dispute related to family owned and Maryland Heights-based Schnuck Markets.
The grocery chain contended that electricity used to operate bakery departments in its Missouri stores should be exempt from state sales taxes under a 2007 law that removed taxes on utilities used in the manufacturing or processing of products. But in March, the Missouri Supreme Court ruled against the company. Earlier rulings had nixed similar exemptions for Casey's convenience stores.
Legislators reversed the court decisions, approving the food processing exemption. Nixon's budget office said that bill could cost the state more than $50 million a year.
The bill's sponsor, Rep. Craig Redmon, R-Canton, defended the measure Wednesday, saying the administration's stance that food processors shouldn't get the same break processors of other goods are given was unfair. "Fair is fair," Redmon said.
Schnucks made a similar argument in a written statement Wednesday: "Based on the current law, we believe that the operation of in-store bakery facilities qualifies Schnucks for this exemption and we pursued relief in an effort to help keep costs down for our customers."
Sen. Paul LeVota, D-Independence, represented Senate Democrats on several of the House-Senate conference committees that negotiated the tax bills. LeVota said he signed off on some of the bills, but opposed the food processing break.
"I think manufacturing a car is a little different than manufacturing a sandwich," LeVota said.
But LeVota signed off on another tax provision that Nixon blasted as a special break, for personal seat licenses at stadiums. That tax break applied to the Sprint Center in Kansas City.
The Department of Revenue has moved to charge sales taxes on "membership fees" paid by the center's Founders Club members, LeVota said. The Legislature passed "clarifying language" to exempt the fees, he said, adding that he did not consider the money to be "lost revenue because they weren't collecting it in the first place."