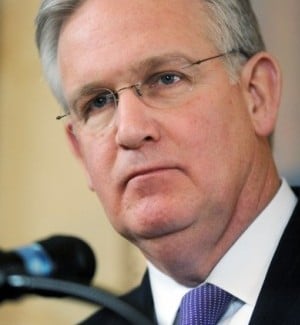 ST. LOUIS • Gov. Jay Nixon begins 2012 with an enviable $5 million in the bank, likely at least double the amount of his nearest rival.
Nixon's re-election campaign announced the cash on-hand total Friday,  ahead of next week's deadline for quarterly financial reports.
The incumbent Democrat, seeking his second term this year, reported raising $1.3 million in the last three months of 2011, and spending about half a million in the same period.
His robust bank account will only further the impression that Nixon is in a strong position heading into November. Nixon's closest rival, in terms of dollars, figures to be Republican plastics mogul Dave Spence, who put $2 million of his own money into the race.
But, even with two supporters giving Spence $100,000 each, it does not appear that he will have more than $2.3 million on hand. Although Spence, who kicked off his campaign in November, has not yet hand the benefit of a full campaign quarter, either.
Spence disclosed $13,000 in donations on Friday, but those won't be included on his current quarterly report.