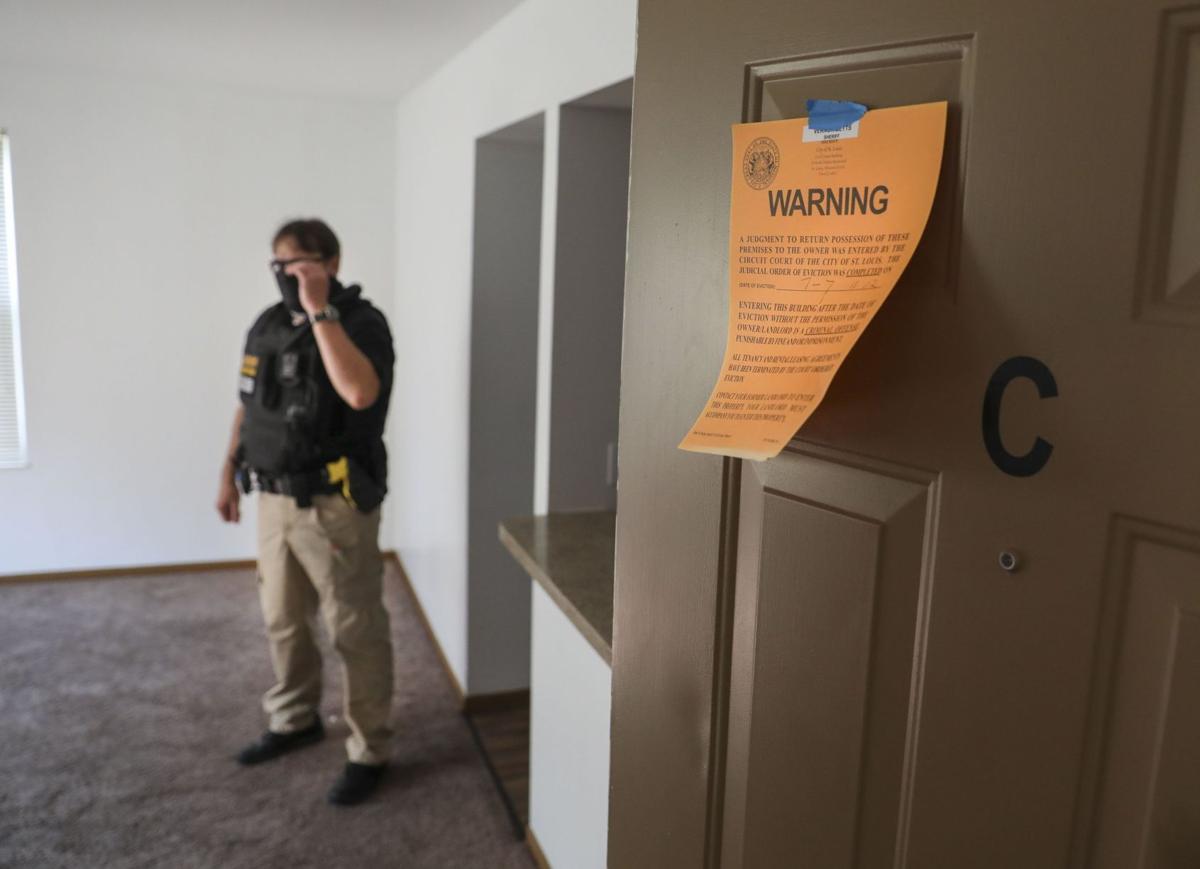 ST. LOUIS — Local court officials aren't yet seeing a deluge of evictions some have warned would follow the U.S. Supreme Court's decision almost two weeks ago to overturn a national moratorium. But more could be coming as the pace of eviction filings picks up.
"We haven't had as many evictions applied for as we thought we would have since the moratorium has been lifted," said St. Louis Sheriff Vernon Betts, whose office serves evictions following court orders.
There could be a lag, though. Some landlords are filing more lawsuits to begin the eviction process in the wake of the court's ruling.
"Most everybody had kind of backed off a little bit," Matthew Chase, a University City-based attorney who represents landlords, said last week. "If they were normally sending me eight to 10 a month on the same apartment complex, maybe they sent me one a month. But now, one of these apartment complexes sent me a pile yesterday."
In the city, the sheriff's office isn't rushing to process its backlog. There are about 136 eviction orders waiting to be processed in the city, Betts said. His office will schedule about six evictions per day, executed by one two-person team. That's slightly lower than the 10 a day his office had scheduled before pandemic health orders that halted the processing of some evictions in many jurisdictions.
"We're not going to bombard the city with a lot of evictions," Betts said.
In St. Louis County, the sheriff's office is processing about 25 evictions per day, roughly equal to the pace of evictions pre-pandemic, said the circuit court's director of judicial administration, Hope Whitehead. There are no plans to increase staff to process a larger volume of evictions, she said.
The presiding judges in St. Louis and St. Louis County each issued orders implementing the moratorium from the Centers for Disease Control and Prevention, lifting them in response to the high court's ruling last month.
Other circuit courts, such as St. Charles County, didn't issue their own local eviction orders, leaving it up to tenants to present the CDC moratorium documents to stave off eviction. Tenants rarely invoked the moratorium, said St. Charles County Sheriff Scott Lewis. Still, total evictions through July were less than half their pre-pandemic levels in the county, Lewis said. And since the Supreme Court ruling, he's not seen a surge in new eviction orders.
Whether the pace of evictions remains at lower levels in the city and county could depend on how well tenant advocates connect renters with emergency federal rental aid money being dispersed by state and local governments. The slow pace in how that money has been distributed so far was a key reason the Biden administration cited when it extended the eviction moratorium early last month.
St. Louis County as of last week had paid out some $8 million in rental aid of the $30 million it received. As of Sept. 1, the state of Missouri's program had paid out about $48 million of $324 million received. St. Louis had spent about $2.1 million of $9 million through July, and last month over 300 people sought assistance applying for rental aid at city clinics. All three jurisdictions are in line to receive even more federal money soon.
The County Council late Tuesday voted 4-2 to approve a countywide eviction moratorium to last until Oct. 3, unless extended. Council Executive Sam Page is expected to sign it Wednesday, and it'll go into effect in 15 days. The St. Louis Board of Aldermen also may consider a local ordinance when they return from recess later this month.
Evictions never completely stopped. The orders in the city and county still allowed evictions for criminal activity, damaging the property or endangering others. And in Missouri, the eviction moratoriums didn't stop landlords from filing lawsuits to start the process. In practice, though, some large rental property owners did stop filing evictions, said Chase, the landlord attorney. Several large national rental property owners stopped filing evictions at all during the moratoriums, he said. Now, that's starting to change.
"The pace is picking up," Chase said.
Rob Swearingen, a lawyer who represents tenants at Legal Services of Eastern Missouri, said some of his clients have already been evicted soon after the Supreme Court ruling.
"It's well on its way," he said last week. "I've had a couple of clients call me from the extended stay hotels they're living in."
Betts, the St. Louis Sheriff, said his office will add staff to process evictions if the pace of filings accelerates.
"If we get bombarded, then we're going to three, two-man teams to handle that influx," he said.
Originally posted at 6 p.m. Tuesday, Sept. 7, 2021.