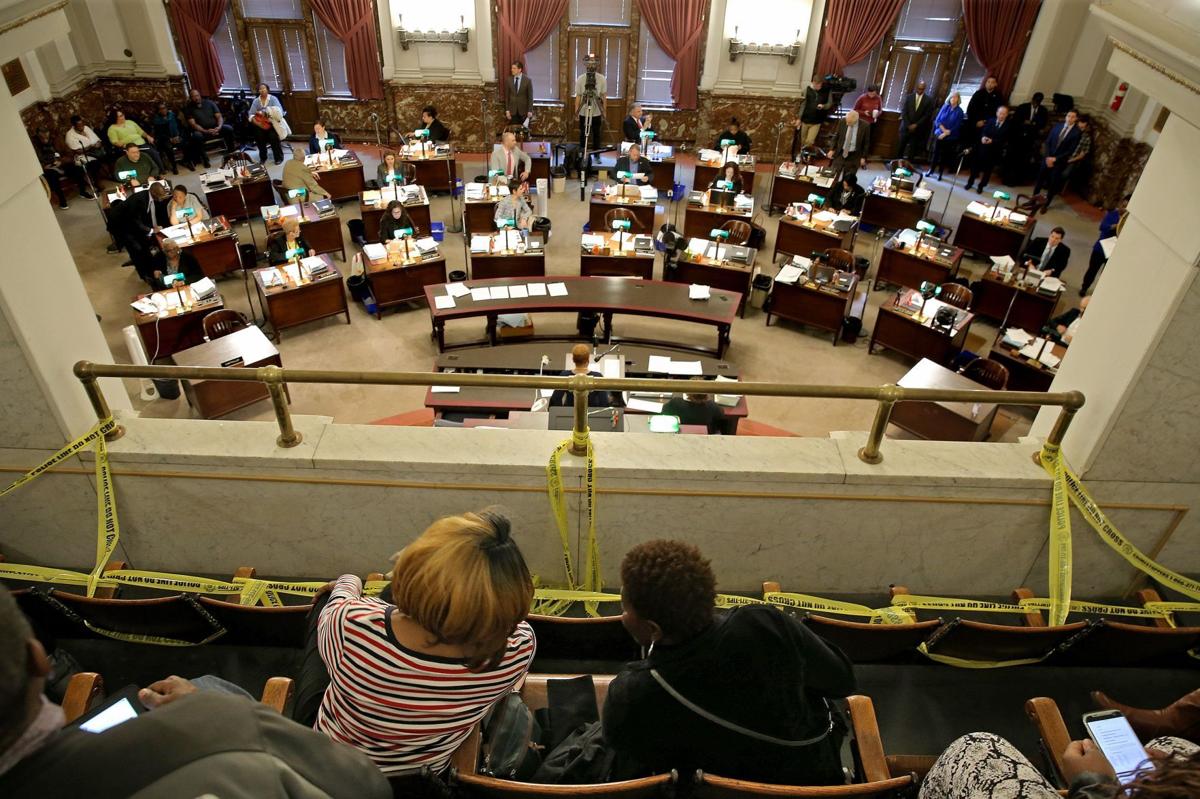 ST. LOUIS — No major changes were endorsed Tuesday by the Board of Aldermen during a caucus that was closed to reporters and the general public.
One idea debated would have stripped Aldermanic President Lewis Reed's authority to put members on committees and instead let aldermen pick their own assignments based on seniority.
But after prolonged discussion, sponsor Bret Narayan, a member of the board's progressive faction from the 24th Ward, didn't seek a vote on the measure.
He said in an interview that he might bring up the idea again, but with modifications, next Tuesday when the board holds the first meeting of its 2021-2022 session.
"The end goal here was to ensure that folks who had some sort of expertise would be likely to get one of their top (committee) picks," Narayan said. "That hasn't always happened for all members."
Another progressive, Dan Guenther of the 9th Ward, was less diplomatic in an interview last week, complaining that Reed had relegated progressives to less important committees.
Following the election of four additional progressives last week, members of that faction have talked about using their increased numbers to seek rules changes.
The board already uses seniority to determine who chairs each committee and has done so for years.
Under Narayan's proposal, after chairmanships were determined, aldermen who hadn't served long enough to get one would then choose which committees they'd serve on based on their relative seniority.
Asked if he pulled the proposal because he didn't have enough votes for passage, Narayan said he hadn't done any vote-counting. "Ultimately, today was more about hearing feedback," he said.
Joe Vaccaro of the 23rd Ward, who is considered part of the moderate faction, said he voted against the proposed change because newer members would be at a disadvantage.
Mary Goodman, Reed's spokeswoman, said Reed in making assignments considers various factors such as seniority, aldermen's work experience and the racial and gender makeup of committees.
Earlier, Goodman said, the board voted 16-11 against a proposal by Shane Cohn, a progressive from the 25th Ward, to let the board membership elect three officers instead of having those assigned on the basis of seniority.
That wouldn't have affected Reed, whose position of board president is filled by voters in a citywide election.
Meanwhile, the board endorsed two other rules changes that apparently don't involve the moderate-progressive split. One, by Narayan, would require all witnesses at committee meetings to be sworn in; now that's the option of the chair. Those changes must be ratified at next week's formal board meeting.
The meeting, lasting about four and a half hours, was at the Laborers International Union hall on Ewing Avenue. It was the first time in about a year that board members, who sat socially distanced, met in person.
A Post-Dispatch reporter was told to leave the building before the caucus started.
Reed in an interview before the meeting reiterated his view that the caucus was a political party gathering of the board's Democratic members and thus exempt from the state open meetings law. The caucus, held every two years, also has been closed in the past.
He also released a newly issued legal opinion from City Counselor Michael Garvin backing up his position.
Alderman Christine Ingrassia of the 6th Ward on Monday had urged Reed to open the meeting, arguing that because it would deal with the board's workings it was covered by the law. The board's attorney, Louis Galli, also had suggested in an email that the caucus was covered by the law.
Garvin in his opinion said ministerial, organizational, party seniority and other party matters may properly be discussed at a closed caucus without violating the open meetings law.
He said a potential issue could arise if a caucus meeting is intended to avoid the requirements of the open meetings law but he said he had no information that would lead him to that conclusion.