UPDATED at 6:30 p.m. with reaction from Carolyn Kindle Betz.
ST. LOUIS • Legislation to expand the city Port Authority's territory — and to help fund a Major League Soccer stadium — faces further delays at the Board of Aldermen.
The bill wasn't brought up for a vote Monday at the final meeting of the board's 2018-2019 session. Steve Conway, chief of staff to Mayor Lyda Krewson, said it appeared unlikely that backers could have mustered the two-thirds majority of aldermen present required to allow a vote on passage.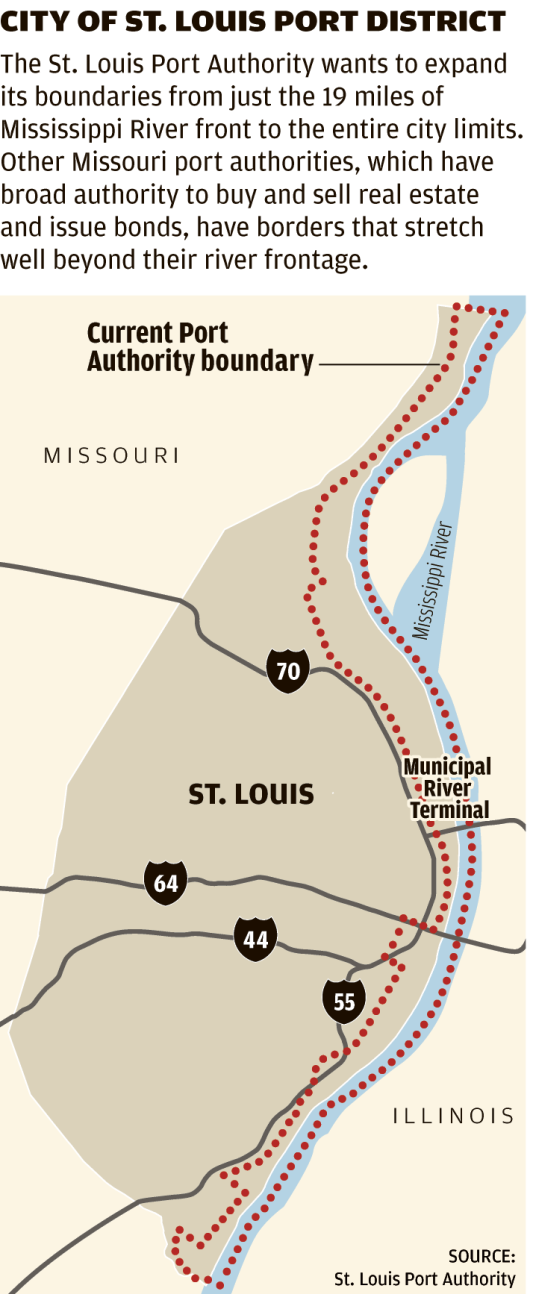 He said city officials and the ownership group seeking a Major League Soccer franchise for St. Louis now must decide whether to continue including a 1 percent on-site sales tax to be levied by the port agency as part of the stadium funding package.
Alternatives that don't involve the port agency also will be considered, Conway and Aldermanic President Lewis Reed said. They didn't elaborate. "There are a multitude of ways we could do it," Reed said.
The two, in separate interviews, added that they didn't think the bill's failure Monday would hinder St. Louis' chances of getting an MLS expansion franchise.
"If you guys (in the news media) promote the negativity and the owners group reads it, well then maybe it could have some impact," Conway said.
Reed put it this way: "It really does not send any negative message or anything. We're going to do what we need to do. St. Louis is ready for Major League Soccer."
Carolyn Kindle Betz, one of the lead investors in the proposed St. Louis soccer franchise, said the lack of aldermanic action won't hinder the effort to secure a team.
"While we have been in discussions with various city officials and city agencies on this particular element of our proposal, this is not something that needs to be in-place to finalize our stadium plan or secure an expansion team," she said in a statement.
MLS owners are scheduled to meet in Los Angeles later this week. The league is considering adding one team, with St. Louis and Sacramento, Calif., the leading contenders.
Conway said the port authority bill would be reintroduced in the upcoming 2019-2020 session which opens Tuesday but that it wouldn't necessarily be used for the stadium plan.
The 1 percent port authority sales tax had been identified as part of a 3 percent stadium-only tax that would help fund the $250 million project, most of which would be privately financed. The port authority bill would expand its territory to include the entire city, including the stadium site near Union Station.
Conway said the bill was important even if it isn't used for the soccer stadium. "Expanding to the city limits gives all communities in the city additional avenues to fund redevelopment," Conway said. He noted that most other municipal or county port authorities across Missouri already cover more than just riverfronts.
Some critics worry that the measure would cede to the port agency aldermanic authority citywide over powers such as eminent domain.
The bill needs a simple majority, or 15 votes on the 29-seat aldermanic board, to pass. But because the measure was delayed until the session's final day, it ran up against a rule requiring votes on the bill at two separate meetings. Suspending the rule required support from 18 aldermen, or two-thirds of the 26 present.
The board on Monday also:
• Approved details on a bond issue program to pay for rehabbing of dilapidated homes in the city Land Reutilization Authority's inventory. A property tax hike approved by voters in 2017 will finance the program.
• Honored retiring Aldermen Terry Kennedy of the 18th Ward and Scott Ogilvie of the 24th. Kennedy and Ogilvie didn't seek re-election this year after 30 years and eight years, respectively, on the board.
Kennedy had succeeded his late father, Samuel Kennedy, who served 21 years. Kennedy on Tuesday becomes the board's chief clerk.