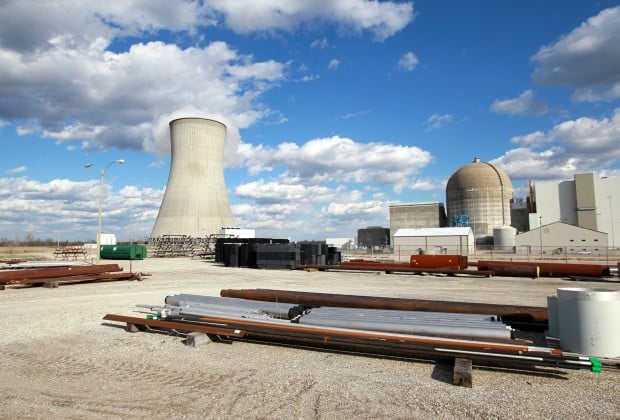 Legislation that would have allowed a coalition of utility companies to charge customers for the cost of an early site permit for a new nuclear reactor in Missouri stalled in the state Senate Tuesday after a Republican lawmaker used a procedural move to kill debate.
The bill, filed by Sen. Mike Kehoe, R-Jefferson City, would have allowed Ameren Missouri and several utilities to charge consumers around $40 million to obtain a site permit for a second nuclear reactor at Ameren's Callaway County plant. Senators in support of the legislation discussed it for more than an hour Tuesday afternoon in the hopes of swaying opponents. But state Sen. Jason Crowell, R-Cape Girardeau, managed to end debate, and in the opinion of one key supporter kill the bill for the session, by using a procedural move called a "point of order."
Crowell claimed several portions of the bill under discussion went beyond the scope and intent of the original legislation, including one provision he previously supported -- additional funding for the Office of Public Counsel. Senate President Pro Tem Rob Mayer agreed with Crowell, and debate on the legislation was ended immediately without a vote.
"I think the bill is likely dead for this session," said state Sen. Robin Wright-Jones, D-St. Louis, a sponsor of the legislation, later adding: "This session, with only three weeks left, I just don't think we can breathe life into it."
Kehoe didn't go as far as Wright-Jones in declaring the bill dead but did say it would be difficult for any similar legislation to clear the chamber this session.
Before introducing his point of order, Crowell drafted several amendments designed to derail the bill, including one that would have provided a key to any new nuclear facility to all lawmakers and anther that would have named the facility "The Jason Crowell Nuclear Plant." Neither came before the chamber.
One of the most vocal opponents of the legislation has been Noranda, an aluminum smelter company in southeast Missouri, where both Crowell and Mayer live. Noranda is currently Ameren's largest customer.