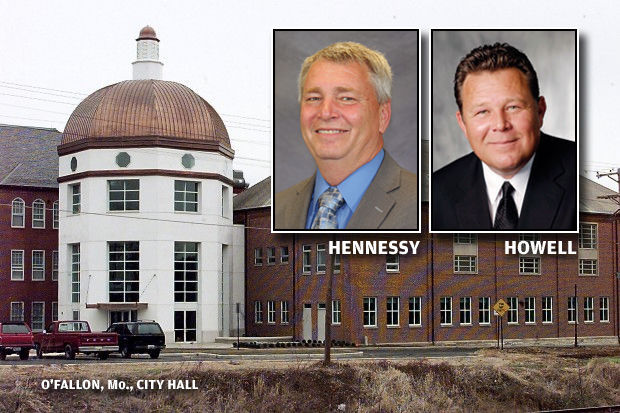 O'FALLON, Mo. • A controversial long-term contract to operate the city's trash transfer station is among the issues in Tuesday's mayoral race between two-term incumbent Bill Hennessy and City Councilman Bob Howell.
Howell and other council members last year chose Republic Services over the lowest bidder. Hennessy's two vetoes of the selection were overridden.
Among other flashpoints in the campaign: Howell's promise to be more "proactive" than Hennessy in improving city services and trying to attract new business to the city.
"His leadership … the last several years has lost its steam," Howell argues. As examples, he cites the city's failed efforts to bring in Menard's and Academy Sports stores.
Hennessy says those were isolated instances in an overall bright picture for the city, which with more than 85,000 residents is the second largest in metro St. Louis.
He says unemployment is low, commercial and industrial occupancy is high and O'Fallon continues to appear on national and state rankings of best and safest places to live.
"Look where the city's at," Hennessy said. "I want to continue what we're doing."
Hennessy, 59, a retired service technician, was an alderman and council member for 10 years before becoming mayor in 2009.
He says a key accomplishment was establishing a playground accessible to children with and without disabilities.
Looking ahead, Hennessy touts a multiyear capital improvements program that launched this year, with street improvements the initial emphasis.
Howell, 54, a council member for nine years, was in the news with his push to get the council to boost city police pay last year. He also sponsored a successful measure mandating union labor and other rules for the new police-court building.
Howell says if he's elected mayor, he'll work to establish some kind of entertainment and dining attraction to pull customers from other areas. "This city needs a draw," he said.
He says he'll continue his effort to set up for a "safe haven" center for young people fighting drug problems. He also pledges to expand and improve lighting on "our darker main roadways."
Howell is a longtime member of the Plumbers and Pipefitters Union who now works part-time in construction management.
Campaign finance reports show Howell, with union-related donations in the forefront, holding a fundraising edge over Hennessy. As of late last week Howell raised more than $43,000 and Hennessy about $25,000.
Trash dispute flares
The trash contract controversy began last July when Hennessy vetoed the council's selection of Republic over the low bidder, Waste Connections, and a third company.
The council overrode the veto and authorized city officials to negotiate a contract with Republic. Later, in November, Hennessy again vetoed the contract and again was overridden.
The deal calls for the city to pay Republic more than $4.2 million over the next 10 years to operate the station. That's less than the $5.1 million in Republic's original bid.
However, Hennessy says the Waste Connections bid was still better because under it the city would have paid nothing over the 10 years. Instead, the company was to pay the city $785,000.
The city wouldn't have to begin paying Waste Connections until two future 10-year option periods; it also was low bidder on those.
"Do the math," Hennessy said at a candidates' forum last week at City Hall.
Howell and other council members said Republic would provide better service. They also had various concerns about Waste Connections, including that its bid was unrealistic. "That was a red flag right there, having somebody tell you they were going to pay you to work for you," Howell said.
The transfer station receives trash from the city's own collection trucks. The operator then moves the trash to landfills. The operator also generates income by charging other haulers which bring refuse to the station.
Meanwhile, Hennessy complains Howell has included false statements in his campaign mailings, including one blaming Hennessy for the departure of three city administrators.
Hennessy points out that the council under the city charter decides on the administrator's job status. He said he didn't want the last two employees to leave, including Bonnie Therrien, who last month negotiated a buyout deal approved by the council.
Howell stands by the mailing, saying the officials he cited in fact did leave during Hennessy's time as mayor.
Hennessy also complained about a Howell mailing that says Howell led the charge to defeat a council resolution supporting a proposed apartment complex for senior citizens with moderate incomes on Highway N.
According to city records, Howell joined all council members present at a meeting last August in voting for the resolution.
The council resolution supported a developer's request for tax credits from the Missouri Housing Development Commission to help build the facility. Hennessy also sent a letter of support for the 50-unit complex. Howell says he later opposed the project when he found out that nearby residents were against it.
In the end it didn't get any state aid and wasn't built.