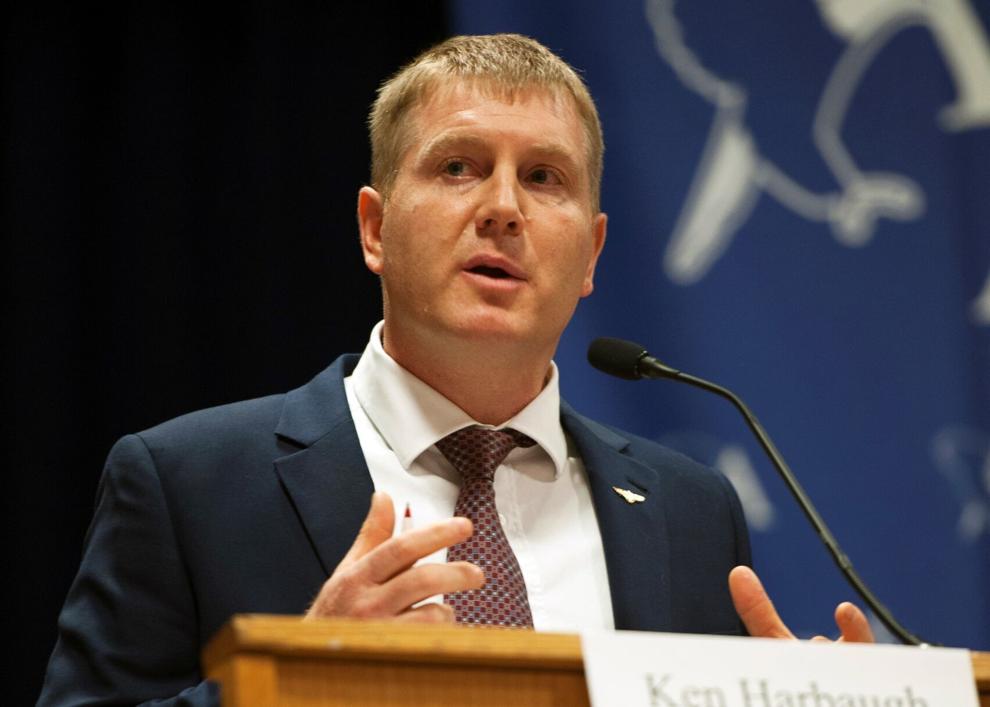 The Post-Dispatch and the League of Women Voters of Metro St. Louis present this guide to the candidates and races on the Aug. 2 ballot.
ST. LOUIS — Ken Harbaugh and Eric Greitens started out on a similar ambitious path. They met on their first day at Duke in 1992, part of the same scholarship program, and overlapped at Oxford for summer term.
Both went on to serve as Navy officers; one as a SEAL, the other a pilot. In 2007, they co-founded The Mission Continues, a nonprofit based in St. Louis to help military veterans regain footing in society.
Greitens was the first to voice political aspirations.
In a telephone interview Tuesday, Harbaugh said he often thinks of a conversation they had early on. They were driving around St. Louis in a white Ford Ranger, and Greitens wasn't sure if he'd run for office as a Democrat or Republican. Then, he said, Greitens mentioned the idea of not running at all, to focus on being a good husband to Sheena and eventual father.
"I keep going back to the conversation," said Harbaugh, 48, of Ohio. "How different his life would have been if he had listened to his better angels."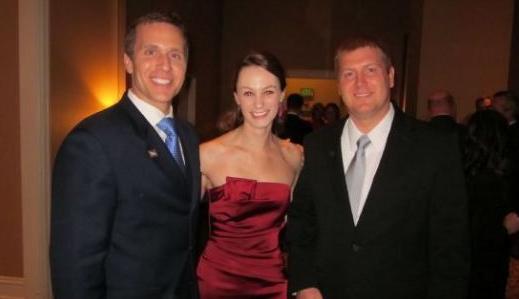 Harbaugh said they'd both been excited about the promise of Barack Obama being elected. He said there was a large poster of JFK at The Mission Continues. Still, he wasn't shocked when Greitens ran for governor as a Republican.
"I knew he would do what he had to to give himself a chance," said Harbaugh.
He and his parents donated to the Greitens campaign.
"I didn't have $5,000 sitting around, but I believed in him," Harbaugh said. "I thought a pro-choice, pro-gay marriage governor wouldn't be the worst thing for Missouri, even if it was a Republican."
Harbaugh said he soon became disheartened by incendiary campaign ads and the harsh tone of fundraising emails that seemed to threaten liberals. When Harbaugh challenged Greitens on it, he said, Greitens said you can't make changes if you don't win.
Of course, Greitens would go on to be governor in 2016. His subsequent resignation, legal troubles and second divorce have since been well publicized. Now, he's polling well in the race for a U.S. Senate seat from Missouri.
Asked to respond to Harbaugh's criticism, the Greitens campaign issued a brief statement: "Ken is obviously a disturbed individual hoping to profit from his former friendship with the governor for 40 seconds of the leftist spotlight."
Harbaugh eventually took a shot at politics, too. In 2018, he ran for Ohio's 7th Congressional District. He won the Democratic primary and lost the general election handily. He said he's not interested in politics anymore but wants to do what he can to stop Greitens.
"History is watching," he said.
He said the Greiten's RINO-hunting ad was over the top, and could potentially incite violence against officeholders who disagree that the last presidential election was rigged. Harbaugh said the ad condemns people like his mother, a Republican who contributed to the Greitens' campaign financially and by personally offering encouragement after his downfall.
Harbaugh said he recently reached out to Greitens about this. He said Greitens didn't respond.
"He needs to drop out and focus on repairing the enormous damage he has done to Missouri, his family and himself," Harbaugh told the Post-Dispatch. "The best thing for Eric, not to mention the country, is for him to lose. That's the only thing that will save him."
Harbaugh said Greitens is sacrificing everything for a Senate seat.
"The folks who have known him a long time are so appalled," he said.
Former Missouri Governor Bob Holden, 72, a Democrat, is on the list.
Holden said by telephone that he first got to know Greitens as a motivational speaker and author who supported veterans. He said Greitens initially sought him out. They became close enough that Greitens felt comfortable enough to ask to stay at Holden's cabin on the Gasconade River to finish writing one of his books. In 2008, they drove to Denver together to attend the Democratic National Convention when Barack Obama was nominated.
Holden said the last time he spoke with Greitens was over dinner in St. Louis, when Greitens told him he was going to run for governor as a Republican. Holden said he was supporting Chris Koster, the Democrat in the race, but wouldn't speak ill of Greitens.
Holden said politics has gone in a totally different direction since 2016, the year Greitens became governor and Donald Trump won the presidency. He said there is more "meanness."
"That's not how I was raised politically," Holden said. "I am a Democrat, a proud Democrat, but I will work with a Republican or anybody who wants to pursue a program that makes our state better or our country better."
Asked about Greitens running for U.S. Senate, gaining the support of far-right voters disenfranchised with government, Holden said he tries not to think about it.
"Somewhere along the way, I think he's lost his way," Holden said. "He's tied in to the Trump values structure, which I think is detrimental to our democracy and our country. Any time that a political figure is win at all costs — no priorities, no foundation — then I think you have a real crisis in our democracy."
Holden said he's not interested in talking to Greitens again.
"Eric comes across as whatever he thinks he needs to be to win," he said.
On Wednesday, Harbaugh posted a brief video on social media, reiterating his call that Greitens quit the Senate race.
I have known @EricGreitens for 30 years. He is a broken man, who will do anything, including inciting violence, to regain power. He's not the same person whose weddings I went to. Eric, drop out. Try to repair the damage you have done, to your family, your country, and yourself. pic.twitter.com/TA8DxzzSOF

— Ken Harbaugh (@Team_Harbaugh) July 6, 2022
Meanwhile, the Greitens campaign on Wednesday posted another ad, reprising one from the Missouri gubernatorial race in which he, once again, shoots a target and blows something up.
Posted at 8 a.m. Wednesday, July 6. Updated at 5:22 p.m. with a statement from the Greitens campaign.
Because I fought for you, they came after me.

But we're back—wiser, stronger, still fighting— but this time, we are coming with an army.

We will not stop until we take our country back and Make America Great Again. pic.twitter.com/X23ZgJiO23

— Eric Greitens (@EricGreitens) July 6, 2022