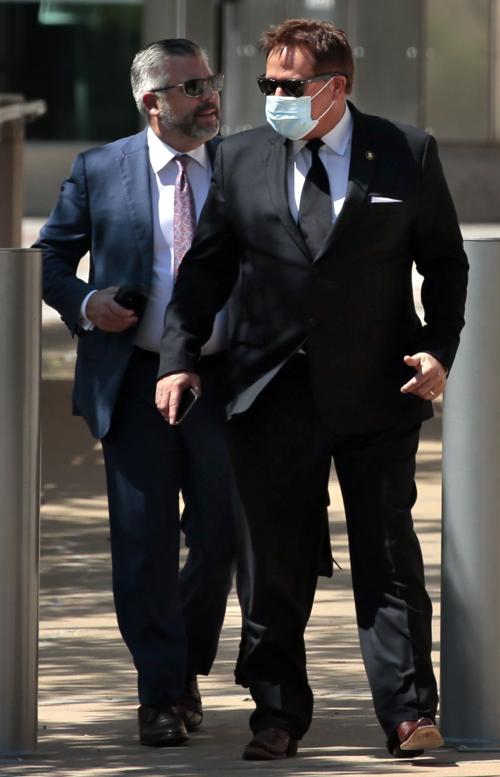 JEFFERSON CITY — Three top suburban officials met recently to discuss crime in St. Louis with a political consultant awaiting sentencing for committing a crime.
Franklin County Presiding Commissioner Tim Brinker, St. Charles County Executive Steve Ehlmann and Jefferson County Executive Dennis Gannon met last week at the office of David Barklage for what Brinker described as a "nice discussion" about crime and how the neighboring counties could help address the problem.
"I think we as collar counties being affected just as dramatically by the crime rate can help provide potential information, if nothing else, to help obtain a solution," Brinker said.
"He owed taxes? Oh, my gosh," Brinker said. "It's irrelevant to the subject matter, quite frankly. That's his deal, not the people's deal. We just got together and had a discussion. It's not earthshattering."
Ehlmann, too, defended Barklage, saying the meetings started more than two years ago as a way to address crime in the city.
"David has volunteered all of his time on this. He's doing it because he thinks it is important for the region," Ehlmann said.
Barklage, of St. Louis, could face 12 to 18 months in prison under recommended federal sentencing guidelines, but Barklage's lawyer, Joseph Passanise, has said he would ask for probation. Passanise told U.S. District Judge Matthew Schelp that Barklage had already given him the amount of back taxes he'll be ordered to repay at sentencing.
Barklage admitted in his plea agreement to depositing a total of $442,633 into his personal bank account rather than the account for either of his businesses. He also admitted failing to declare that as income on his tax return and filing a tax return that he did not believe was accurate.
While he awaits sentencing, Barklage appears to be continuing his work. Missouri Ethics Commission records show Barklage is registered to lobby for two organizations: The Opportunity Trust, which advocates for charter schools, and U.S. Term Limits. It is not known whether he remains active on behalf of those organizations.
Barklage also continues to serve as a consultant for the Uniting Missouri political action committee, which was formed to elect Republican Gov. Mike Parson to a full term in 2020.
Through July, Barklage has been paid $70,000 by the PAC, records show.
Barklage, a major player in Republican campaigns in Missouri, led campaign committees in the 1990s that helped engineer the Republican takeover of the Legislature for the first time in 50 years.
His consulting firm also works for a group of political action committees linked to high-profile lobbyist Steve Tilley, who is a former speaker of the Missouri House.
Barklage and Gannon could not be reached for comment Monday.
Brinker said the meeting of the Republican county leaders was an outgrowth of a state Senate committee that was formed this summer to investigate issues affecting the St. Louis region.
"We want to make sure Jefferson City has a relationship with the St. Louis region that we can actually provide solutions to help the situation we're all in," Brinker said. "We need to address the incredibly high crime rate, the volatility of the murder rate and how it impacts us economically and how it impacts lives from a perspective of just bring able to have families settle here," Brinker said.
"You've witnessed the incredible downturn of population growth in most of the region compared to other parts of the U.S. And the reason for that is we don't have a safe environment in our core," Brinker said.
Ehlmann said the situation might be different if Barklage was being paid.
"There is no contract. He's been very helpful to all of us in getting some members of the Senate interested in problems affecting the region," Ehlmann said.
Although the Republican-controlled Missouri Legislature has in recent years made it easier to own and carry guns, it also has attempted to address police issues that are hampering crime fighting in the city.
In 2020, for example, lawmakers approved a plea from St. Louis officials to address concerns about a shortage of police officers in the city by removing the requirement that officers live in the city, which officials argued was a barrier to officer recruitment and retention.
A second hearing of the committee has not been announced.