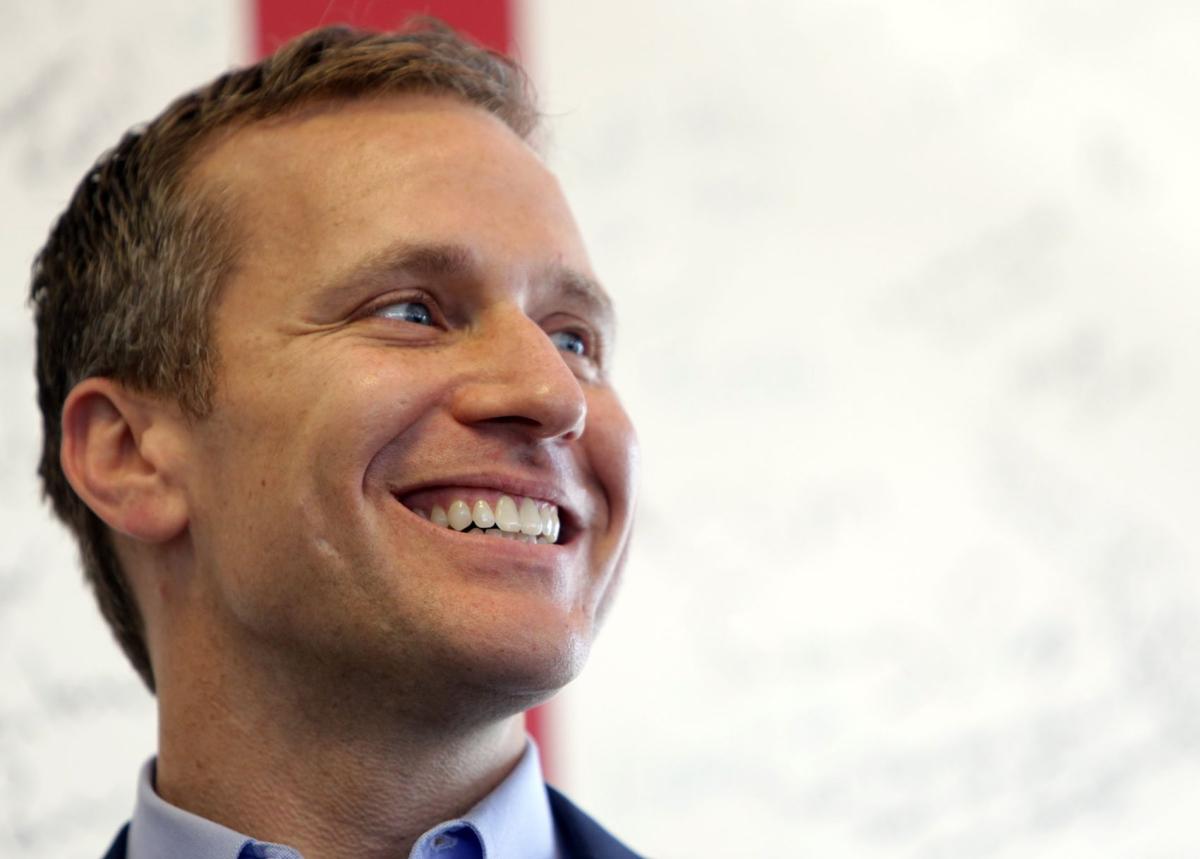 Is the dream of "EricGreitensForPresident.com" over?
That Web address and others like it were reserved years ago by Eric Greitens, then an ambitious young Maryland Heights native who had never run for office but had excelled at everything else he'd ever tried.
By the time he won Missouri's governorship in 2016 as a Republican at age 42, his almost ludicrously impressive résumé — Rhodes scholar, Navy SEAL, decorated combat veteran, national nonprofit founder, best-selling author — had already made him the subject of a book and a good bet for national office someday.
"When I first read his résumé, I thought, 'My God,'" Ken Warren, political science professor at St. Louis University, told the Post-Dispatch in September 2016, as Greitens was headed toward his November election victory that year. "He's got an incredible résumé, an almost a too-good-to-be-true résumé."
That résumé clearly has been marred by last week's political bombshells: Greitens' acknowledgment of an extramarital affair in 2015; his denial of allegations of invasion of privacy and of threatened blackmail in connection with that affair; the announcement of a criminal investigation.
Covering such a complex story raises many ethical questions for news organizations. Post-Dispatch political editor Christopher Ave and reporte…
But Warren and others say that if the sole element that Greitens has admitted to — having an affair — is all that the public ultimately believes, he could survive politically.
"It's damaging for sure. Is it over? I don't know," Warren, whose personal politics lean Democratic, said last week. "People who have had affairs have survived, depending on how they've handled it. Given what we've gone through with (President Donald) Trump, I'm not sure it's a deal-breaker."
"If the statement he put out Wednesday night stands the test of time, he'll survive this," predicted former Missouri Republican Party Chairman John Hancock. "Clearly, he's done some real damage to his brand, but it's way too early to write his political obituary."
That said, an almost universal caveat among politicians and experts across the spectrum seems to be that, if evidence emerges backing up the related allegations, Greitens' political survival would be virtually impossible in the #MeToo era.
"That's what would change the game," said Warren. "Look at all the other stars that have gone down" to allegations of sexual harassment, abuse or assault.
He noted that one of those luminaries, ex-U.S. Sen. Al Franken, D-Minn., was accused of participating in the taking of a sexually tinged photo of a sleeping woman without her consent.
One of the allegations against Greitens — which through his lawyer he has vehemently denied — is that he snapped a photo of his paramour without her consent while she was bound, blindfolded and partly undressed during a sexual encounter, and that he threatened to publicize the photo if she exposed their affair.
The woman, confessing to her then-husband in a 2015 conversation that she says she didn't know he was recording, said Greitens later told her he had erased the photo and apologized. But under Missouri law, the mere taking of a nonconsensual photo involving nudity is a Class A misdemeanor punishable by up to a year in jail.
The alleged episode also raises the possibility of blackmail or extortion charges. St. Louis Circuit Attorney Kim Gardner announced Thursday her office will investigate.
Not everyone is convinced Greitens has a clear path out of the woods. And the fact that some of those doubters are fellow Republicans points to the problem the governor could have with his lack of allies among legislators he has long bashed as corrupt stewards of the Jefferson City swamp.
"Stick a fork in him," tweeted state Sen. Rob Schaaf, R-St. Joseph, who has tangled with Greitens over, among other things, Greitens' political attacks on him and other Republicans.
State Sen. Doug Libla, R-Poplar Bluff, said the outcome of the blackmail allegation, more than the affair, will likely determine Greitens' political survival. But he added of the entire issue: "I don't know how it can keep from hurting a person in public service."
Greitens' often-sanctimonious vilification of fellow Republicans, Libla said, may complicate his attempts to put it all behind him, because he doesn't have the reservoir of support and goodwill that a sitting governor would normally be able to expect from his own party. "It's the old proverb: You reap what you sow," Libla said.
Big ambitions
Ironically , this isn't the first time that Greitens' sunny political image has been tripped up by a surreptitious audio recording.
In November 2015, as Greitens was seeking the Republican nomination for governor, primary opponent John Brunner secretly recorded a phone call in which the publicly friendly and likable Greitens angrily calls Brunner a "weasel," "coward," "corrupt" and a liar.
"Oh, John Brunner, oh my God, you are such a weasel!" Greitens says in the conversation, an argument about campaign tactics revealed by the Post-Dispatch shortly after it happened.
Greitens added, in a whispering and ominous tone: "I can't wait to see you in person, John. I want to look in your eyes."
The episode showed a side of Greitens — cynical, calculating, vaguely threatening — that was utterly absent from the campaign persona of the earnest, smiling, blue-jean-wearing candidate with the beautiful family.
There have been other hints of a Jekyll-and-Hyde aspect to Greitens. There was his Democrat-turned-Republican political history. There was his promise of political transparency before establishing an administration known for its unusual level of secrecy and stonewalling.
There was his vow of aboveboard fundraising, followed by the most blatant milking of "dark money" in modern Missouri history.
And there was EricGreitensForPresident.com, and the other reserved websites, which the Post-Dispatch unearthed during the campaign. They indicated a stunning level of political ambition for a candidate who, at the time, had never sought a single vote for any office.
That and other factors made it clear that Greitens had been looking beyond Missouri from the start. As presumptuous as that might sound, his sterling résumé and relentless drive for success — a recurring theme in his books — made those big ambitions more believable as his political career began.
After all, Greitens had been one of the stars of 2015's best-selling book "Charlie Mike: A True Story of Heroes Who Brought Their Mission Home." In it, the author, TIME magazine writer Joe Klein, dubbed Greitens' achievements "stratospheric."
That aura followed him during and after the campaign. Though not a household name outside Missouri, Greitens' donor base stretched coast to coast. He spent an unusual amount of time traveling to other states and to Washington. Fellow Republican officeholders around the country were bringing him in for events and commercials. He even had connections in Vice President Mike Pence's office — via Pence's chief of staff, Nick Ayers, who was a Greitens campaign adviser.
#MeToo complications
Still, before the most recent controversy, Greitens' national profile was nascent at best among national political activists and observers. In fact, many of those national figures are hearing about him now for the first time, in the context of headlines garnered by last week's allegations.
"There has been talk about his potential and aspirations, but I don't think the national profile had yet materialized," said Nathan Gonzales, editor and publisher of Inside Elections, a national political publication.
How that beyond-Missouri persona takes shape, over the long term, "depends on how this story plays out," Gonzales said. "Is this the end? Is there more?"
Frank Luntz, a veteran Republican consultant and pollster, is scheduled to appear at a Republican Jewish Coalition conference in Las Vegas next month that Greitens has also been invited to address.
Luntz, who has advised presidential candidates back to independent Ross Perot in 1992, said he had heard little of Greitens before this week.
That's another potential barrier for any Greitens aspirations beyond this controversy. His national profile was raised — in a negative way — amid the #MeToo movement involving sexual harassment and sexual assault, intertwining him in that discussion.
"The #MeToo movement, the entire national conversation about sexual harassment, assault, activity has changed" politics, Gonzales said. "It brings a new filter to how these stories are digested."
"In most cases, politicians are cautious and reluctant to throw members of their own party overboard without making sure they have a full knowledge of what happened. And I think it is still pretty early in the story to know exactly what happened," Gonzales said.
"But it is a fascinating dynamic in Missouri, where I think Greitens prides himself as being an outsider, which can make it challenging to navigate a controversy when you don't have a lot of close friends, at least close political allies."
Bill Clinton's example
But there also is precedent for politicians succeeding and remaining in the highest office amid sexual indiscretion.
Bill Clinton was president for two terms in the 1990s, after his first campaign in 1992 was almost derailed by revelations from long-term paramour Gennifer Flowers. Clinton recovered with a historic "60 Minutes" sit-down in which he vaguely admitted "causing pain" in his marriage while spouse Hillary Clinton sat with him.
The joint statement that Greitens and his wife, Sheena, released last week went further than that, admitting Greitens had been "unfaithful in our marriage."
Greitens' administration had been unusually inaccessible to the media even before last week. As of Friday, he hadn't granted any question-and-answer sessions with reporters on the scandal or otherwise commented publicly beyond the released statement.
Instead, he has been making calls to donors and Republican legislators to plead his case.
"He started to lash at the liberal media and Democrats, and I cut him off and I said, 'This is a legitimate news story,'" recounted one Republican lawmaker. "And I said, 'With all due respect, your infidelity is very disappointing. And I'm disappointed and the caucus is disappointed, and I think it needs to be reported on.'"
Hancock, the former Missouri Republican chairman, said Greitens' survival may depend in part on his ability to widen the audience beyond those donors and legislators.
"The one thing I would advise is to go out publicly and aggressively defend yourself, which means answering questions and making yourself available," Hancock said. "Hunkering down in a crisis is not a good idea."