JEFFERSON CITY — St. Louis County Executive Sam Page last year accepted $2,049 in campaign contributions from a political action committee tied to a Jefferson City lobbyist and company under FBI investigation in Kansas City.
The contribution came the month after Page lent his support to a low-income housing project in Dellwood that listed Gardner Capital as its developer, and whose financial backers are the Centene Charitable Foundation and Sterling Bank, according to documents filed with the Missouri Housing Development Commission.
The project developers were seeking $615,000 in annual low-income housing tax credits from the commission, and ultimately won approval in December 2019, according to a list of greenlighted projects.
Gardner Capital, Sterling Bank and Centene Corp. all retain the same lobbyist, Steve Tilley, who also is a former Republican Missouri House speaker from Perryville and long-time adviser to Gov. Mike Parson.
The Kansas City Star reported on Nov. 26 that the FBI was investigating Gardner Capital and Tilley, among others, in a possible pay-to-play scheme surrounding projects approved by the Independence, Missouri, mayor and City Council.
The article also mentions Tilley's Missouri C PAC as a vehicle for donations to the Independence mayor before a vote that would benefit Gardner Capital.
A spokeswoman for Page, one of four Democrats running in the Aug. 4 primary for county executive, denied any sort of pay-to-play scheme connected to the county executive's support of the Dellwood project. It is in the 9900 block of West Florissant Avenue, at the site of an AutoZone that was destroyed during the Ferguson unrest in 2014.
She did not respond to questions about whether Page knew of the publicly reported FBI investigation at the time of the donations, Dec. 19, and whether it was appropriate to accept money from a Republican-affiliated PAC under FBI scrutiny.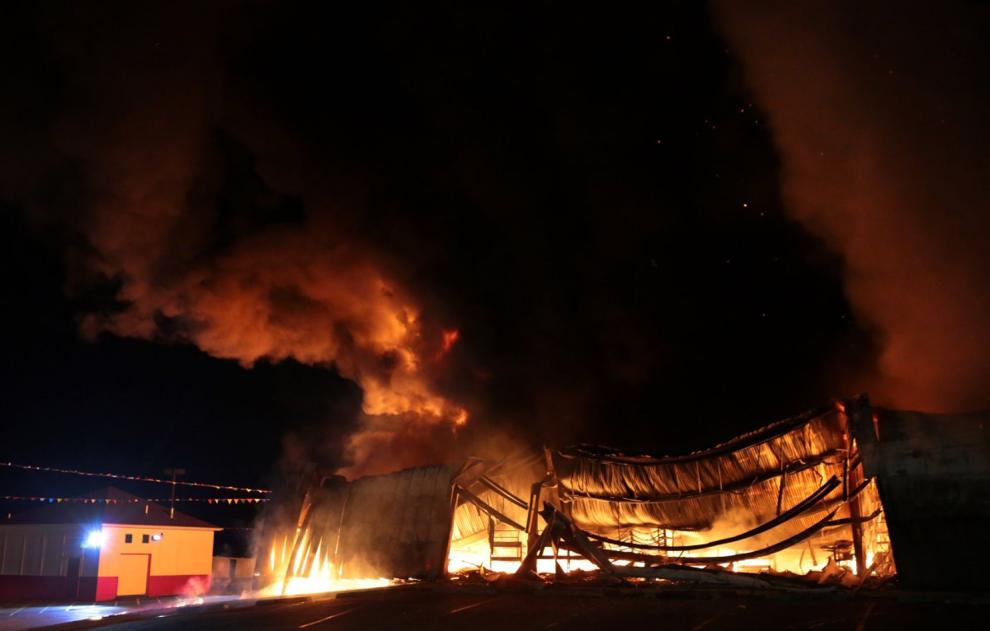 "No, there is neither pay nor play," said Page campaign spokeswoman Michele Hornish.
She said no one lobbied Page or the county executive's office for his support of the development. 
Still, the fact that some of the same players involved in the Dellwood project are involved in Independence raised at least some concern among Page's opponents in next month's Democratic primary.
"It sounds to me like the kind of thing that there has to be further consideration of for people to ascertain how — whether it's appropriate or not," said Mark Mantovani, one of Page's challengers next month.
"I do not want to cast any kinds of aspersions at this point," he said.
St. Louis County Assessor Jake Zimmerman was less reticent. 
"It's probably not an accident that that money seems to be changing hands through mysterious unnamed committees," Zimmerman said. "And I hope there's a full accounting."
Jamie Tolliver, the fourth Democrat in the race, said she had tried to focus her campaign on community needs rather than fundraising.
"It is perceived that in politics when you do receive larger endorsements from people, one way or the other, it's like you owe them a favor," she said.
The winner of the Democratic primary will face the winner of the Republican primary in November, either Ed Golterman or Paul Berry III. Libertarian Theo Brown Sr. and Green Party candidate Elizabeth Mitchell are also running.
Independence
Gardner Capital, which is listed as the developer of the Dellwood project in state documents, faces scrutiny in Independence over a solar farm project the city approved in 2017, the Star reported on Nov. 26. 
The company in 2017 contributed to a political action committee, Missouri C PAC, which then contributed to the campaign account of Independence Mayor Eileen Weir.
Investigation sparked by contract awarded in 2017 to Environmental Operations of St. Louis, a firm with state political connections.
In a closed City Council meeting, the mayor and council approved the purchase of a 94-acre golf course that would be converted to a solar farm, which Gardner Capital would help operate, the Star reported.
The newspaper has reported that Tilley, who has lobbied for Gardner Capital since 2013, is a focus of the FBI investigation.
Money moved in a similar way last year, with some of it ending up in Page's campaign account.
Mark Gardner, chairman of the board of Gardner Capital Inc., was the only person to contribute to the group Conservative Leaders of Missouri in 2019, according to Missouri Ethics Commission records.
On Sept. 25, he gave $25,000 to Conservative Leaders of Missouri.
On Dec. 9, Conservative Leaders of Missouri contributed $2,049 to Missouri C PAC.
Ten days later, on Dec. 19, Missouri C PAC contributed $1,000 to Page for Missouri. That same day, the C PAC contributed $1,049.11 as an in-kind contribution to the Page campaign.
"Tilley in-kinded food and drinks for one fundraiser for Dr. Page," Hornish said. "Dr. Page knows Tilley, and has since their time in the General Assembly."
"Page for Missouri has held at least 30 separate fundraising events," she added.
The Missouri C PAC made 23 other contributions in 2019, and Page was the only candidate running for local office in Missouri to receive checks, records show.
Tilley, Mark Gardner and Mike Gardner, the CEO and president of Gardner Capital, did not respond to requests for comment.
Dellwood project
In a Nov. 7 letter to the Missouri Housing Development Commission, Page said a 44-unit mixed income senior housing complex, the Urban League Senior Housing at Dellwood, was St. Louis County's first funding priority for the year. He gave six other projects a lower priority.
Page's office defends the project, saying the ranked list went through a review process and that investment from the state is necessary for the low-income area.
Chris Krehmeyer, president and CEO of Beyond Housing, whose proposed Pagedale development was ranked No. 2 on the county list but didn't receive funding, said support from local officials helps the state commission decide which projects to fund, but that a high ranking doesn't guarantee a project will be approved.
"We've been doing this so long," he said. "I think we've done more tax credit projects than just about anybody in the St. Louis region … and we've rarely been ranked No. 1."
Doug Moore, spokesman for Page's office, said the county has used the same evaluation process for such projects for several years, and that Page thought it was appropriate to rank the projects.
"Staff in the Planning Department and the Office of Community Development were the first point of contact with developers," he said in an email. 
Moore said the planning department "collected and assembled project information" and invited developers to present their proposals to the county.
"The staff also organized a tour of the project for county executive, county council and MHDC staffers," he said. "The Community Development staff sent recommendations to County Executive staff, who then worked with the County Executive to make the final decision."
He said the project is located in the "Promise Zone," which is "in the heart of West Florissant Avenue, an area economically challenged since August 2014."
"This project demonstrates the County's ongoing commitment to the redevelopment of the area," Moore said. "The project is also supported by several strong partners in the community who we believe need our support to continue the redevelopment momentum in the community."