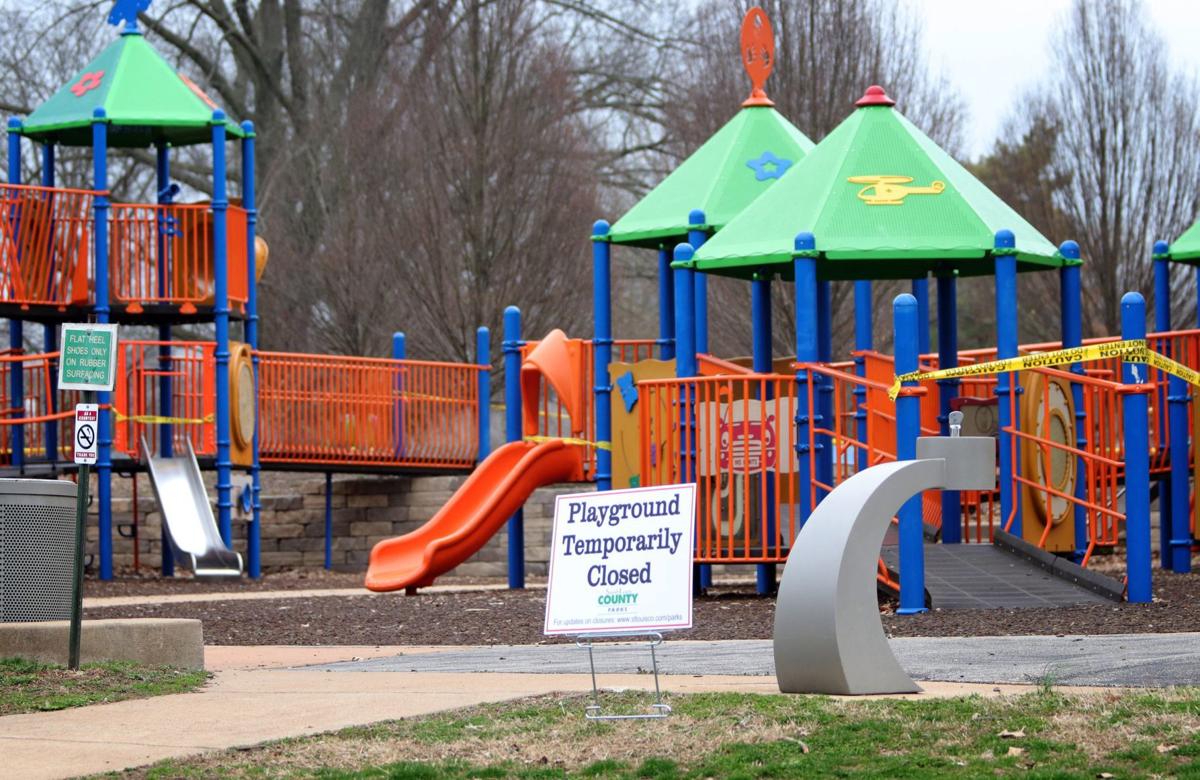 CLAYTON — The leaders of St. Louis and St. Louis County on Friday revealed similar plans for easing restrictions on residents and businesses as the region emerges from the coronavirus shutdown, although there were differences between their strategies.
Essential businesses such as grocery and hardware stores have been allowed to operate with restrictions in the city and county during the pandemic, but restaurants have been limited to curbside and delivery, and all other businesses have been forced to cease. Starting May 18, both the city and county will begin to allow employees and customers inside many other types of buildings, including restaurants and offices.
But the rules weren't exactly the same. The county distributed a seven-page legal document Friday morning that will take effect on May 18. It detailed how the stay-at-home order, first issued by County Executive Sam Page more than six weeks ago, will be relaxed. And it clarified what actions the county could take to enforce it.
Hours later, Mayor Lyda Krewson laid out her plans in a livestream, and her spokesman said the city's formal plan was still a work in progress.
The city posted part of its plan on Friday evening. A side-by-side comparison revealed differences from the county. For example, the county set mandatory social distancing rules on businesses, including the installation of physical barriers and marking areas with tape to measure proper spacing between customers.
The city offered "standards and guidelines" for maintaining social distance and that barriers and floor markings and other measures should be "considered."
While the county's order said businesses will be able to deny service to customers who do not wear masks, the city's written guidelines did not have such a provision. Krewson said in her livestream that customers were "strongly, strongly encouraged to wear masks when you go to the store" and that she thought it was a business owner's prerogative to require a customer to wear one.
Page and Krewson had coordinated on extending their emergency health orders after the statewide order by Gov. Mike Parson expired on Monday, and then agreed together on the date they would each gradually start relaxing them.
But Page's unilateral move on Friday prompted Krewson to mention, first on a radio interview and later in her livestream, that she thought the two entities were going to release their plans together.
"I guess that didn't work out," she said.
In both the city and county, gyms, playgrounds, sporting events and pools will not be able to operate on May 18. But other types of businesses offering personal services, including nail and hair salons, will be able to have customers inside but with social distancing rules and a requirement that masks and gloves are worn.
Page and Krewson each said that summer school and summer camps would not be permitted to resume. And they said intentional gatherings would be restricted to no more than 10 people.
A key difference: Bars that don't serve full meals will be limited to curbside service in the county, while all bars will be permitted to open in the city.
"Every bar I know serves some food," Krewson said.
That leaves out places like Montrey's Cigar Lounge in Ferguson, which serves almost any variety of cocktail but no full meals. The manager there said the establishment has taken the time for a deep cleaning and interior paint job to get ready for better times to come.
"I understand that when it comes to people's health, there is a right way to do things, and I agree with that," manager Melissa Holst said.
Another difference: Page said Friday there was no change to a rule that allows child care centers to operate only if they provide care for essential workers. In the city, only child care centers for first responders have been allowed to operate, but Krewson said that would be expanded to allow child care for others under guidelines from the Centers for Disease Control and Prevention.
Krewson said public attractions like the Gateway Arch, the Zoo and Forest Park museums would not be allowed to open on May 18, but that their operators were expected to submit plans to the city on a one-on-one basis for consideration.
"We're going to work with each one of them as they present their plans, and some, by the way, have already presented excellent plans," she said. "But nevertheless, they're not going to open on the 18th."
Krewson said she had heard about plans for Major League Baseball teams to play games in empty stadiums and said: "That's one of those events and large venues that we are going to work through with the teams." St. Louis County's order specifies that professional sports teams could hold practices as long as no members of the public could attend the activities.
In her comments, Krewson said restaurants could open in the city with reduced occupancy, and that tables had to be 6 feet apart. The county's order did not specify the spacing of restaurant tables but said clear markings must be installed in businesses to show the appropriate spacing between customers.
The county's order said businesses that are permitted to open must limit their occupancy to 25% of their authorized fire or building code occupancy in buildings of less than 10,000 square feet. Larger buildings can fill only 10% of their occupancy. A spokesman for Krewson said it was not clear yet whether the city would use the same calculations.
Krewson said church services could resume with social distancing measures in place, including filling every other row. Families could sit together on a pew but must remain 6 feet from others.
The order also asserts the authority of the county health department to close any business or industry, or any geographic area of the county, to prevent the spread of an infectious disease. But any business would have an opportunity for a hearing with the health director. Individuals that violate a county health order are also subject to a misdemeanor charge.
County Counselor Beth Orwick said on Thursday the county was reviewing its options. She could not be reached on Friday.
The gyms remained open on Friday, their lawyer said.
Concerned about COVID-19?
Sign up now to get the most recent coronavirus headlines and other important local and national news sent to your email inbox daily.