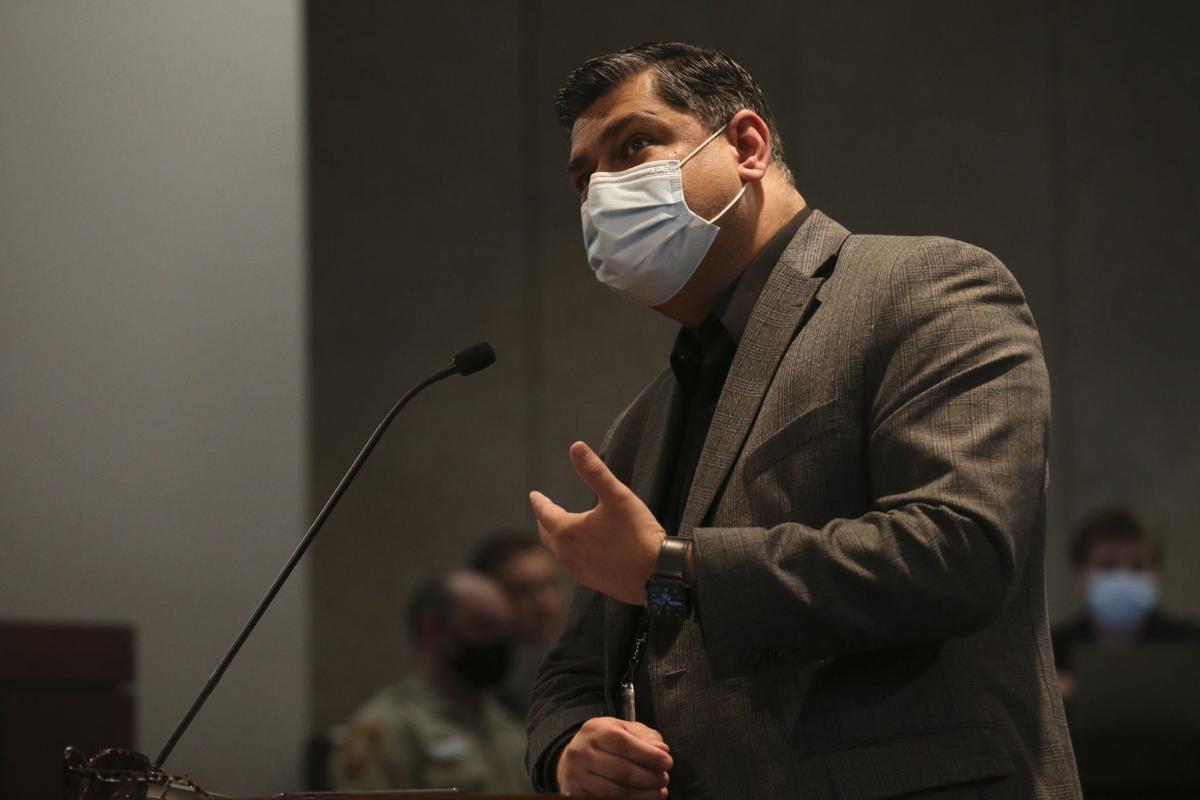 CLAYTON — St. Louis County Executive Sam Page on Thursday refused to give the County Council access to an internal investigation of Dr. Faisal Khan, the acting county health director who made an obscene gesture at anti-mask protesters as he left a contentious council meeting on July 27.
A spokesman for Page said the administration considered the report about Khan a "personnel matter," something it would not provide to the council. The county also on Thursday denied a Post-Dispatch open records request for the report.
Although Page said last month he "verbally reprimanded" Khan for giving protesters the middle finger, some council members are still angry because of Khan's explanation for his behavior.
In a blistering letter to Council Chair Rita Days, sent on July 28, Khan accused several members of the audience of heckling him, making racist comments and "shoulder-bumping" him as he left — accusations that were not corroborated by several videos of the meeting. He also complained in his letter that Days had allowed those offensive comments to be made unchecked, and accused Councilman Tim Fitch, R-3rd District, of questioning his credentials and stoking the crowd.
At the urging of council members who met Tuesday to consider confirming Khan as health director, Days sent Page a letter asking him to allow council members "to review the Khan Investigation Report."
Councilman Ernie Trakas, R-6th District, said the request, which stopped short of Fitch's recommendation that the council vote to make the report an "open record," would allow the council "to obtain the information in this report without a full disclosure of the report, or release of it."
Days, in her letter, gave the county executive one week to respond, but a spokesman for Page on Thursday told the Post-Dispatch that the council won't get access to the investigative report.
"This is a personnel matter," spokesman Doug Moore said in a statement. "We won't be opening personnel files of any employees."
Days, in response, said she "was not surprised" Page would deny the council access to the report.
"He stood by him when he went on national TV and disparaged St. Louis County and disparaged the council," she said. "He stood by him for all of that."
Fitch said it "has nothing to do with personnel matters or open records or closed records."
"He (Page) can't release it because it will show that Dr. Khan blatantly lied," Fitch said.
Late Thursday, a Page official sent the Post-Dispatch an Oct. 5 email in which Khan apologized to Days: "I am following up on our conversation to express my sincere regret and apologies at any offense caused in my interaction with you during the July 27th County Council meeting. I have the utmost respect for you and your selfless career in public service.
"I thank you for admonishing me, using your own personal example, to respond in a dignified manner to any insult or vitriol directed at me. I regret my momentary loss of composure after the meeting that evening and will endeavor to do better in the future." Other members of the council were copied on the letter.
Page told the council last month he had "reprimanded" Khan, who he said gave protesters the middle finger "out of fear and frustration." Page also said it was "well-established that Dr. Khan was treated poorly and he felt unsafe," but refused to say more, saying the investigation was a personnel matter.
Khan had appeared before the council on July 27 to answer questions about a mask order issued the day before. Fitch quizzed Khan, who is from Pakistan, about his background, asking, among other things, whether Khan was "a physician in the United States." Members of the audience jeered during Khan's testimony, prompting him to ask Days to quiet the crowd so he could speak. On his way out, Khan gave an anti-mask protester in the lobby the middle finger, an encounter that was caught on camera.
In his letter to Days admitting he'd made the gesture, Khan said he'd been subjected to racist and xenophobic slurs during his testimony and was "shoulder-bumped" by members of the audience as he left the chambers. The letter was widely circulated on social media, and drew national media notice, including from PBS's "NewsHour," CNN and MSNBC. Khan said Fitch's question was a "dog-whistle" meant to stoke the crowd and said Republicans in the crowd heckled him and that Days did not do enough to maintain decorum during the meeting.
Videos from the council chamber appeared to undermine Khan's claim that he was shoulder-bumped, and officers who provided security at the meeting told a council committee that they did not witness any physical confrontations nor hear any racist slurs. Fitch has called for the health director's ouster.
Page appointed Khan in February. Khan worked for the county from 2010 to 2015 as director of communicable disease control, had been the department's director from 2015 until he resigned in 2018 for a job leading a federally qualified health center in Kansas City.