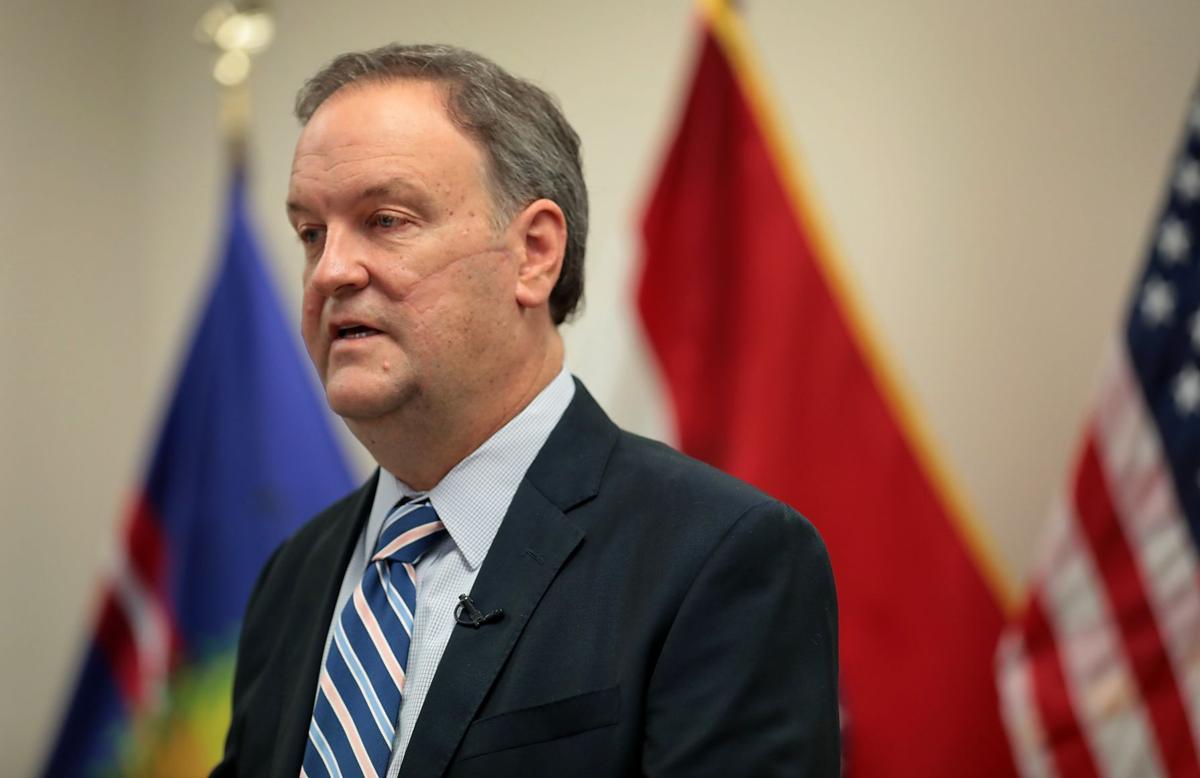 CLAYTON — St. Louis County Executive Sam Page is asking the County Council to use the county's remaining federal stimulus money to offset losses in revenue caused by the pandemic and avoid cuts or job reductions next year.
Page's preliminary $693.7 million operating budget plan for 2022 hinges on the use of much of nearly $193 million in federal money from the American Rescue Plan Act to shore up public safety and public health services over the next two years. The move would allow the county to avoid any cuts through 2024, Page said, when federal funds are expected to run out and the county will "be forced to identify additional revenue sources" to maintain its current operations, he said.
"In the best of financial times, we could use ARPA funds to expand services dramatically," Page said in a letter to the council. "But due to the pandemic, these are not the best of financial times. There are hard decisions to be made now, and there will be in future budget years as well."
Overall, Page's proposed $693.7 million operating budget reflects an increase of $29.5 million, or 4.4%, over 2021 to allow for an $18.5 million increase for public health, $4.2 million for police raises built into their collective bargaining agreements, and $5.2 million for a cost-of-living adjustment and a 4% merit-based raises for other employees. The proposal also includes a $3.3 million increase to administer countywide elections next year and a $3.2 million increase to Prosecuting Attorney Wesley Bell's office to add 13 attorneys and 15 legal secretaries.
But, Page conceded, the budget doesn't meet a range of other needs, including facilities and street repairs and upgrades. The budget's appropriation of $1 million for facility maintenance provides a "minimal level of funding," below a backlog of about $150 million in estimated infrastructure upgrades, he said.
And when the federal funds are exhausted as soon as 2024, the county may be forced to raise property taxes, Page said. He suggested the council ask voters to approve in April a use tax for out-of-state purchases, following the new state "Wayfair" law that allows governments to collect taxes on online sales.
Without the ARPA funds, Page and the council would have to agree on about $42 million in cuts to the recommended budget for next year, Paul Kreidler, county's director of performance management and budget, said in an interview.
County officials have discussed a need to find new revenues through tax hikes or other means or make major cuts to county services as far back as 2008, deferring some infrastructure costs and limiting pay raises and new hires to keep afloat, Kreidler said.
But a pandemic-induced downturn last year exacerbated the problem, costing the county $85.9 million in lost revenue mostly from sales taxes, motel and hotel taxes, and casino taxes. While tax revenues started bouncing back in late 2020, they're behind the county's current needs, Kreidler said.
U.S. Treasury guidelines allow governments to use federal funds to offset revenue losses, as long it's for allowable expenses, such as public health and public safety, Kreidler said.
The county funds that pay for both services are in the red, he said. The county's general revenue is estimated to hit an $18 million deficit in 2021, or a roughly 6% deficit. The health fund is estimated to hit a $1.4 million, or 4.9%, deficit in 2021. Both deficits are expected to grow to a total of about $65 million in 2022.
The county would use about $85 million ARPA funds for both services through 2022, effectively offsetting the deficits, Kreidler said. Money the county would have spent for public health and safety would then be free for the council to appropriate for other uses, without having to meet federal restrictions.
A majority of council members said Monday they have yet to review the preliminary budget proposal in detail and declined to comment. They're expected to review the budget proposal with Kreidler in detail Tuesday at the first of several hearings negotiating the county's spending in the next year.
Council Chair Rita Heard Days, D-1st District, said she was concerned about using federal money to fund existing county services without taking into account the county's need to raise revenues in the future.
"I'm not sure that's something the council wants to do at this time," Days said. "We're really going to have to make some tough decisions because we can't continue to kick this can down the road."
As of Monday, the legislative body had appropriated only about $3.3 million in APRA funds: nearly $1.9 million to fund pay increases for jail corrections officers, $875,000 for a vaccine incentive gift card program, and $500,000 to pay an auditing firm to help the county meet federal reporting requirements.
Days and Shalonda Webb, D-4th District, have also called for directing $50 million in ARPA funds toward expanding health services in their districts in north St. Louis County.
"We recognize that these are short-term funds, and we want to make sure that we appropriate as best as we know how," Days said.