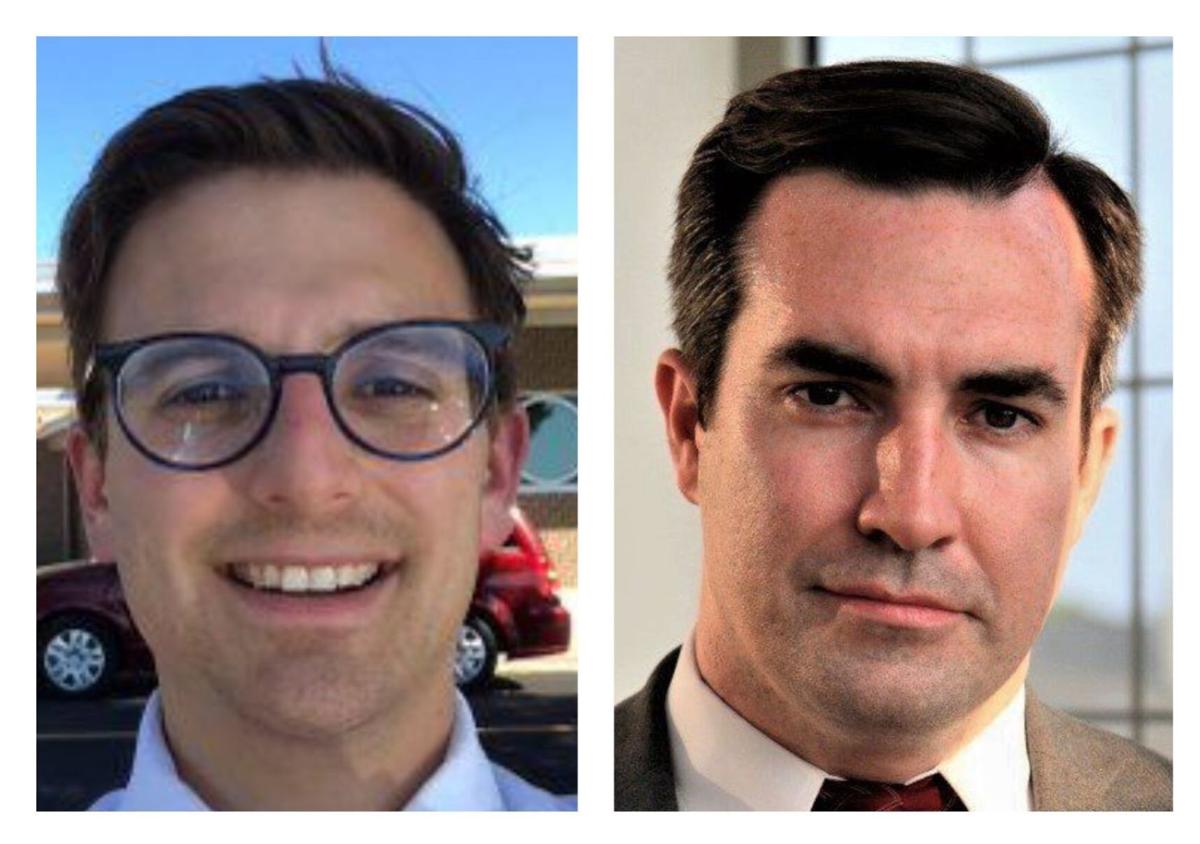 COLUMBIA, Mo. — Democrats will choose between a former assistant Missouri attorney general and a former federal prosecutor in the Aug. 4 primary to decide who will challenge Republican Attorney General Eric Schmitt this fall.
Elad Gross, 32, who served under former-Attorney General Chris Koster, said he was inspired to make the race in late 2018 by his legal fight to shed light on who was bankrolling former Gov. Eric Greitens' dark money nonprofit.
Rich Finneran, 36, an assistant U.S. attorney for the Eastern District of Missouri for seven years, said Schmitt's continued efforts to overturn the federal health care law contributed to his decision to join the campaign.
The Attorney General serves as Missouri's chief legal officer, representing and providing legal guidance to state agencies and defending challenges to the validity of state laws. The office enforces consumer protection, environmental and Sunshine laws, handles appeals of felony convictions and serves as a special prosecutor in criminal cases when appointed.
Gross and Finneran promise to take a very different approach to the office from Schmitt, who was elected state treasurer in 2016 and appointed attorney general following Josh Hawley's election to the U.S. Senate in 2018.
Transparency and corruption
Facing likely impeachment and pending criminal charges, Greitens resigned in June 2018. When he did, a legislative probe of the secret donors behind his dark money nonprofit also ended.
Gross filed a still-pending lawsuit in Cole County Court hoping to unmask those donors, believing the public had a right to know who was trying to influence state government.
He said he decided to run during arguments for that case in October 2018, when when the attorney for the other side reminded the judge that the attorney general had the power to intervene at any time.
"The attorney general should have been in that room," Gross said. "It shouldn't have been up to a private citizen to enforce the law."
Gross said he will bulk up the office's public corruption unit, and use its role in regulating nonprofits to help rein in anonymous campaign spending in Missouri. He will also put a major focus on both enforcing the state's Sunshine Law but also helping educate government officials around the state to ensure it is followed.
Finneran said he's also dedicated to improving transparency in state government, vowing to make public all responses to Sunshine Law requests so "the press and public can see why any records were produced or not produced."
If elected, Finneran said he will not blindly defend government agencies that are not following the state's open records and transparency laws.
Health care
Finneran contends that Schmitt has needlessly politicized the office.
Case in point, he said, is the ongoing lawsuit seeking to overturn the Affordable Care Act.
Schmitt is among the roughly two dozen Republican attorneys general who signed on to a lawsuit asking the U.S. Supreme Court to strike down the federal health care law, a move that would wipe out coverage for as many as 23 million Americans — including an estimated 250,000 Missourians.
The law was rendered unconstitutional, Schmitt and his fellow GOP attorneys general argue, when Congress zeroed out the tax penalty for not buying insurance — the so-called individual mandate. The lawsuit argues that because the individual mandate was a key pillar of the Affordable Care Act when Congress first enacted it, voiding it should mean the rest of federal health law should fall as well.
Finneran said the lawsuit is clear evidence that Schmitt "puts politics over the interests of Missourians."
"Eric Schmitt's lawsuit would take away coverage for pre-existing conditions," Finneran said. "It would eliminate guaranteed coverage for children who are on their parents insurance until they are 26. It's a waste of taxpayer resources to invest the attorney general's efforts to overturn a law that protects health care for the people of Missouri, especially in the midst of a global pandemic."
Gross also opposes efforts to overturn the federal health care law, and like Finneran supports efforts to expand Medicaid eligibility in Missouri. The question of Medicaid expansion will also appear on Tuesday's primary ballot.
Violent crime
Missouri lawmakers have returned to Jefferson City to debate legislation aimed at combating violent crime, and both Gov. Mike Parson and Schmitt have made the issue a focus of their 2020 campaigns.
Gross and Finneran believe the GOP is too focused on looking "tough on crime" and is ignoring better strategies to make Missouri's cities safer.
The goal shouldn't simply be to punish crime after it occurs, Finneran said, but rather to prevent crime in the first place.
"The way to do that is to look at the problem holistically, to think about ways we can promote safety in our communities," he said.
He also said you can't "simply prosecute without considering how the individuals going to jail will ultimately reintegrate into society."
Gross notes that when he was in college he founded the Education Exchange Corps, a nonprofit organization that has helped children throughout St. Louis City learn the power they have to lead through civic engagement.
"The more you work with kids," he said, "the more you see the impact of what is happening outside the classroom."
Crime needs to be looked at as a public health issue, Gross said, with efforts focused on figuring out how to prevent people from committing crimes in the first place.
"You can prosecute and put people in prison all you want," he said, "but if you spend more effort preventing crime from happening we'll see better results."
Grassroots campaign
Both Democratic challengers expect to be outspent in the fall campaign by Schmitt.
Gross, who touts more individual donors at this stage in the campaign than both 2016 attorney general candidates combined, reported earlier this month that he has raised $184,000 so far. His campaign reported just under $40,000 cash on hand.
Finneran has fared slightly better, reporting in July that he has raised nearly $250,000 so far with around $78,000 cash on hand.
Schmitt, who faces no primary opponent next week, has raised nearly $1 million and has around $645,000 cash on hand, according to his July disclosure reports.
And Schmitt will benefit from an independent political action committee established to bolster his campaign. The PAC has nearly $2 million cash on hand, according to its July disclosure, with $1 million coming from one man — retired investor Rex Sinquefield of St. Louis.
Gross said whoever the nominee is, they will have to rely on a grassroots campaign to win the office, a challenge that has become even more difficult during a pandemic.
"Before the virus, I made 409 meetings around the state," Gross said. "When we hit Nov. 3, I'm hoping folks see (Schmitt) putting all these ads up and say 'I actually met Elad. This other guy never showed up.'"
Finneran believes people are ready for a change in Missouri.
"We have to get people to the polls," he said, "and make sure Missourians know the choice is between a former prosecutor who is going to put them first and an unelected incumbent who always puts politics first."
Get Election 2020 & Politics updates in your inbox!
Keep up on the latest in national and local politics as Election 2020 comes into focus.