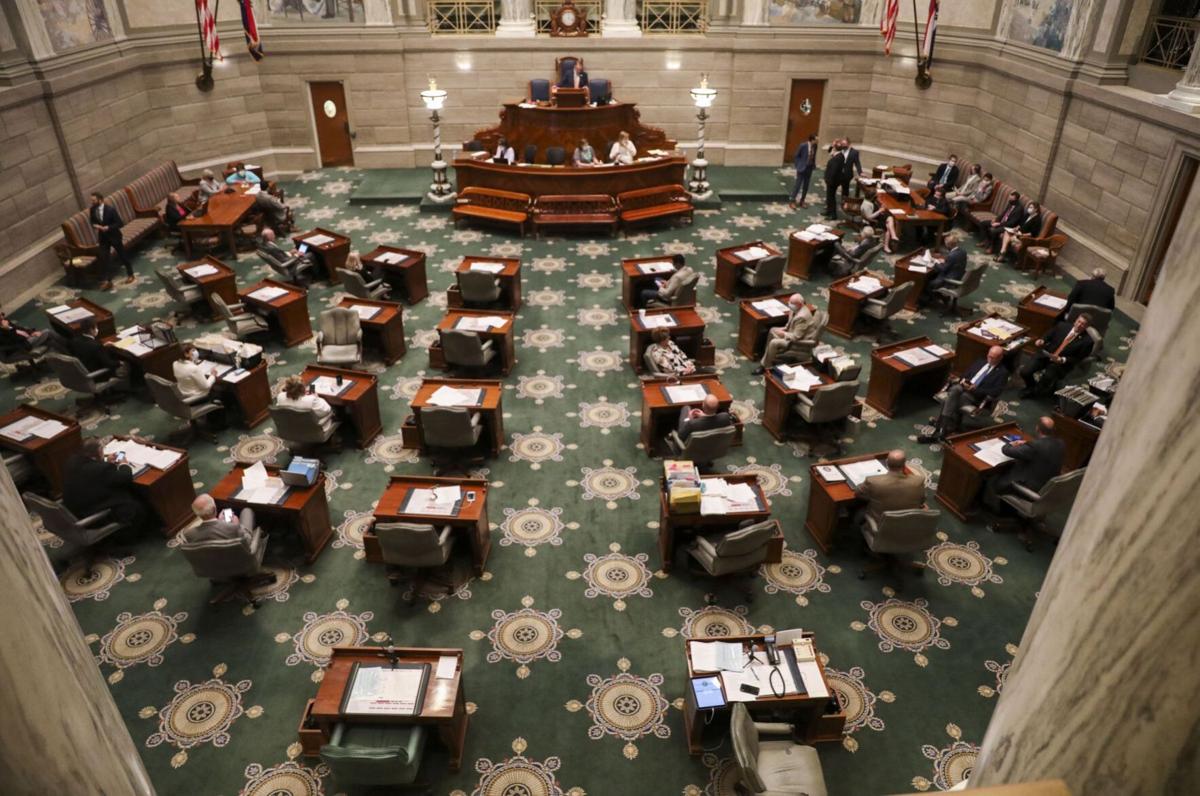 JEFFERSON CITY — The pandemic is forcing Missouri's tradition-bound Senate to make changes in how it will operate in 2021.
With lawmakers set to be sworn in to the Legislature on Jan. 6, the Senate is installing an audio monitoring system in its committee hearing rooms so employees, lobbyists and the public can listen to debate in their homes or offices.
That, said Senate Administrator Patrick Baker, could mean fewer people in a building that is often crowded during the nearly five-month annual session.
"It's all because of COVID," Baker said.
Similar changes are underway in capital cities across the nation as lawmakers begin gearing up for the legislative season, where they pass laws, draft budgets and debate policy changes.
But the spread of the pandemic is altering those plans.
In Colorado, lawmakers appear poised to delay the start of the session by at least a month.
Vermont lawmakers are going to meet remotely.
The guidelines also require 6 feet of social distancing when possible and prohibit handshakes or any physical contact during committee hearings and gatherings.
Missouri lawmakers have been meeting periodically throughout the year after the spring session was upended by COVID-19.
A handful of lawmakers, Gov. Mike Parson, lobbyists and numerous staff members caught the potentially deadly disease as the pandemic progressed.
During a recent meeting of the House, opposition to face coverings even in close quarters was evident, with an estimated 70 of the 163-member chamber going maskless.
Bringing Senate hearings to the internet is notable because the chamber has largely shunned technological innovation. Rather than pressing a voting button on their desks, senators cast their votes verbally.
No laptops are allowed in the chamber. There is no video stream when the Senate is in session.
"We are different in that we embrace technology where needed. Some of that is rooted in tradition," Baker said.
Broadcasting the audio from the three main committee rooms could cut down on the marathon, standing-room-only hearings that often mark the beginning of the legislative session.
"Having as few people in those rooms is our hope," Baker said.
The House is making changes, too.
Audio and video are already available for all House activities.
But now, in an attempt to give people an option of staying away from crowded corridors, video links are being installed in committee rooms that will allow people to submit testimony virtually.
For Baker, it remains unclear whether the changes will remove the added equipment once the pandemic subsides.
Parson, meanwhile, has not told legislative leaders when he plans to deliver his State of the State address, which typically takes place in the latter half of January.
Wisconsin Gov. Tony Evers, a Democrat, has already announced he will deliver his speech virtually, rather than require a joint session of the House and Senate.
Parson, a Republican, will be sworn into office on Jan. 11 in a pared-down ceremony designed to limit the spread of COVID-19. The traditional ball isn't expected to happen until August, pending the status of the pandemic.