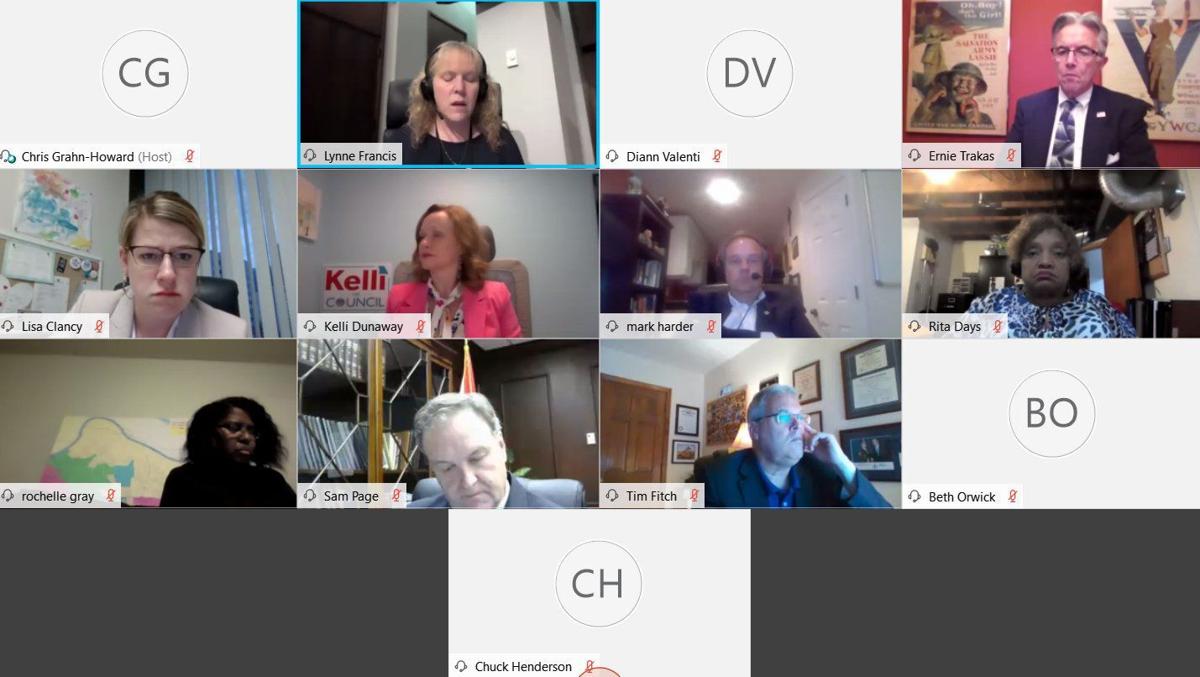 CLAYTON — Many parents and coaches of young athletes in St. Louis County are opposing new limits on youth sports imposed this week by County Executive Sam Page amid rising coronavirus infection rates.
And two Republican members of the St. Louis County Council pushed two bills that would let voters decide whether to limit the power of the county executive and the health director during a pandemic to enforce such orders. But the two bills died Tuesday night with the four Democrats voting against the three Republicans.
Starting on Monday, youth teams in the county have only been allowed to practice with their own teammates in groups of 10 or fewer with no spectators. No games or tournaments are allowed in the county, sending some teams seeking competition to other states. Although he can't keep people from traveling out of the area for sports, Page has discouraged it.
The shutdown followed Page's assertion on July 15 that youth sports are "the primary source of spread in the community."
Health department spokesman Christopher Ave said rising infection rates among children during the summer were a concern because "schools aren't even in session and we're seeing this increase."
However, members of the St. Louis Sports Medicine COVID-19 Task Force said there have been no local reports of asymptomatic transmission from children to adults, who make up the bulk of illnesses. And officials from several sports clubs have disputed any spread on their team and insisted they have taken measures to keep families safe.
More than 100 people submitted comments to be read at Tuesday's regular council meeting, almost all of them criticizing the decision and challenging Page to show any basis for shutting down youth sports when casinos, bars and restaurants can continue operating.
"I should be able to determine if youth sports is in the best interests of my child specifically," county resident Clint Butler wrote in comment read into the record at the council's regular meeting. "There is no data to back up the increases in COVID-19 is due to team sports. Provide the data or lift the ban."
The cause picked up steam in a protest Monday organized by Dan Buck, managing partner for Big Sports Properties, the group planning a massive youth sports complex on the site of the nearly dead St. Louis Outlet Mall in Hazelwood. More than 1,700 people commented on a video of the protest posted on Facebook.
"We do not demand the opening of youth sports if you can produce evidence or substantiate or justify in any way that there is drastic outbreaks," Buck said during the protest streamed on Facebook.
The bill sponsored by Fitch and Harder would have stripped authority from the county executive and health director to issue orders unilaterally and indefinitely during a pandemic. The bills would have allowed the county executive to declare a state of emergency and the health director to issue a public health order only the first 15 days. Then, the council would have to pass a resolution to extend the orders to an expiration date. A two-thirds majority vote would be necessary to extend any state of emergency or health order, under the bill.
The councilmen had also appeared at Buck's protest to talk up their bill, and KMOX (1120 AM) radio host Mark Reardon encouraged his listeners to support them and fight the sports ban.
Page said in remarks on Monday that it was "unfortunate in the middle of a pandemic that we still see so much partisanship around the fundamentals of keeping people safe."
Sarah Teague of the Post-Dispatch contributed to this report.
Concerned about COVID-19?
Sign up now to get the most recent coronavirus headlines and other important local and national news sent to your email inbox daily.