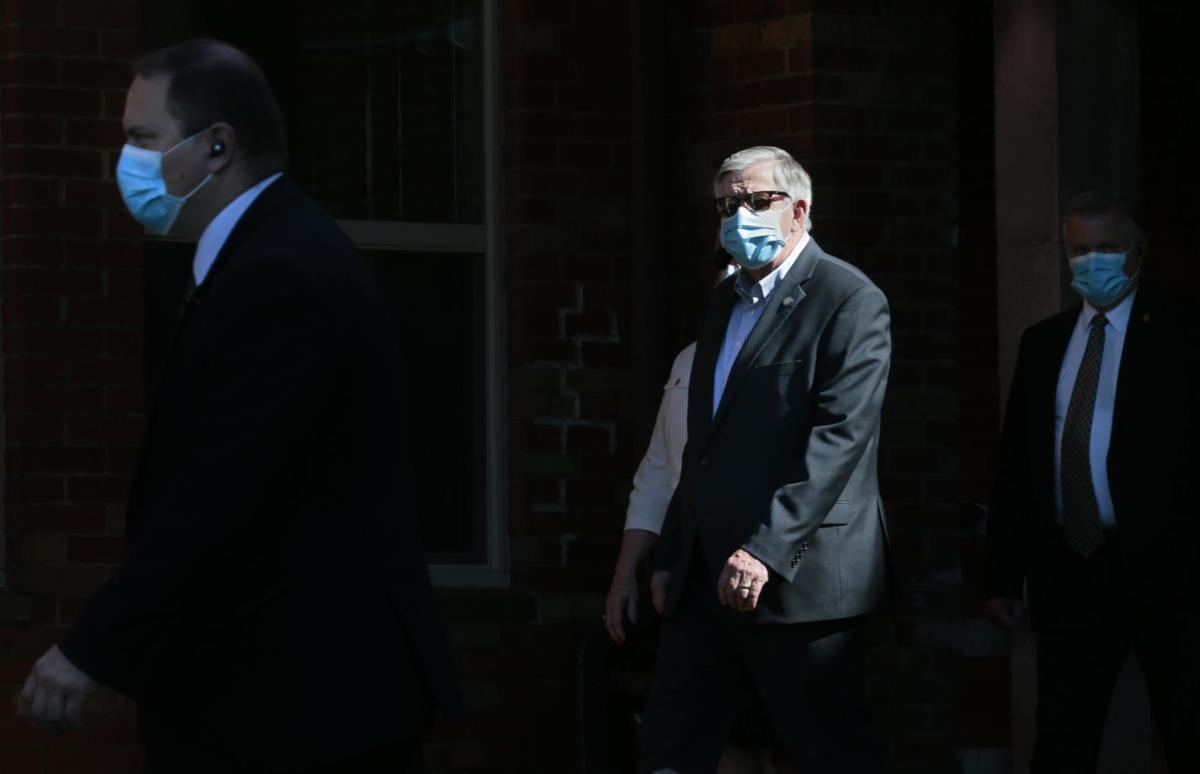 JEFFERSON CITY — Three weeks after his opponent accused him of doing "so little" to address the deadly pandemic, Missouri Gov. Mike Parson launched a television ad Tuesday in defense of his approach.
The 30-second ad, set in a hospital with Parson wearing a mask, says the Republican has used a "balanced" response to the threat of COVID-19.
"The early steps taken by the governor to control the spread of the virus, increase testing, expand our PPE supply, and ensure Missouri hospitals weren't overwhelmed have made the difference in Missouri's COVID-19 response, and the governor continues to work tirelessly every day to keep Missourians safe," campaign spokesman Steele Shippy said.
Parson, who is seeking a full, four-year term against Democratic Auditor Nicole Galloway, has received criticism for not imposing a statewide mask mandate and leaving decisions about bar and restaurant closures up to local officials.
A White House coronavirus report last week ranked Missouri seventh in the U.S. for COVID-19 case rates, up from 10th the week before. The state Department of Health and Senior Services has reported more than 104,000 positive cases and at least 1,714 deaths.
But virus numbers have been climbing higher in rural areas.
In her earlier ad, Galloway said Missourians need a "sense of urgency" from leaders.
"But we're never going to get it from him," she said as the ad cuts to a photo of Parson, who took office in 2018 after the resignation of Gov. Eric Greitens.
"We're in a pandemic," Galloway says as background video shows her wearing a mask. "We can't have a governor who does so little."
Parson's ad marks the first foray into television ads by the governor's personal campaign fund. An allied political action committee, Uniting Missouri, has been paying for ads since the Aug. 4 primary election.
The Cook Political Report recently altered its ranking of the race, saying it likely leans toward Parson but is tightening as Galloway begins to draw national support and money.
The report also said Parson's response to COVID-19 could play a factor in the race.
On Wednesday, Parson is set to visit employees at the state's largest office building near the Capitol. On Monday, officials closed at least one office in the facility because of an outbreak among workers. Hundreds of other employees are working remotely.
"We are proud to air our first advertisement that showcases the governor's proven leadership that protected our state's economy and allowed Missourians to safely return to work during this crisis," Shippy said.
Concerned about COVID-19?
Sign up now to get the most recent coronavirus headlines and other important local and national news sent to your email inbox daily.