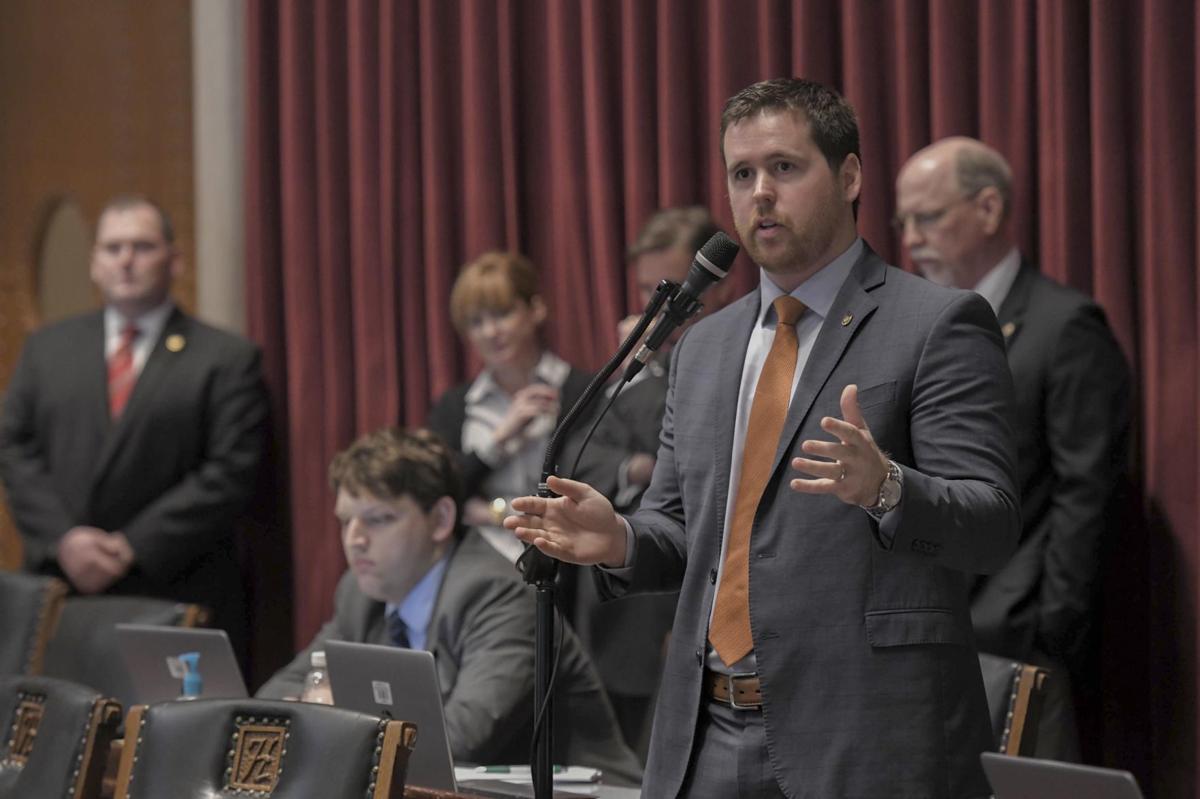 JEFFERSON CITY — An "informal working group" tasked with providing recommendations on how to best spend billions of dollars in federal stimulus money will hold public meetings, a spokeswoman for Gov. Mike Parson told the Post-Dispatch on Monday.
The Republican governor's office announced the working group on April 10, saying it would "help make recommendations on the best use of the federal funding."
But little else was known before Monday about the working group except for its membership, which does not include women or Democrats. Whether its meetings would be public was unclear.
Late Monday, Kelli Jones, spokeswoman for the governor's office, told the Post-Dispatch the meetings would be open at the governor's request.
"Given the elevated interest, the Governor's Office has decided to authorize State Treasurer Scott Fitzpatrick to hold public meetings," she said in an email. "This informal working group is committed to being transparent on how tax dollars will be distributed and will open these meetings to the public."
Administration officials have said the state is waiting for guidance from the federal government on how the state can spend the money.
Missouri is poised to receive $2.38 billion from a federal relief fund for local and state governments, according to a count by the Federal Funds Information for States organization that was published by the National Conference of State Legislatures.
Democrats, who hold little power in Jefferson City, have lobbed questions about the committee from the sidelines.
Auditor Nicole Galloway, a Democrat running against Parson for governor, on Monday asked for information on when and how the working group would meet.
In a letter to Parson, she said her office was examining the state's spending of the federal stimulus money.
"Missourians expect this relief money to be spent appropriately, efficiently, and transparently," Galloway said in the letter. "We must do everything we can to maintain taxpayer confidence in this program. This can only be accomplished with meaningful oversight."
She asked who would be on the working group, what taxpayer resources the group would have access to, to whom the group would issue recommendations, how those recommendations would be made public, and "what steps are being taken to ensure compliance with the Sunshine Law?"
Rep. Deb Lavender, D-Kirkwood, who is running for state Senate against state Sen. Andrew Koenig, R-Manchester, said she could not find any information about the working group's proceedings online.
Lavender is a top Democrat on the House Budget Committee who regularly parses Republican spending plans.
"I got the names of who was in charge of that (working group) from a lobbyist who got it from another lobbyist," she said.
She said a tweet last week by Fitzpatrick was some of the only information she's received on the status of the federal money.
"Late today, my office received a wire transfer from the federal government for $1,189,926,508.50 as an initial payment from the Coronavirus Relief Fund, authorized by the CARES Act," Fitzpatrick tweeted Wednesday. "We will be working with @GovParsonMO to put this money to work as efficiently as possible."
"The only public awareness that we have $1.18 billion is a tweet?" Lavender asked. "It occurs to me as a state rep that that information would've been forthcoming to us."
Mary Compton, spokeswoman for Fitzpatrick's office, said the governor's office provided the treasurer's office a list of panel members: Fitzpatrick; Dan Haug, state budget director; Ryan Silvey, chairman of the Public Service Commission; Rep. David Wood, vice chairman of the House Budget Committee; State Sen. Lincoln Hough, R-Springfield; Rich Germinder, legislative liaison for the Department of Natural Resources; and Dan Burgess, legislative director for Sen. Roy Blunt, R-Missouri.
Katie Boyd, spokeswoman for Blunt, said Burgess was only serving to help answer questions on federal policy.
Compton expected the committee to start meeting around April 24.
He said the clergy leaders could give their input on how to spend the money.
"They have not got the guidance down to us yet to even figure out how to distribute the money," Parson said. "So we're all trying to get through that ourselves, but as far as having input into it ... once we kind of get all the guidance ... I think we can share that with you and then you can have input."
Parson's Democratic predecessor in 2009 formed a council to offer advice on that year's influx of federal stimulus money.
Then-Gov. Jay Nixon, shortly after taking office, issued an executive order forming the Governor's Economic Stimulus Coordination Council.
Whether its meetings were public was unclear Monday.
Nixon's panel was bipartisan. Among its members were St. Charles County Executive Steve Ehlmann, a Republican.