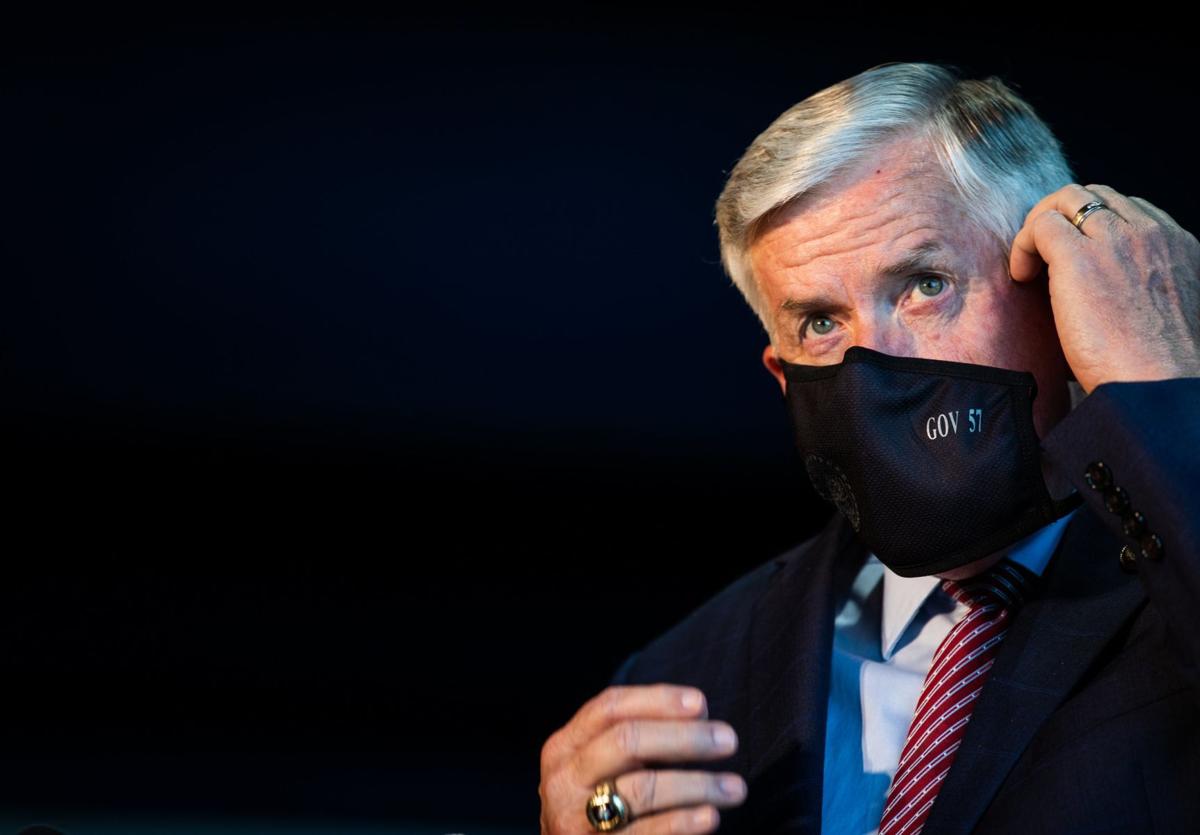 JEFFERSON CITY — Gov. Mike Parson on Thursday said working during the COVID-19 pandemic had been "extremely difficult" for members of his Cabinet when questioned about the recent departure of the top state health official.
Asked if he wanted Dr. Randall Williams, director of the Department of Health and Senior Services, to resign, Parson said: "I thought it was the best thing for the Cabinet, the best thing for the governor's office, that we go in different directions."
He said he sat down with both Williams and Drew Erdmann, the state's chief operating officer since 2017, before they left state government earlier this week. Both were holdovers from the administration of former Gov. Eric Greitens, who resigned in June 2018.
"I expect so much out of my Cabinet," Parson said. "I push — and I push hard. So, but also I expect high quality work, I expect people to do their jobs."
He also said Williams, who became the face of the state's response to the pandemic, "has done a great job since he's been with me. He's been loyal to me ever since he's come here. I wish him the best."
"I sat down with both him and Drew," Parson said. "We talked about things — the future. And we thought it was the best thing to do to part ways at this point.
"Both of those men did outstanding work," Parson added.
He didn't commit to filling Erdmann's position, created in 2017 by Greitens, and said his team was more concerned about filling the vacancy created by Williams' departure.
Greitens said in early 2017 Erdmann would work to cut "waste, fraud, abuse and redundant services and programs." But Erdmann's post had always been controversial since Greitens announced a plan to have a chief operating officer, rather than oversee government operations himself.
Erdmann, of St. Louis, was a partner at McKinsey & Co., a global management consulting firm for governments. For the state, he was earning $130,000 annually.
As chief operating officer, Erdmann was involved in many high-profile government initiatives.
Erdmann, in a farewell post on LinkedIn, said "we emphasized commonsense management practices" in state government and adopted an "'enterprise' approach whereby all 16 executive departments worked together, learned together, and improved together for our citizens."
Erdmann also implemented a training regimen for state employees called "The Missouri Way," a three-day leadership seminar that started in August 2018 as part of Erdmann's efforts to transform state government.
The Office of Administration had billed state agencies $248,000 for the classes, the Post-Dispatch reported in July 2019.
Erdmann said because of professional development programs that thousands of state employees participated in, "Missouri has rightly earned recognition as a leader among state governments."
Lawmakers criticized Williams over the rocky rollout of the state's medical marijuana program. Williams also had sparred with lawmakers over funding for a program that helps get stroke and heart attack patients to the most appropriate facility in the shortest amount of time.
He also angered some members of a House budget panel after he refused to release information about an outbreak of the tick-borne Bourbon virus.
In 2019, during a hearing on the state's push to shut down Planned Parenthood, it was disclosed that officials within Williams' agency had tracked some patients' menstrual cycles to find examples of failed abortion procedures.
Maria Benevento and Kurt Erickson of the Post-Dispatch contributed to this report.