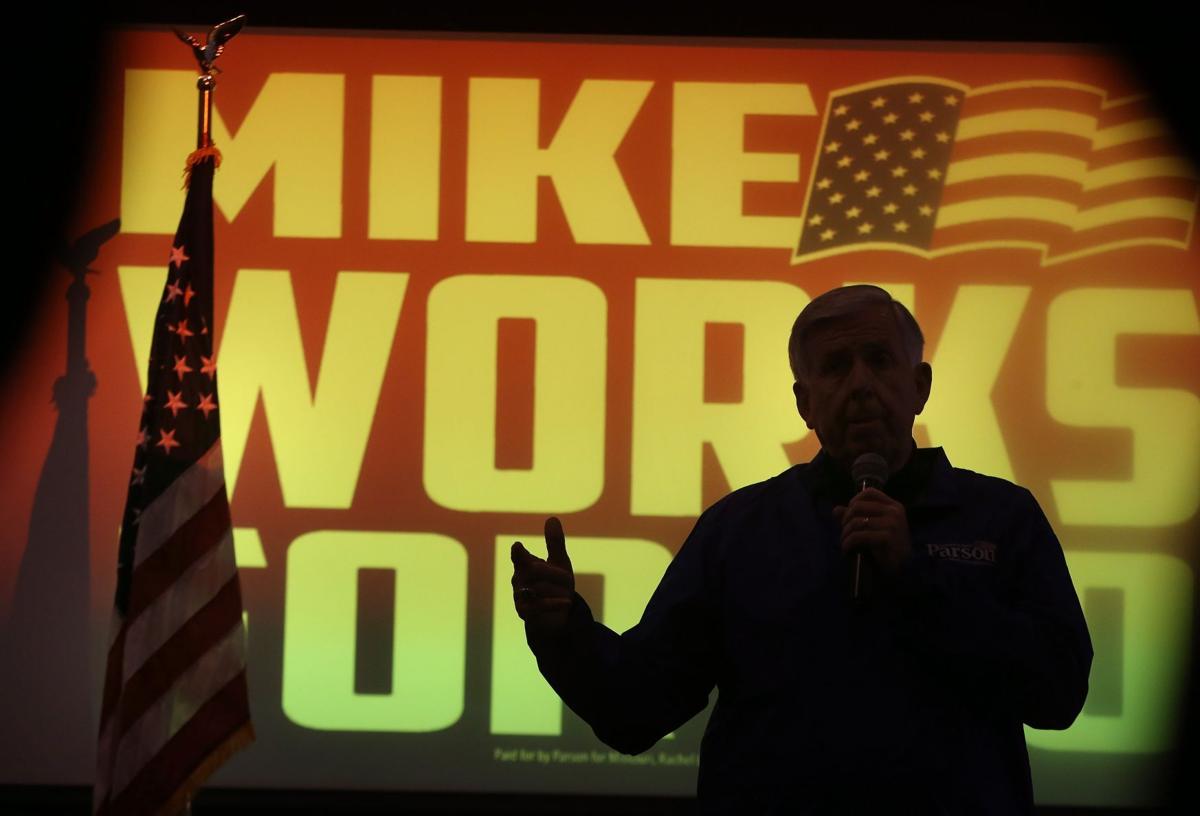 JEFFERSON CITY — The campaign fund that raises money to push Missouri Gov. Mike Parson's agenda illegally accepted a significant contribution from an out-of-state group last year.
In an order issued by the Missouri Ethics Commission, regulators said the Uniting Missouri political action committee received a $150,000 contribution in October 2020 from a PAC associated with the Republican Attorney Generals Association.
The contribution was deemed illegal because the attorney general association's PAC was not registered with the MEC.
Both Uniting Missouri and the RAGA Action Fund were fined $1,000 for the incident.
In the RAGA Action Fund case, regulators said the PAC was not in compliance with state ethics laws.
"RAGA Action Fund never filed a statement of organization as a Missouri-domiciled committee with the MEC, did not appoint a treasurer residing in this state, and did not open an account in a depository within this state," the order notes.
Uniting Missouri was created in the run-up to the 2020 election to raise funds for Parson's bid for a full, four-year term. As a PAC, it is not subject to contribution limits.
Although Parson won't be on the ballot for any elective office after his term ends in 2024, Uniting Missouri continues to raise money to bolster his agenda and, potentially, pay for travel costs when he attends events.
In a quarterly fundraising report filed with the MEC, the PAC raised $263,550 in the three-month period ending Sept. 30, leaving it with a total of $175,500 in its account.
Among its most recent expenditures was an ad highlighting his attacks on the Post-Dispatch after the newspaper discovered a vulnerability in a database of Missouri teachers.
Rather than thank the newspaper for discovering the vulnerability and giving the state the opportunity to fix the flaw, Parson called the newspaper's work "hacking" and called for a criminal investigation and a possible civil lawsuit.
In the 2020 case, the MEC fined Uniting Missouri $2,000 for reporting lapses connected to a pair of flights the group chartered for the governor when the Kansas City Chiefs were in the Super Bowl.
The complaint said Parson's $15,497 flight on a private plane to see the Kansas City Chiefs take on the San Francisco 49ers in Miami clearly required coordination with the Uniting Missouri PAC.
The second flight drawing attention was in December, when the Kansas City Star reported the governor traveled to Washington on a plane belonging to Rick DeStefane, the owner of a nursing home company that has been investigated for Medicaid fraud.