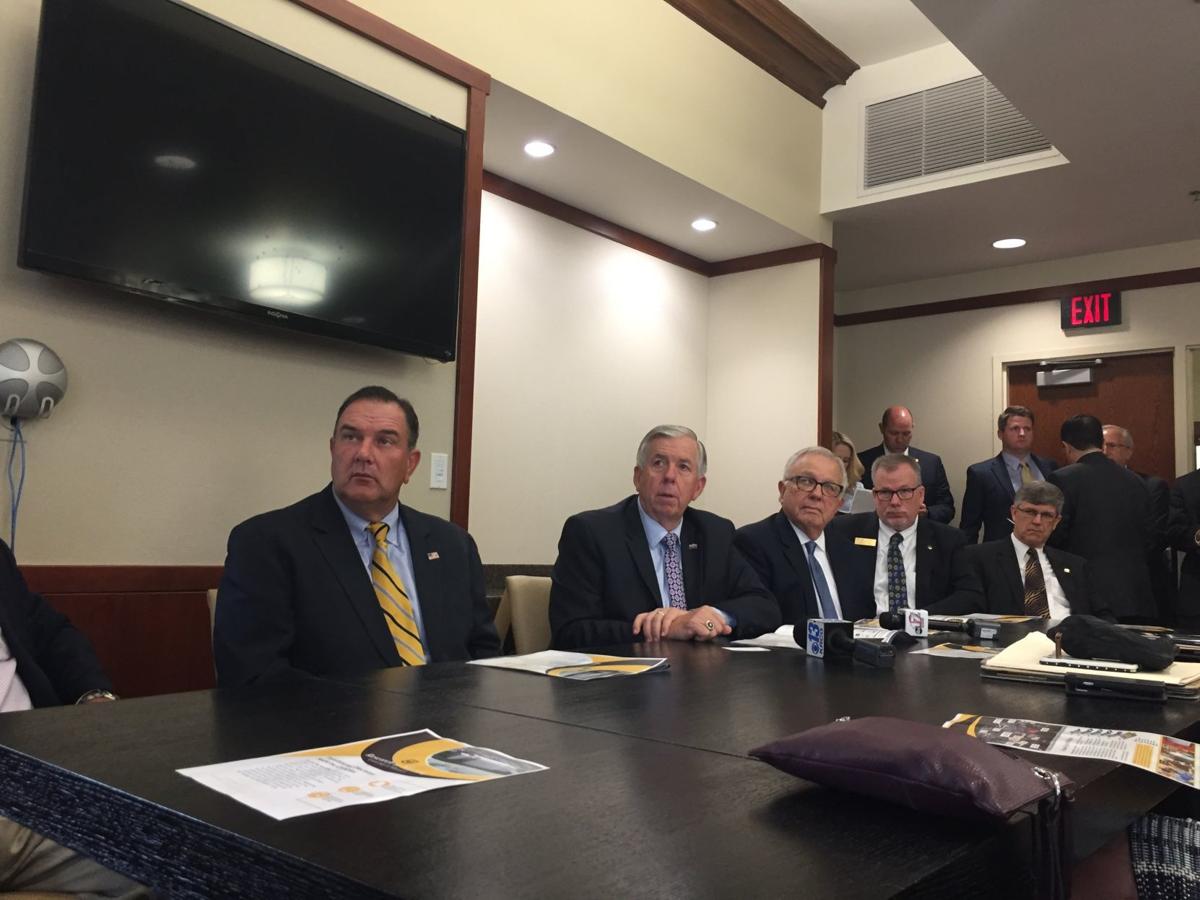 JEFFERSON CITY • Two full weeks after taking over for scandal-plagued Eric Greitens, new Missouri Gov. Mike Parson chose Republican Sen. Mike Kehoe on Monday as his pick for lieutenant governor.
Calling the Jefferson City lawmaker steady, predictable and humble, Parson said Kehoe would play a key role in trying to improve the state's roads and bridges.
"The lieutenant governor is an important position, not just because of the duties assigned by Missouri law and the state Constitution, but also to reassure Missourians that all operations of state government will continue," Parson said.
"When Gov. Parson called and asked me to assist him in this great endeavor, it was one of the most humbling and unbelievable days in my life," Kehoe said.
Kehoe, 56, is a St. Louis native who got his start in state government in 2005, when he was appointed by then-Gov. Matt Blunt to serve on the Missouri Highway and Transportation Commission.
He was elected to the Missouri Senate in 2010, representing a district that includes Cole, Callaway, Miller, Moniteau, and Morgan counties. Kehoe is term-limited and cannot run for another term in the upper chamber.
"Mike is someone who will bring great experience to the Lieutenant Governor's office as part of this administration. He will provide valuable leadership experience to Missouri as well," Parson said.
Parson said Kehoe would use his role as a former state highway commissioner to help promote the improvement of state infrastructure.
"I will do all I can to help him in that area," Kehoe said.
The appointment follows an attempt in the Legislature this spring to enact a law that would allow a governor to appoint a lieutenant governor if the post becomes vacant.
The effort was approved in the Senate but was rejected in the House.
The legislation would have clarified what has become a disagreement among legal experts and lawmakers on whether a governor has the power to fill the vacancy.
In a nod to the potential controversy, Parson was flanked by lawyer Joe Bednar, a Democrat who served as legal counsel for three governors, and Lowell Pearson, a Republican and former chief counsel to Blunt.
Both believe Parson has the legal authority to fill the vacancy.
On Monday morning, former Gov. Jay Nixon, a Democrat, released a statement in support of Parson's ability to name a replacement lieutenant governor. Nixon served as attorney general before being elected governor in 2008.
"As Attorney General and later Governor, I researched this issue extensively and firmly believe the Governor has the authority to fill a vacancy in this office by appointment," Nixon wrote. "In 1992 Missouri voters added significant additional duties to the office that would be unmet if the position remained vacant. Missouri's unique succession laws could cause constitutional challenges if the Governor becomes disabled when the Lt. Governor's Office remained vacant."
Former Missouri Supreme Court Chief Justice Michael Wolff, however, said there was no law authorizing the governor to appoint, nor the voters to elect, a person to serve as lieutenant governor to fill a vacancy in the office.
"I am not saying the argument on the other side is not legitimate. It's just weaker," Wolff said Monday.
As majority floor leader, Kehoe served as a traffic cop for legislation being debated on the Senate floor.
He stopped short of calling on Greitens to resign after Greitens was indicted on felony invasion of privacy charges in February. But in April, after the Missouri House released a report containing allegations that Greitens had hit, groped and coerced his hair stylist, Kehoe said Greitens had lost the "moral authority" to lead the state.
"Should the governor choose not to resign, I am persuaded that he has not only burned bridges, he has blown them up to where it will be impossible for him to effectively lead the state going forward," Kehoe said in a statement. "Remaining in office reeks of the self-serving actions of a 'career politician' the governor has mockingly derided since his inauguration."
Kehoe's appointment Monday won bipartisan support.
"Sen. Kehoe is highly respected among members of both parties for his honesty and integrity. He will make an excellent Lt. Governor and I look forward to continuing to work with him on issues important to Missouri families," said Senate Minority Leader Gina Walsh, D-Bellefontaine Neighbors.
"As a state Senator, Mike Kehoe was known for his ability to work across the aisle on important issues facing our state. Sen. Kehoe is a fair and hardworking public servant, and I know he will continue to serve the people of Missouri well," said Assistant Minority Floor Leader Shalonn "Kiki" Curls, D-Kansas City.
"Not only is Mike a close colleague, but he is a good friend. I have been fortunate to witness his strong leadership skills and his passion for the Show-Me State. He knows how to communicate with people and listen to both sides," said Senate President Pro Tem Ron Richard, R-Joplin.
Before moving to mid-Missouri, Kehoe sold cars for Dave Sinclair Ford in St. Louis in his early 20s. He later took over Osage Industries, an ambulance manufacturer in Linn.
He sold the company to its employees in 1992 and purchased a Ford and Lincoln-Mercury franchise in Jefferson City.
Kehoe and his wife, Claudia, have four children. In addition to living in Jefferson City, they own a farm on the Gasconade River in Phelps County.
As lieutenant governor, Kehoe will preside over the Senate and, if needed, cast tie-breaking votes on legislation. He also will sit on a number of boards and commissions.
As a senator, Kehoe earned $35,900. The lieutenant governor post pays $86,600.