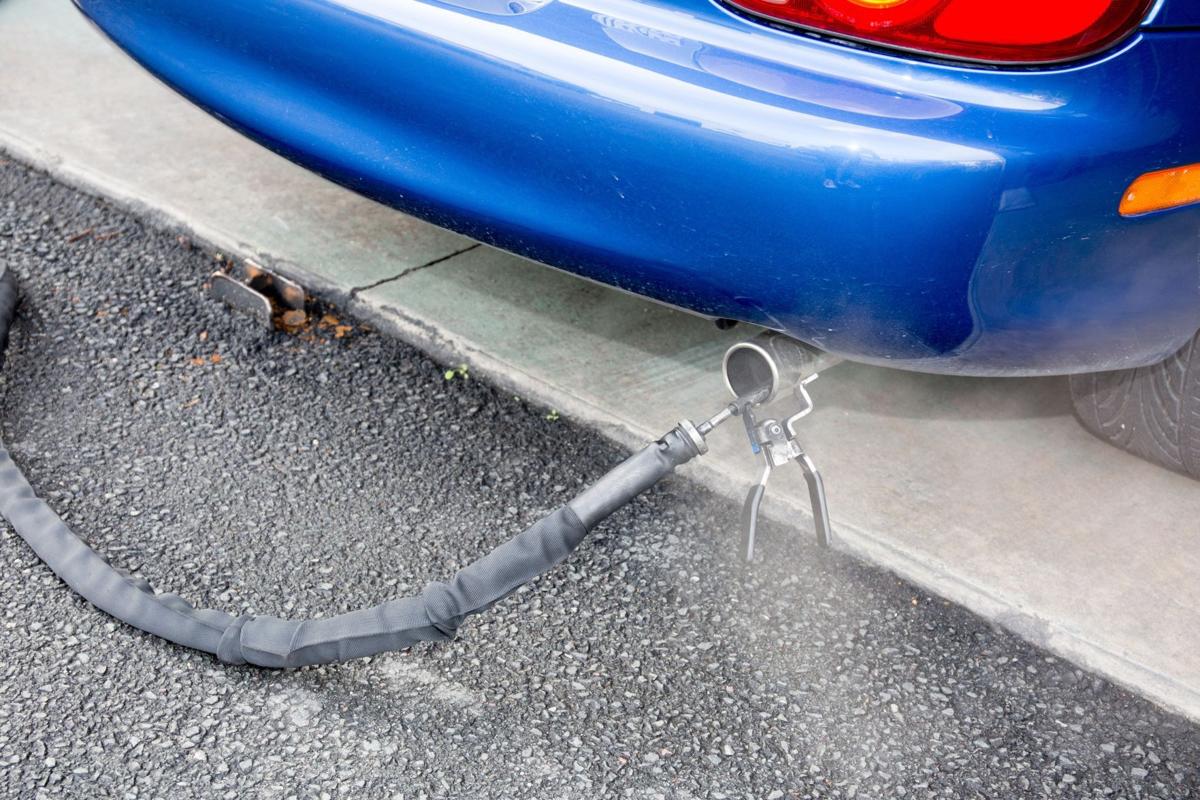 JEFFERSON CITY — Citing the potential loss of $52 million in federal funding, Gov. Mike Parson vetoed legislation that would have ended a vehicle emissions testing program in counties surrounding St. Louis.
In the emissions bill, the GOP-controlled Legislature had sent Parson a plan that would exclude Franklin, Jefferson and St. Charles counties from vehicle emissions inspections that are mandated by the federal Clean Air Act.
Supporters of the plan said the testing is unpopular in the suburban areas they represent and should be jettisoned.
"My administration has repeatedly expressed its support of Missouri's transportation infrastructure and related funding. House Bill 661 undermines those efforts and the state's ability to provide reliable transportation infrastructure into the future," he wrote in his veto message.
Because of high ozone levels, the St. Louis region is the only area in Missouri where emissions testing is required. Automobiles are the largest source of the chemicals that form ozone, but factories, utilities, the petroleum industry and industrial solvents also contribute.
Ozone is a respiratory irritant that can cause health problems, especially for children, the elderly and people with heart and lung diseases. Currently, 30 states and Washington, D.C., require emissions tests in at least some areas, while 17 states require regular safety inspections. Thirteen states require no inspections.
In his veto message, Parson said the Department of Natural Resources has already submitted a plan to the EPA requesting the removal of Franklin and Jefferson counties from the testing program.
"At this time, the plan is still being reviewed. The department is continuing to review options to scale back the requirements of the vehicle inspection program to reduce the burden on citizens while avoiding detrimental impacts to transportation funding," Parson said.
Meanwhile, Parson said he torpedoed the property tax refund legislation because it could severely affect the ability of local governments to pay for basic services.
Under the legislation, which was sponsored by Rep. Jim Murphy, R-south St. Louis County, and Sen. Andrew Koenig, R-Manchester, property owners could claim a tax refund on the property taxes owed just to a city or county that imposed a pandemic-related restriction in 2021. Affected business tenants would be eligible for a portion of their landlord's rebate.
Parson said the proposed law was written so broadly that it could have allowed virtually all property owners to claim a refund, resulting in a major financial hit to local governments.
"This is a significant departure from the current tax structure in Missouri, and could severely undermine the ability of cities and counties to provide local services," Parson wrote.
In St. Louis County, where about a quarter of property taxes come from commercial property, the impact was estimated at nearly $9 million, a not insignificant portion of its roughly $850 million budget.
In St. Louis, where about half of property tax revenue comes from commercial property, the budget impact could have been even larger than in the county. If all commercial property owners claimed a 25% tax refund of their city portion of property taxes, the city could be looking at refunds as high as $12 million.
Murphy said the governor's decision was "unfortunate."
"I think we should give something back to people who lost money because the government shut their businesses down," Murphy said. "It certainly would do little harm to a county, I think."