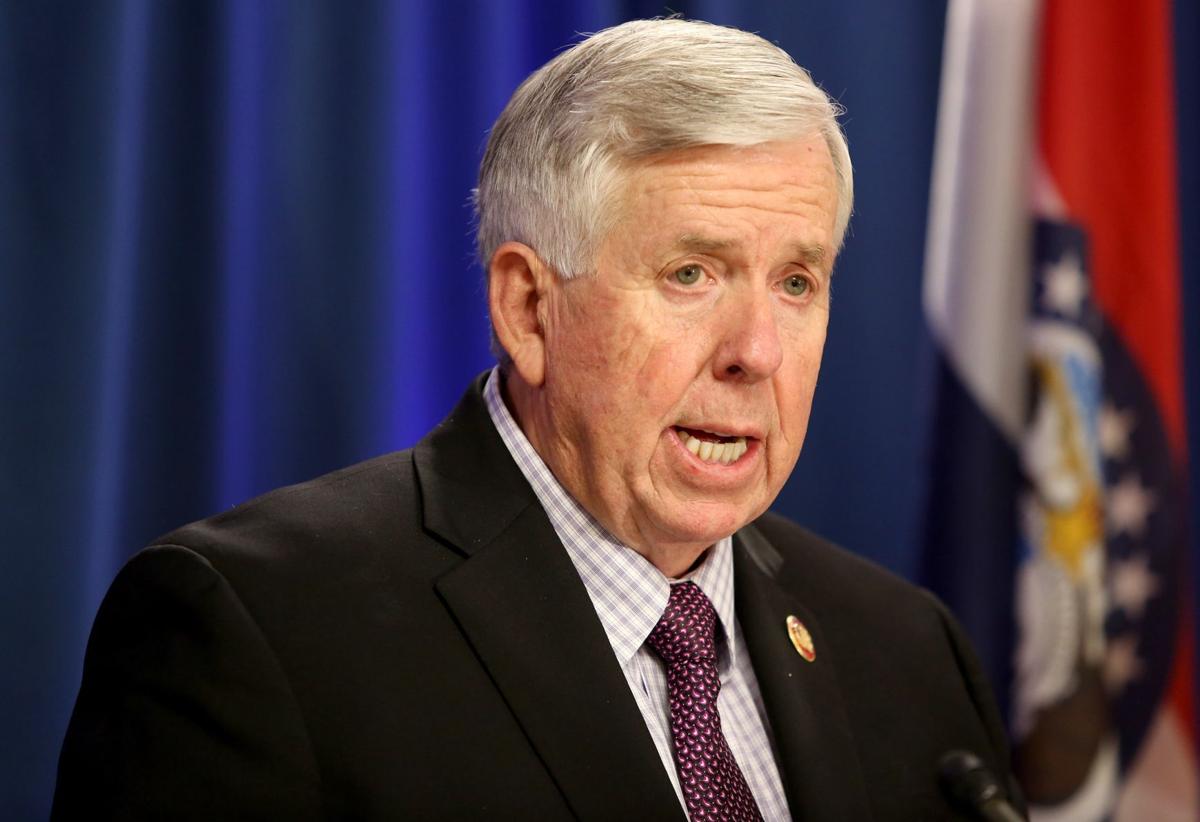 JEFFERSON CITY — Gov. Mike Parson on Thursday said health care providers that allow people to jump the COVID-19 vaccination line would face consequences.
"We have had issues with the distribution process," Parson said at his weekly news conference. "I will assure you, as governor of the state of Missouri, we are going to vaccinate the most vulnerable citizens in this state. We are not going to allow people to administer however they want to administer. The guidelines are clear.
"If that is not followed, then we will do other actions to make sure that that vaccine goes to the people who actually need it," he said.
Dr. Randall Williams, director of the Department of Health and Senior Services, said, "We do get reports of people who are purposefully — I'm talking about vaccinators — deviating from our guidelines that are required by the federal government.
"And they get a phone call. And yesterday I called one and they confessed and I just explained to them very clearly that we are going to prioritize our most vulnerable," Williams said. "Any deviation from that will be met with consequences."
Williams declined to identify the person who confessed.
"I'm not going to tell you who it was," he said. "It came to my attention. A pharmacist in an area called us and said, 'look, I just know that they're ... giving it to a group that's not' — so I called him. I called the CEO of that institution. I said 'true or not true?' He said 'true.'"
Williams said, "Future distribution is based on following the rules. And did he really want to hurt his community by not being a good steward of the vaccine we had entrusted him with? And it's not going to happen again there I don't think."
Missouri is currently vaccinating those in Phase 1A, which includes health care providers and congregate living facility residents; Phase 1B-Tier 1, including first responders and many government workers; and Phase 1B-Tier 2, which includes high-risk individuals such as those 65 and older and those with underlying medical conditions.
Asked what the target date was for moving to the next tier of vaccinations, Williams said the target date for moving to Phase 1B-Tier 3 would be early to mid April.
That tier includes critical infrastructure workers such as teachers, food production workers and others.
He said that hope is based on two more vaccines, in addition to the Moderna and Pfizer vaccines, coming online in the next two months — the Johnson & Johnson and the AstraZeneca vaccines.
Vaccinations for eligible individuals through that program will begin Feb. 11, according to the White House.
Meanwhile, asked about comments House Minority Leader Crystal Quade made regarding overpayments the state paid to unemployment recipients, Parson steered his answer back to the vaccine and people skipping in line.
"If I was the minority leader, I'd be worried about trying to explain to 65-year-old people and vulnerable people out there why you jumped in a line in front of them," Parson said.
At the same time, the governor addressed a rift between him and House Speaker Rob Vescovo, R-Arnold. "We're going to move forward," Parson said.
"This is not about me and the speaker; it's about the state of Missouri and moving forward," Parson said. "I got confidence in the speaker."
Parson also said he would watch the Kansas City Chiefs play the Tampa Bay Buccaneers in the Super Bowl on Sunday from the Governor's Mansion.
"35-21 Chiefs," Parson predicted.