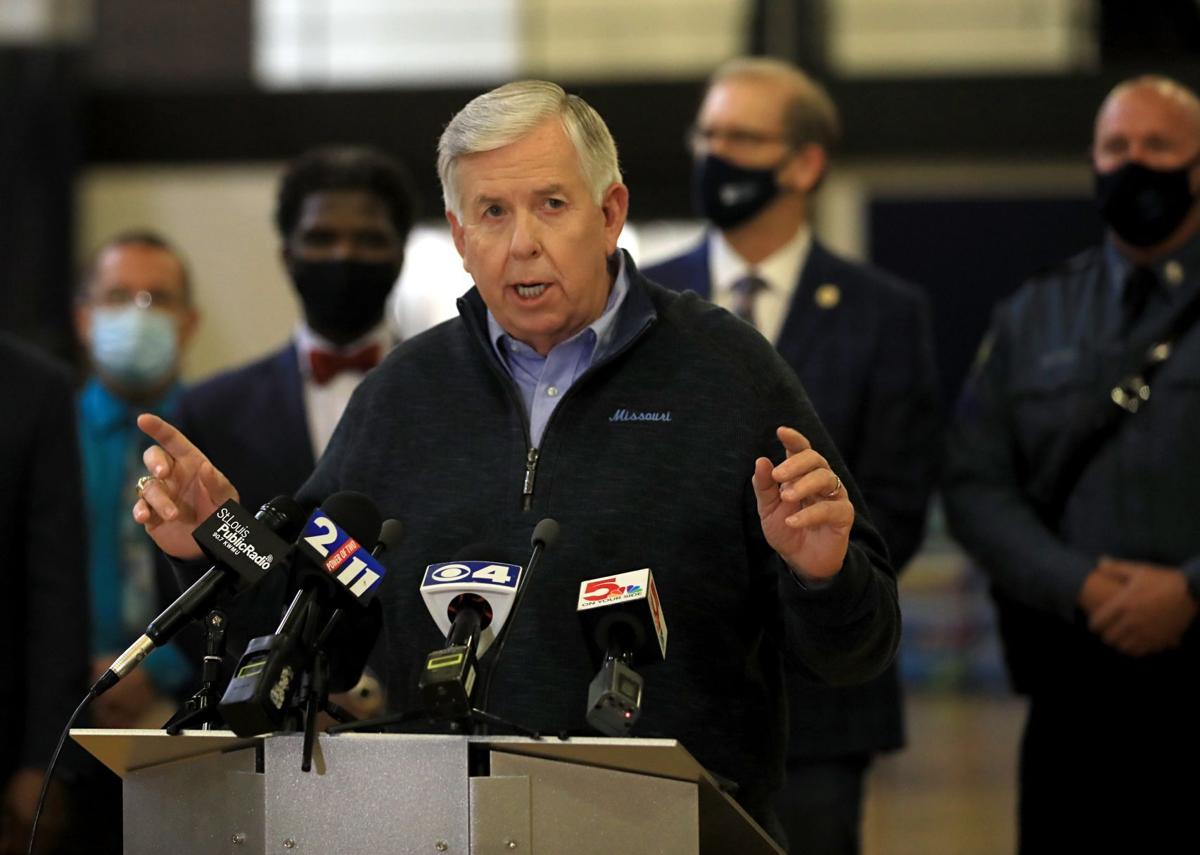 JEFFERSON CITY — A vaccine incentive plan meant to boost protection against a virus that has killed more than 11,000 Missourians could have had more prizes, including one special $1 million jackpot.
But, records obtained by the Post-Dispatch show Gov. Mike Parson's administration chose to go with a more scaled back approach, awarding $10,000 prizes to a total of 900 winners spread over five drawings.
According to a memo released by the Missouri Department of Health and Senior Services, the Missouri Lottery had recommended ending a series of drawings with a $1 million "grand prize" to be announced at the Missouri State Fair in August.
The Lottery also suggested additional $1,000 prize packages of scratch-off tickets, as well as a statewide tour that would have included additional prizes.
"We feel the goal should be to incentivize, so we are suggesting offering higher prizes," the memo notes.
The decision reflects Parson's early reluctance to endorse a vaccine incentive program that other states had already implemented in an attempt to get more people vaccinated against COVID-19.
But, with the vaccination rate hovering at 40% in early July, Parson told reporters the state would outline a plan in the coming weeks.
"Let me be clear, I am not a huge fan of that," Parson said then of the soon-to-be announced incentive program. "But I also want to move the needle in this state. If it helps, I want to try it. We're working on that right now.
"I sure want to have the data to support it if we do something like that. It's not as simple as it may sound," he added. "Do you really pay somebody to get something they need?"
The records show Parson's team had already begun working on a plan weeks before he publicly acknowledged his support.
Robert Knodell, who was serving as acting director of DHSS, had met with an official from the Missouri Lottery in June.
"Jay, it was a pleasure to meet you yesterday, and I look forward to working together on this project," Knodell wrote in an email on June 26.
Two days later, Lottery Director May Scheve said the agency's proposal was coming together.
"We are putting the finishing touches on our plan, and will get it to you by the end of the day. If you have time today or tomorrow, I would be glad to talk with you about our ideas," Scheve wrote.
Under the program, more than 607,000 people have signed up for the drawings, which are conducted by the Missouri Lottery.
Each drawing generates 180 winners. Adults who win will receive $10,000, while adolescents (age 12 to 17) get an education savings account in the amount of $10,000.
Officials so far are calling the Missouri Vaccination Incentive Program, or MO VIP, a success. Nonetheless, the state's current vaccination rate of 47% puts Missouri in the bottom third in the nation.
"These Missourians are winners not only because they are receiving $10,000 but because, like 3.2 million other Missourians, they have stepped up to help protect themselves and those they care for from serious illness," Parson said after the second round of winners was announced earlier this month.
In unveiling the program, Missouri followed the lead of several other states in an attempt to convince the unvaccinated to protect themselves and others from the pandemic.
Oregon, for example, offered the chance to win $1 million or one of 36 $10,000 prizes. The vaccination rate there is 60%.
Neighboring Illinois is giving away $7 million to vaccinated residents. There are three $1 million jackpots and 40 $100,000 prizes. Illinois' vaccination rate is 52.8%.
West Virginia, which has a worst-in-the-nation 40% vaccination rate, also is offering prizes ranging from sports cars to ski resort passes.
"A small proportion responds to the incentives, but they are definitely not a panacea," Dr. Kevin Schulman, a professor of medicine and economics at Stanford University's School of Medicine and Graduate School of Business, told ABC News of the national vaccine situation.