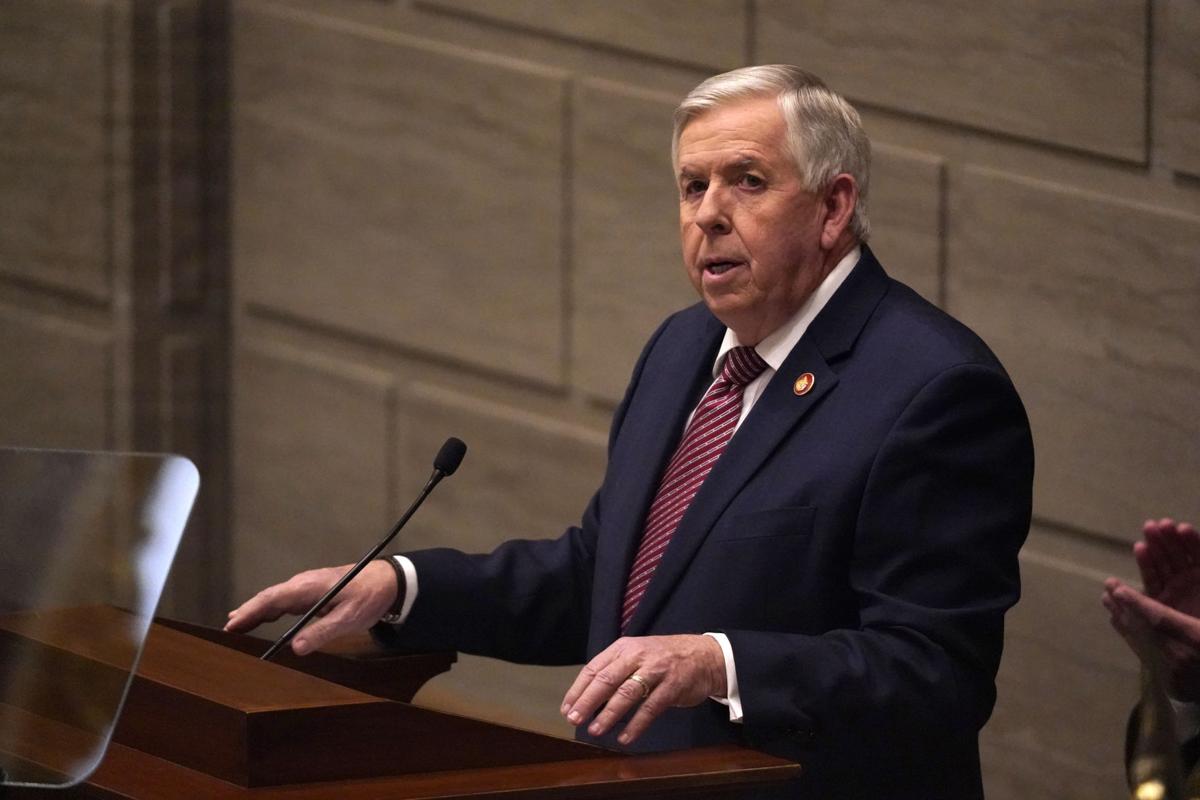 JEFFERSON CITY — Missouri Gov. Mike Parson amped up his push Monday to convince his fellow Republicans to approve a tax that funds the state's Medicaid program.
In a hastily called news conference Monday, Parson said he would withhold more than $720 million in spending in the upcoming state budget if lawmakers can't agree on the tax, which has become a bargaining chip in a larger debate over abortion and birth control.
A lengthy list of cuts released by the governor included a number of pet projects of lawmakers, ranging from a boost in school transportation costs to increases for adoption services, which has been a top priority for House Speaker Rob Vescovo, R-Arnold.
Universities and community colleges would see sweeping reductions while $166 million would be axed for people assisting Missourians with developmental disabilities.
The cuts appeared targeted to bring recalcitrant lawmakers to the bargaining table to resolve the impasse, but Parson said the money would affect all Missourians.
"The consequences will be felt by all," Parson said. "This is critical. The implications of this are huge."
Republicans like Sen. Paul Wieland, R-Imperial, for example, want bans on coverage for certain methods of birth control such as the Plan B pill and intrauterine devices, also known as IUDs.
Sen. Bob Onder, R-Lake Saint Louis, wants provisions that limit funding for Planned Parenthood. Rep. Nick Schroer, a St. Charles County Republican, says he supports Onder's gambit.
Opponents have balked, saying the additional restrictions may be barred by the federal government, potentially jeopardizing $1.6 billion of the state's $11 billion Medicaid bill.
Parson set a deadline of noon Tuesday for a deal to get worked out before calling lawmakers back to the Capitol.
Medicaid in court
The governor's threats came on a day when court action got underway on another section of the state budget that includes Medicaid.
Attorneys for the state said a lawsuit seeking to force Missouri to expand Medicaid should be tossed out after lawmakers made it clear they would not spend the money needed to add 275,000 people to the taxpayer-financed health insurance program.
In arguments Monday before Cole County Judge Jon Beetem, Assistant Attorney General John Sauer said the Legislature's decision in May to forgo spending $1.9 billion in the next state budget shows clear intent to prevent additional people from getting coverage under the state's plan, known as Mo HealthNet.
"Key legislators on both sides of the issue understood that the legislature had not funded the expansion, and the governor, sharing that understanding, withdrew the state plan amendments for Medicaid expansion," Sauer said in briefings filed with the court.
The lawsuit brought by three low-income women is the first test of a decision by the Republican-led House and Senate and Gov. Mike Parson to refuse to comply with a 2020 statewide referendum in which 53% of voters decided that Medicaid should cover adults between the ages of 19 and 65 with incomes below 138% of the poverty level.
Opponents of the expansion argued proponents should have included a funding mechanism in their ballot language.
The lawsuit filed by Autumn Stultz, Melinda Hille and Stephanie Doyle asks the court to make it clear that they can sign up for benefits beginning July 1, regardless if there is funding for the expansion.
"Regardless of whether there is funding available (there is) to pay for coverage, plaintiffs and other similarly situated individuals are entitled to enroll in the MO HealthNet program on July 1, 2021," court filings say.
"If they are going to fund Medicaid, they've got to cover the expansion population," said attorney Chuck Hatfield, who is representing the plaintiffs.
Doyle, of St. Louis, is a single mother of three children who earns $12 per hour working full time. The lawsuit says she struggles with severe eczema and needs two medications for the ailment "but is unable to afford them without health coverage."
Hille, of Fenton, is unable to work because of medical conditions and earns less than 100% of the federal poverty level, the lawsuit says.
She has Type 1 diabetes, thyroid disease, pernicious anemia and a precancerous colon growth, the lawsuit says.
The third plaintiff, Autumn Stultz, of Springfield, is a single mother working a minimum-wage job full time, the lawsuit says.
Hatfield told Beetem that case law allows for the newly eligible to sign up for coverage because the budget doesn't expressly say the rolls are closed.
"It does not restrict it based on eligibility," Hatfield said.
But Sauer said that rationale is "implausible."
"Plaintiffs' argument flips basic rules of statutory interpretation on their heads. The plain and ordinary meaning of (the budget) is that it does not fund Medicaid Expansion," Sauer wrote.
"Courts do not presume that the legislature purported to enact enormous policy changes in such obscure or indirect statutory language: "The legislature 'does not, one might say, hide elephants in mouseholes.'"
Proponents said the court case, which is expected eventually to land before the Missouri Supreme Court, is a step toward ensuring people are insured.
"We are looking forward to the court upholding the will of the voters, and more importantly, ensuring that more than 275,000 Missourians will be able to enroll in Medicaid and access the peace of mind and life-saving care that brings," said Caitlyn Adams, executive director with Missouri Jobs with Justice.
Beetem said he hoped to issue a ruling by Wednesday.